I've started on a new project and I'm in the Honeymoon Phase where nothing has gone wrong yet. So I'm sewing up a storm before my boys arrive for Christmas. As a result, I've got more tips:
A BETTER LAMP
Maybe it's a bit pathetic that I am so excited about this, but I happened to be shopping in Office Depot for a few things for my office when I saw it (hallelujah chorus)…my wonderful old LED magnifier light!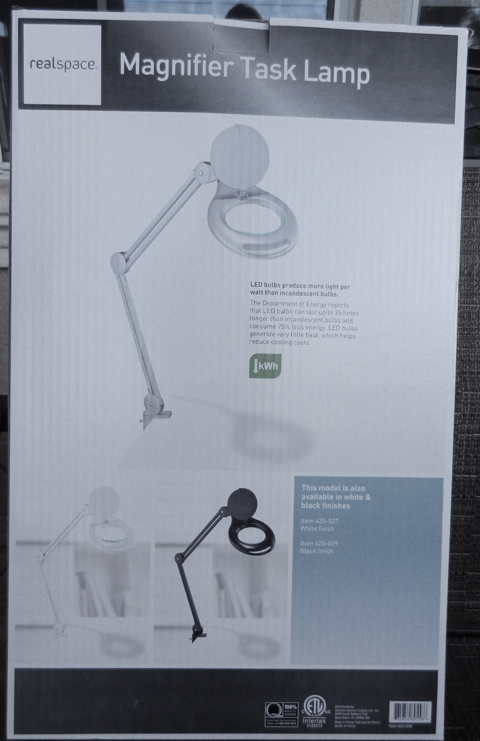 It was like a lost friend found. My old one bit the dust and it took me awhile to realize that the new one actually magnified too much-I got dizzy using it. I missed my old light-it was an important part of my sewing equipment! Office Depot had not carried it for a long time and I couldn't find it anywhere.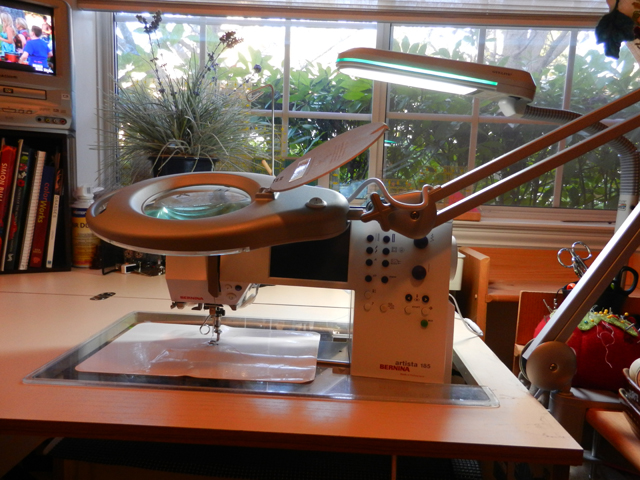 So I ran home to install it-it's so wonderful to have ridiculous amounts of crisp, white light and that wonderful magnifying glass!
So here's the run down on my geriatric lighting set up: the all important LED magnifying lamp, the great light on my Bernina, yet more light from my Ecolux lighting strip, the floor Ott lamp to illuminate what is coming out of my machine, and of course daylight from the window. It rocks my world to have great light to quilt with!
So as you can tell, I don't think there's such a thing as too much light.
SHARPENING YOUR ROTARY CUTTER BLADE AT HOME:
My friend Patty Martin recently posted a great tip from Patty's Hands blog on how to sharpen your rotary cutter at home. It's the simplest possible thing: take some regular baking tin foil, fold it up several times and run your rotary cutter through it a few times until it's sharp! Brilliant.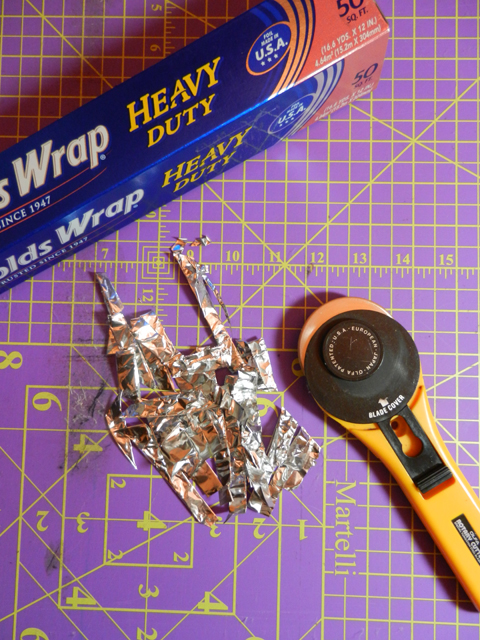 I tried it on two blades: one that was just simply dull and one that had a nick from running over a pin or something. The one that was just dull sharpened right up! And the nicked one, well as you can imagine, the nick did not go away, but the rest of the blade sharpened up well. Who knew?
Hoping you get some time to hunker down in your sewing room during the holidays!