This is the first thing you saw when you walked in the big room:

The art quilt group of the guild, Quartz, had a Red Line Challenge and these 14 quilts are the result. A 1″ red line at the side edges connects all the quilts and each artist made the quilt of their choice. It was spectacular! All of my photos of the individual quilts or detail shots were miserable due to the location and lighting. The audience loved it and there was always someone examining the red line, looking for details, enjoying the beauty. We're pretty proud of this.
The Wearable Arts section many more entries than previous years and I am thrilled to see a resurgence in Wearables.
Anita Marshall created this absolute stunner, "Silk Fantasy", from a single high-end silk designer dress she no longer wore. Susan Krinks did a gorgeous job with the quilting. Anita used couture finishing techniques and the inside was as beautiful as the outside. Wish this was my jacket!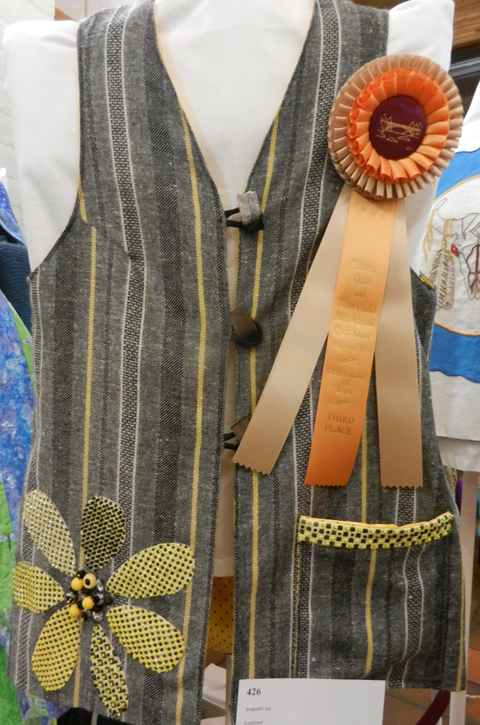 Jeanie Trojan knows how to make beautifully constructed and tastefully embellished garments and "Yellow Flowers" is no exception. Jeanie knows when to edit and this vest is just delightful. On the back shoulder is just one more jaunty yellow flower-perfect!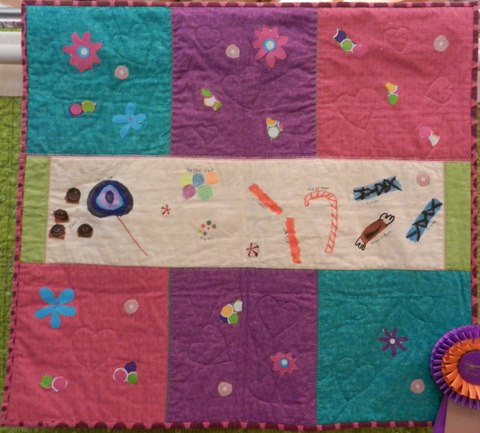 This is youth Ella's first quilt, "Candy Quilt"-isn't it precious? She chose the fabric, designed it and did most of the sewing with a wee bit of Grammas help. Ella quilted it using a decorative stitch. This is one of my favorite quilts in the show!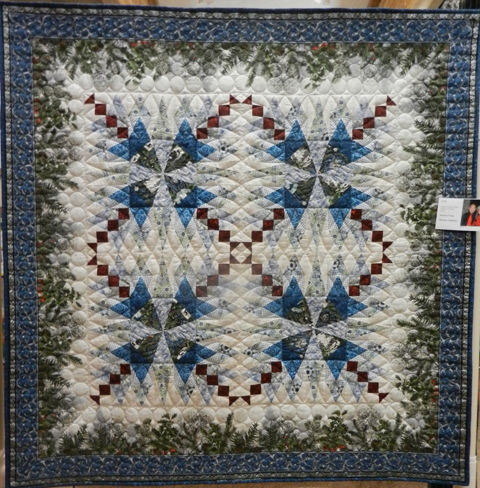 Sandy Fong's "Winter Solstice" caught my eye. I like her skilled use of the fabric and color. The quilting is unusual and really makes the quilt. My eye continued to travel over the quilt, drawn to the fabric pattern and quilting.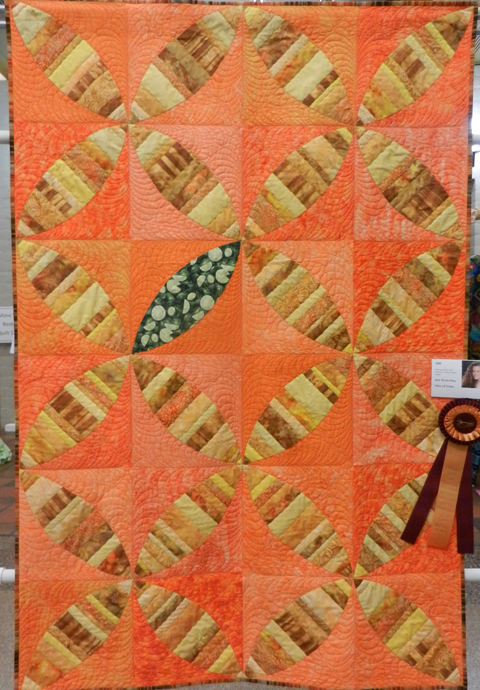 Gotta love Deb Winterling's, "Slice of Lime"! It's happy, fun and love that one slice of lime. Hand appliqued and beautifully quilted by Shireen Hatten.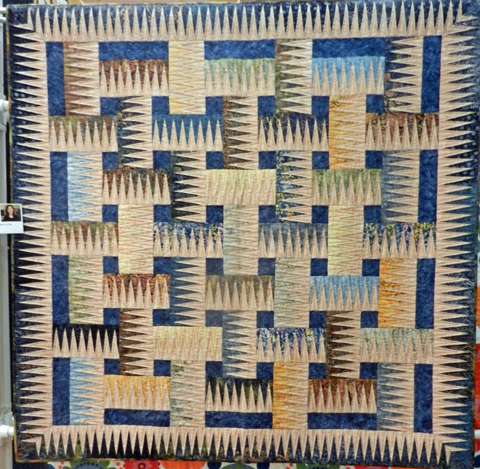 Lorraine Matthews' "Looks Like a Feather to Me" was striking in person. Lorraine says she challenged herself to paper piece and this quilt is beautifully done. The simple quilting makes the colors and piecing really stand out.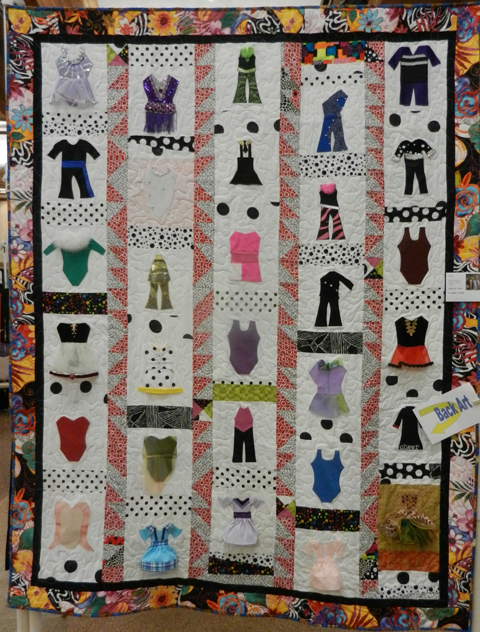 Anne Ross' "Caitlin's Quilt" was delightful! Her daughter Caitlin has competed in pageants, danced and performed. This quilt commemorates the many events she has been in. The back of the quilt was covered in t-shirts.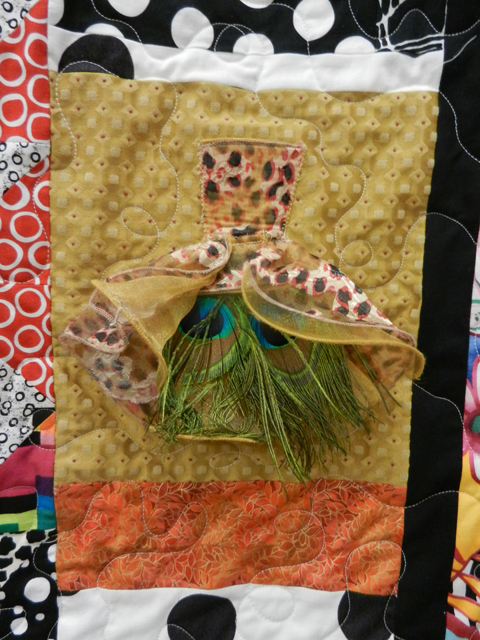 This one square commemorates a particularly special dress she wore competing in the contest in which she won 1st Runner-Up in the California International Pageant.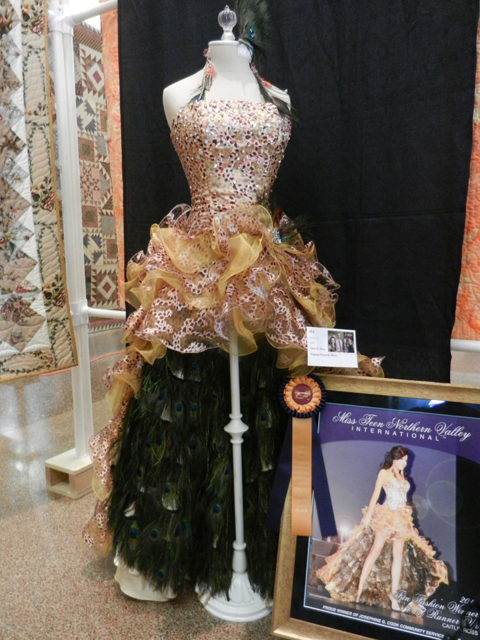 And here is the matching dress-my photo does not begin to do it justice. In the afternoons, a slice of sun would hit this dress and the sparkle was incredible! It was beautiful.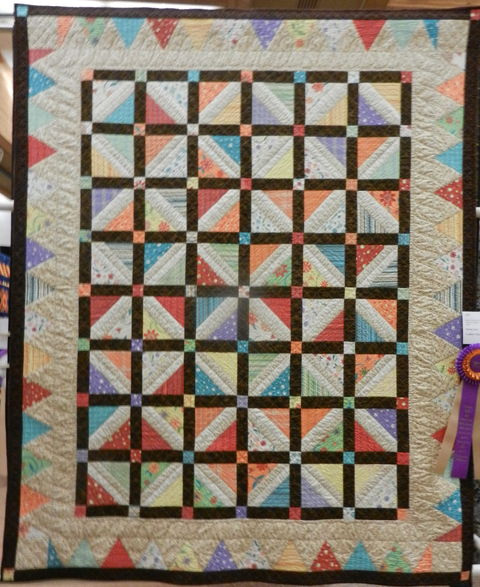 Sylvia Earl made and quilted "Cathie's Scrap Quilt" in honor of her sister Cathie. Sylvia and her sisters took a cruise and Cathie purchased fabric for this quilt while on the cruise. After Cathie's passing, Sylvia finished and quilted this quilt. The back was plain and showed off some lovely quilting. I was drawn to this quilt and I think somehow the story shows through the quilt even if you don't know the story.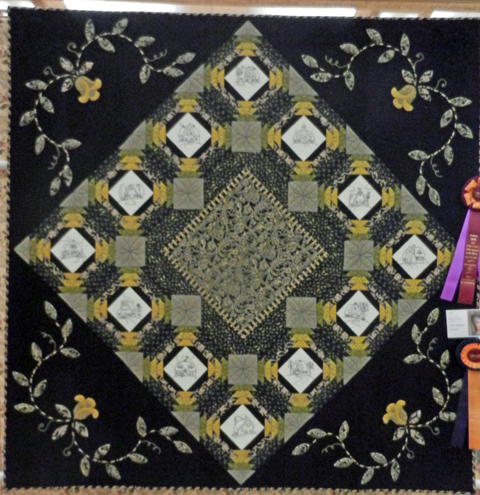 Nancy Holinski, "Seasons" won Viewer's Choice. I know it doesn't show up well here but this was a beautiful quilt. The black corners with the applique are just gorgeous. Nancy started the embroidered squares in the Embroidery Club at Quilter's Corner, then designed and appliqued the rest of the quilt. Her quilting really added to the quilt and made the piecing and applique shine.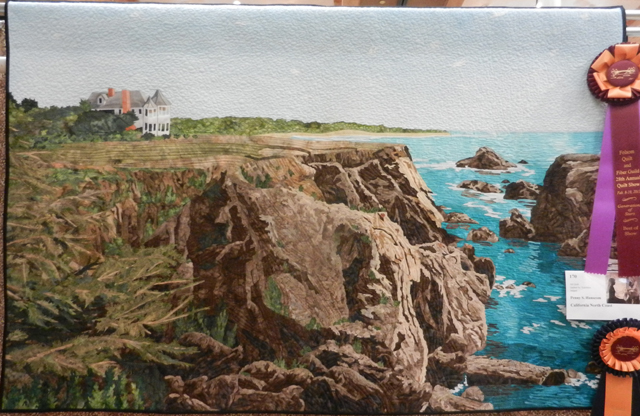 Penny Hanscom's, "California North Coast" won Best of Show and there was no doubt about that. She said this is based on photos she had taken of one of the favorite camping spots she and her husband enjoy. I just can't convey how much I enjoyed this quilt-stunning! The perspective, the detail, the color, the realism….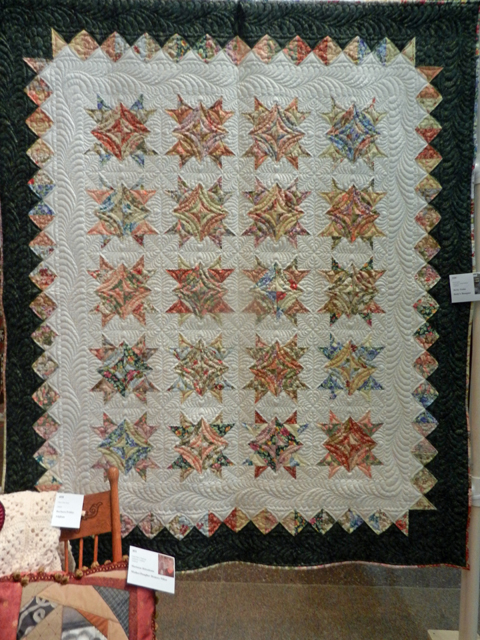 Becky Zsoka's, "Betty's Bouquet" was a perfect combination of quilting and piecing. It's a happy quilt, one that I would love to have! I love Becky's quilting on this.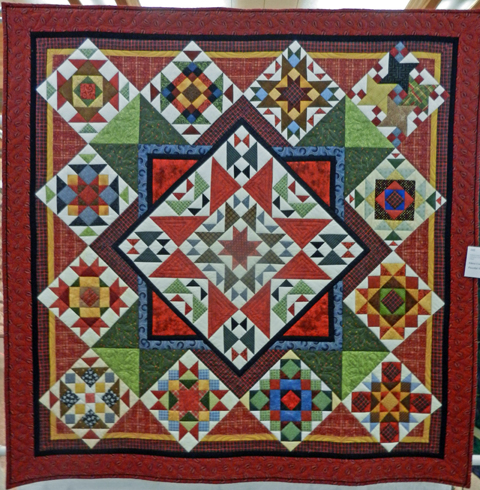 Eileen Crawford's, "Peaceful Nights" was a striking piece near the entry and all visitors would stop to admire it. To me, this is the classic case for simple stitch-in-the-ditch quilting. Eileen pieced it perfectly and with a simple SID, the piecing and points were featured.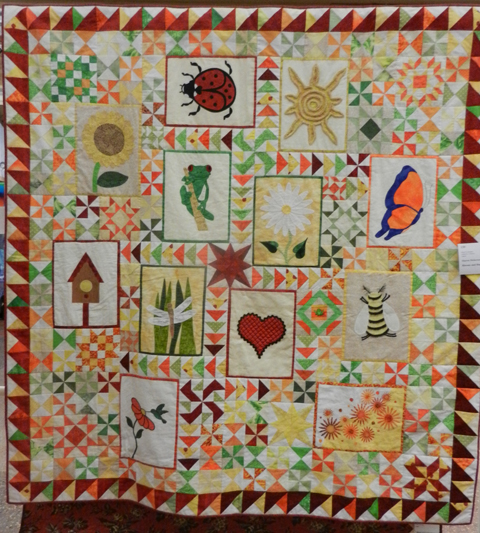 Sharon Dickerson designed and quilted this for a friend. She titled it "Blooms and Bugs, a Frog and a Hug", based on her friend's favorite things-how cute is that! It was filled with fun details like beads and yarn and embroidery.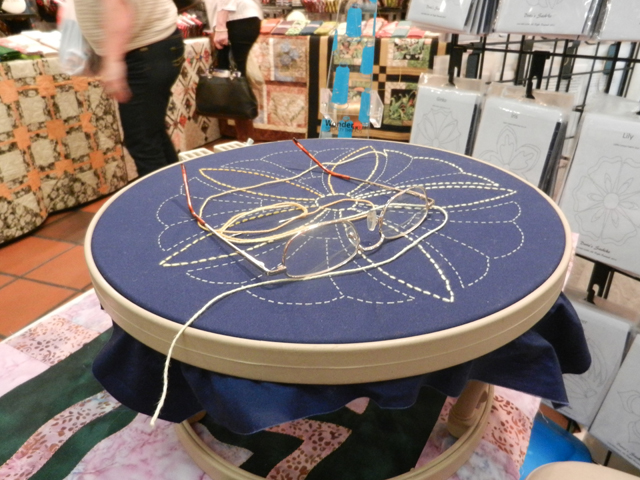 We had some great vendors too. I caught this vignette of Dorie Javier's sashiko, patiently waiting for her to return. I'm trying to capture the beauty of the process, the part of our work that reaches into the heart.
There were so many more beautiful quilts than I can capture here-and some that my photos were just too bad to show.
I hope you enjoyed the show-come see us next year!