I got to play for bit this week and I met my friend Dolores at Bay Quilts in Richmond-what a treat! The shop just opened last fall and I have only heard good things. I was anxious to see for myself. I had the most delightful day!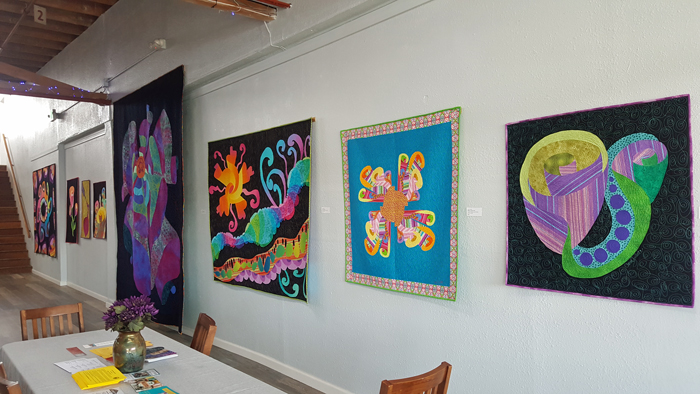 The shop is welcoming, bright and spacious. Each month a gallery of work will be displayed and this month it is Cara Gulati. I love Cara's bold, graphic style and the scale of her quilts was so impressive. This is the view as you walk in!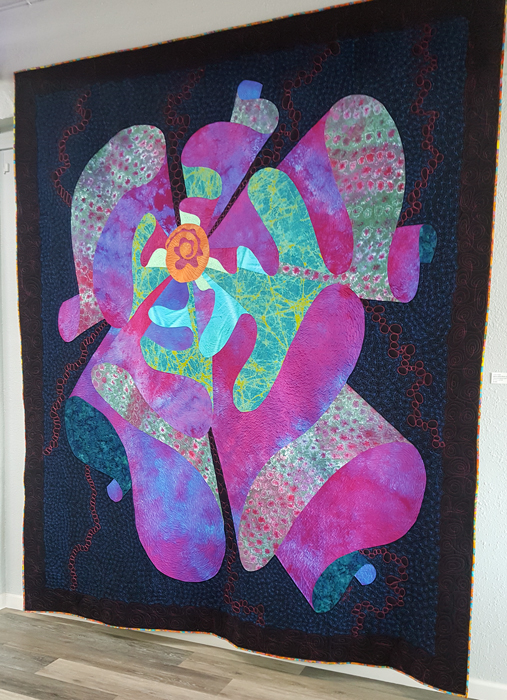 "Queen of the Flower Angels" is 8′ x 10′! What glorious color and joyful quilting.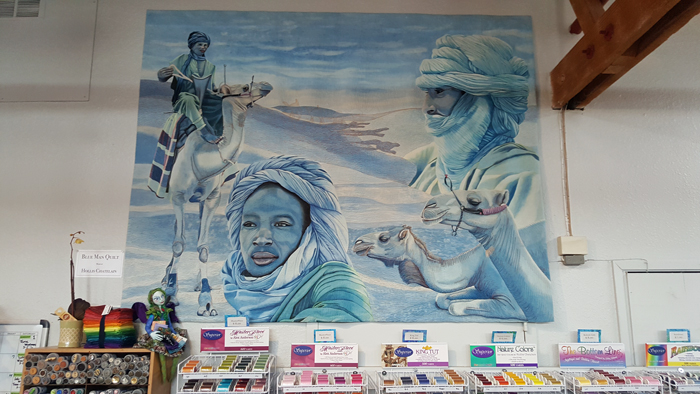 This is behind the counter-Hollis Chatelain's "Blue Men", a massive 58″ x 75″. It is stunning.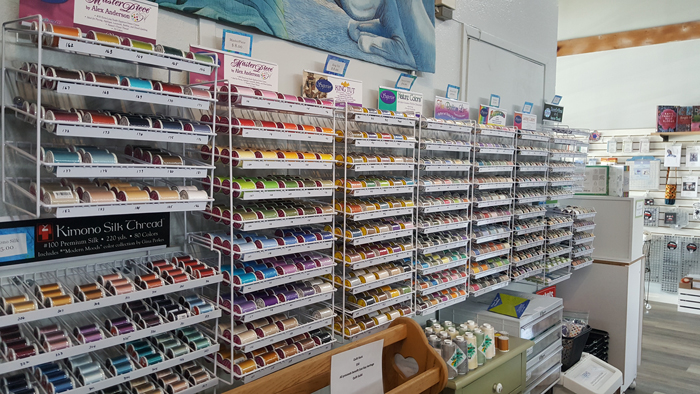 Be still my heart-a full wall of Superior Threads!! I have not seen such an extensive collection in a shop. Yeah, I purchased a few…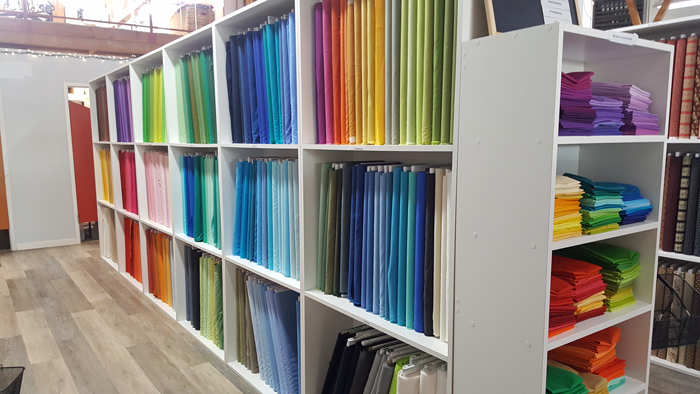 I didn't ask if this was every Kona solid, but it at least had to be close. The owner purchases entire lines of fabric. For instance every Tula Pink was there to fondle, many other lines too. The store does focus on a more contemporary and Modern aesthetic, yet carries other genres of fabric also. There is an impressive array of dupioni silks, hand dyed cotton, linen and wool, and hand painted art cloth. And there are lots of handmade quilts, cards, purses and gifts scattered throughout the store.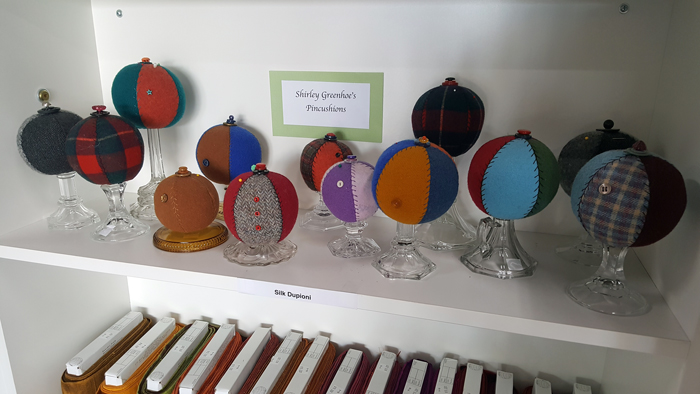 Adorable pin cushions,

and 3 tiny purses nestled into each other.
The store provides wagons to haul your treasure around in and the aisles are wide enough for two to pass. The classroom upstairs is huge and bright from the skylights. If you call ahead and confirm that the classroom is not in use, you can bring your quilty friends there to sit and sew. There's even a table near the entrance to eat lunch upon!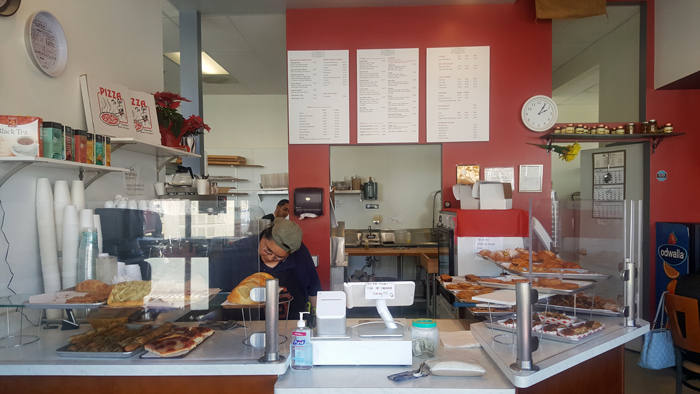 How convenient that just across the parking lot is a delightful lunch place, the Gran Milan, a "high-end artisan bakery, Cafe and catering service". The lunch fare is very good-salads, sandwiches, pizza. But the real deal is the baked goods-many tempting pastries, cookies…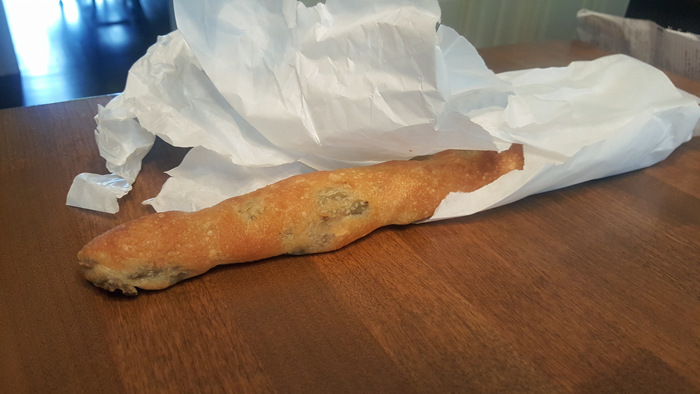 and this. I was a good Weight Watcher…until it was time to leave. Hubby likes olives so I thought I would get 2 olive bread sticks which were chock full of olives. Well, um, I was supposed to have mine when I got home. I took one bite-oh there was no going back! Hubby said it was the best bread ever. Dangerous!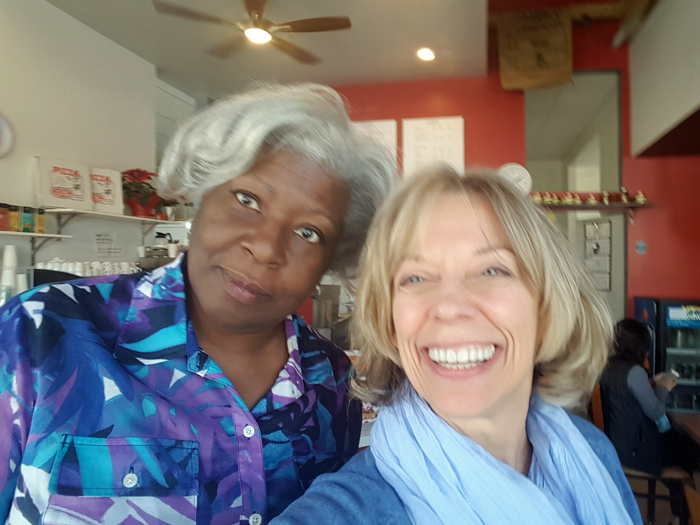 It was a delightful day with a good friend! I need to get out more often.
I'll be joining my blogging buddies at Nina-Marie's Off the Wall Friday-check it out!