Lectures
"Quilting Is A Contact Sport!" A sometimes humorous look at how quilting affects our lives and relationships. Includes a trunk show of award-winning garments and quilts.
Six-Hour Workshops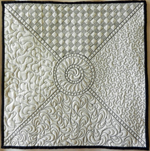 Learn to free motion quilt in a supportive and fun atmosphere. I will bring numerous quilts, photos and samples to illustrate what is taught in class.
We will work on 5 beautiful and fun motifs that you can put on your own quilts using your home sewing machine!
---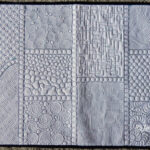 If you have some free motion experience and want to learn more free motion fills, then join me and learn how to select and quilt "fills and frills". Together we'll build on the skills that you already have and learn a variety of fills and frilly motifs to add to your projects. Most motifs will be free hand; a few will use marked reference points. Let's play!
---
Learn how to create graceful curves and beautiful feathers to add to your own quilts. Both of these motifs add beauty to traditional or contemporary projects. Several fills will also be taught that beautifully enhance feathers.
---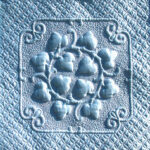 Trapunto adds a beautiful raised dimension and texture to your quilts. This is an ideal class for those with some free motion experience that want to further their skills. We'll look at how to choose fills and backgrounds and explore numerous new motifs.We will be working on a small sample that can later be incorporated into a pillow or used as a table topper.
---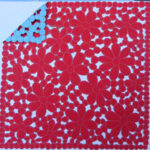 We will combine a simple daisy motif with some bubbles to create an adorable table topper. This easy and versatile technique can be used in many ways in quilting, garments and home dec. Also a Christmas styled topper is offered if preferred.