2012
Juried into "Quilts of Northern California" exhibit at Pacific International Quilt Festival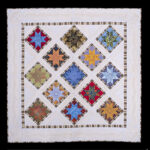 My original vision for this quilt was that I was going to make a quick quilt from some orphaned blocks-it somehow morphed into a more complicated quilt!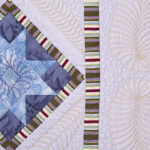 Detail
Using orphaned Saw Tooth Star blocks as my starting point, I added the striped surrounds and lavender sashing to set off the strong colors in the blocks.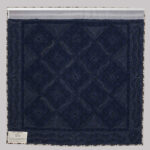 Back
I chose to double batt the quilt, using Quilter's Dream Orient on the bottom and wool batting for the top. Sparkle metallic and Kimono silk threads were used. I am delighted with the way the silk bobbin thread added a great story on the back of the quilt!