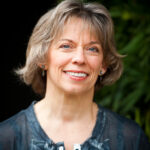 I have been joyfully teaching the art of quilting since 2006. My classes are encouraging, supportive, and light-hearted. I love seeing my students realize that they CAN quilt their own work. I teach regionally, at various guilds, at IQF Houston and Chicago and throughout the US.
I have been working with fabric since I was a little girl trying to make my own clothes. I hail from a long line of traditional bed quilt makers, but I didn't take a formal class in quilting until 1983. I "re-entered" quilting in 1999 and that one class unleashed a need to create that has not stopped.
I use my domestic sewing machine to create art quilts and wearable art. My work has been juried into the Houston International Quilt Festival, Pacific International Quilt Festival, AQS in Paducah the Curitiba Quilt Show in Brazil , and has shown in several art galleries as well as SAQA exhibits. Some of my work is held by private collectors.
I live in Northern California with my oh-so-patient hubby and our Basset boy. Our two grown sons have left the nest to become men, leaving more room for books, fabric and notions.
I would love to visit your guild or shop and share my passion for quilting with you. If you would like to schedule a visit, please contact me.