Fearless Feathers Four Ways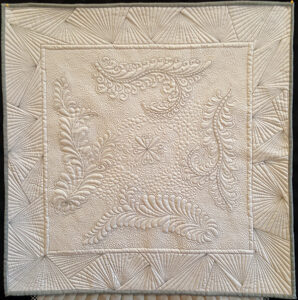 If you have some experience with free motion quilting and would like to move on, then come join me and learn how to quilt Fearless Curves and Feathers.  I will provide an encouraging and supportive environment to learn these gorgeous motifs in. I'll take you through these motifs step-by-step and take the fear out of the process, giving you confidence in your own creativity.
In the curves portion of the class, I will teach you how to quilt a beautiful filigree-type of motif that is elegant and easy to do.
In the feathers portion of this class, I will teach you how to quilt the beautiful, curvy, feminine feathers that you see on some of the finest quilts, without the use of stencils.  This is a fun class that will allow you to be able to quilt these beautiful motifs on your own quilts and garments.