Sometimes lessons come when you least expect them. In mid-July I'll be given exactly three minutes to sell my skills to a group of shop owners, guild Program Chairs and others interested in hiring quilting teachers at the Northern California Quilt Council.
I've been putting off the task of making six giant quilt sandwiches for this venue. I want the audience to be able to see what I teach in my Intro to Fearless Free Motion class from the back of a large room-hence the giant quilt sandwiches. I thought this would be a pretty mindless task, but it has been not only a challenge, but a delightfully fruitful learning experience as well.
At first I tried various thick threads to stitch out the motifs, but that was only visible from around 15 feet. I settled on couching yarn onto large quilt sandwiches and that worked well-they are clearly visible from 60′.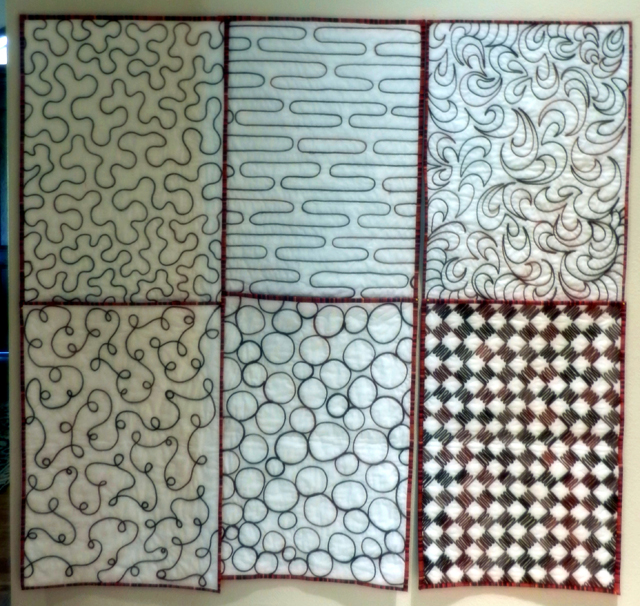 The quilt sandwiches turned out to be around 21″x29″. It was a rather bizarre exercise for my brain to make the motifs that large!
The lessons just kept coming as I worked through the process of making these sandwiches.
Lesson #1- The re-discovery of Bernina foot #43-the Free Motion Couching Foot. It allows me to free-motion couch fibers onto the surface, stitching the fiber on by stitching down the center, as opposed to the zigzag stitch that most couching feet use.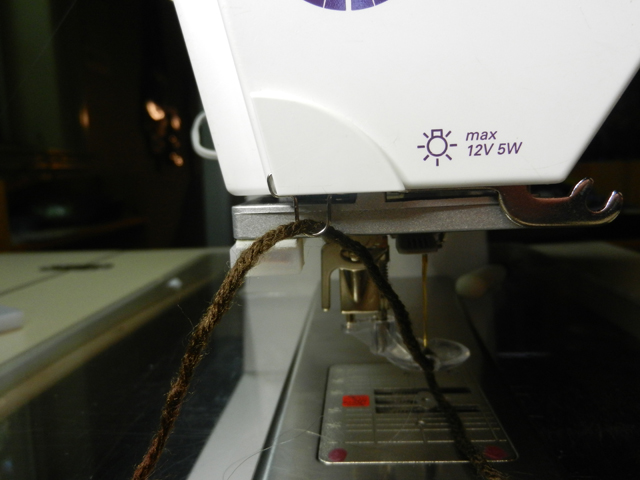 The foot has a little loop thingy that attaches to my machine and guides the yarn to the foot-this is an enormously helpful step that makes it easy to focus on the free motion part of the process-the yarn just feeds in by itself.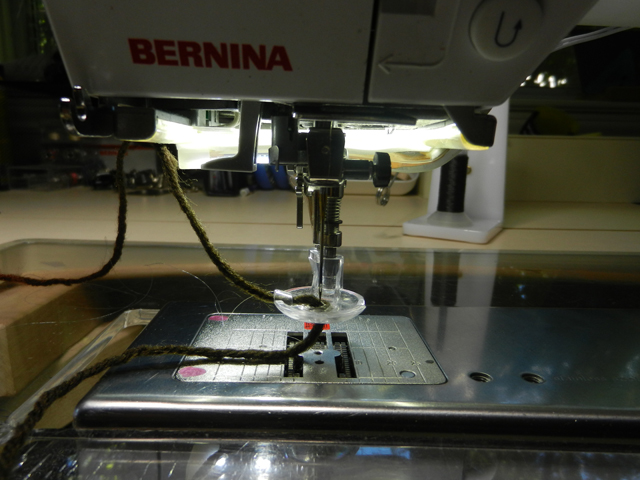 The yarn then feeds through the foot and I can free motion quilt in the normal way, even with thick yarn as my "thread"!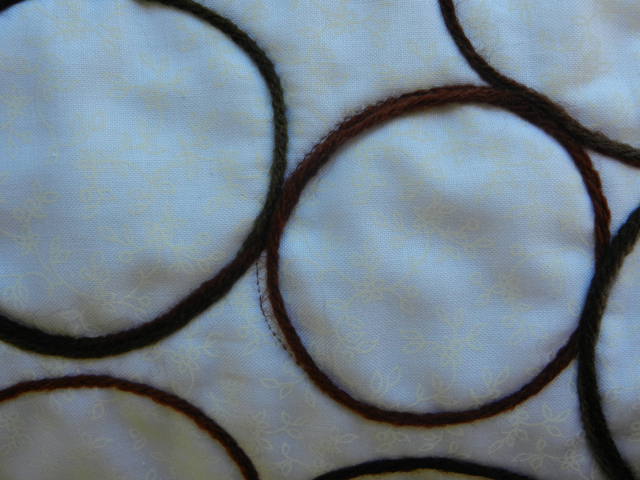 Except, there was one small problem which was:
Lesson#2-When moving towards the right, I had to be careful that the needle was actually catching the yarn or this would happen. See that part of the circle where there is stitching but the yarn has not been caught? Operator Error!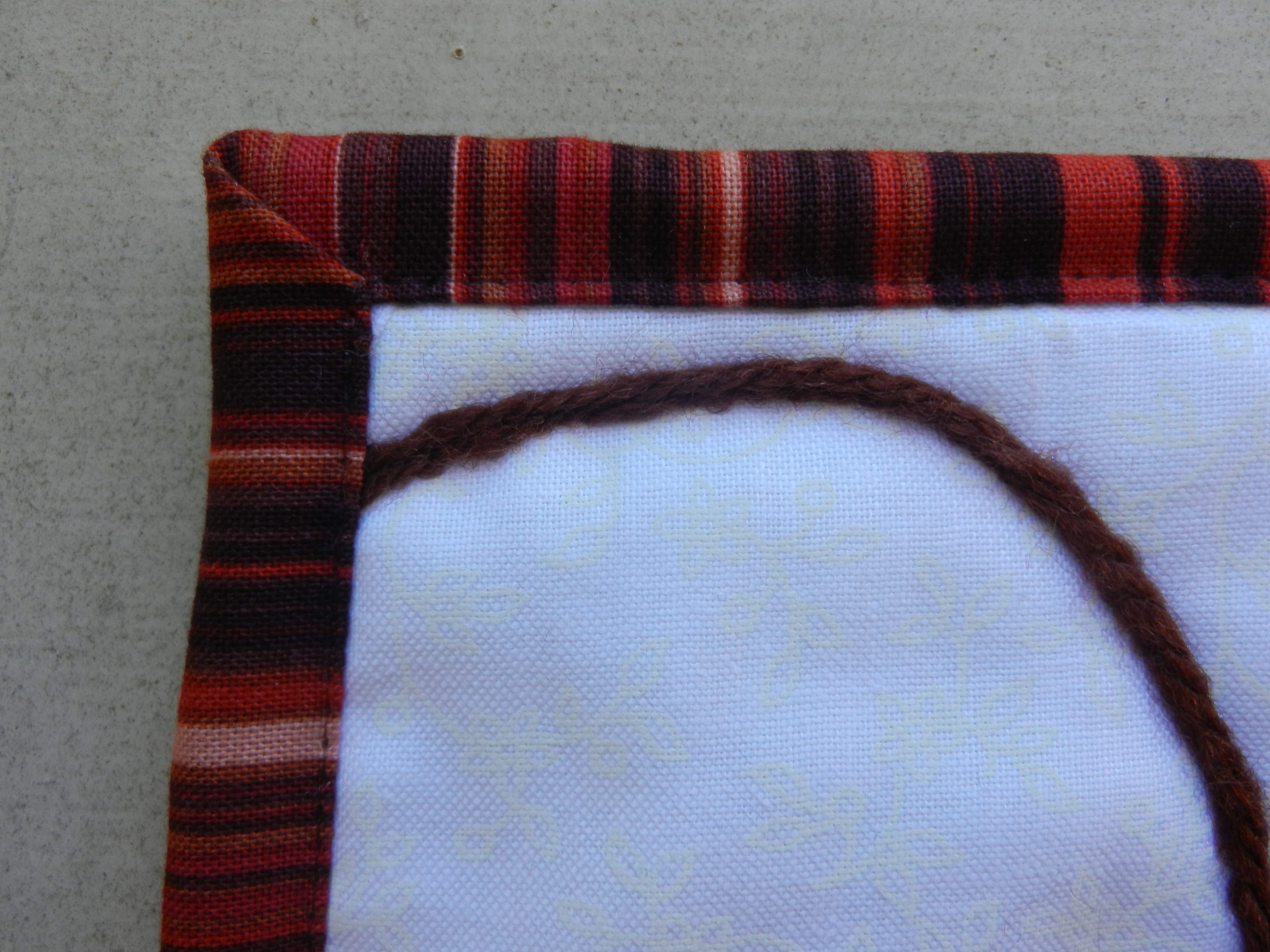 Lesson #3 came when I realized I had a total of over 600 linear inches to bind-holy cow, that's almost a King size quilt and a half! I am not one to apply my binding by machine-I like the look of a hand-applied binding. But with over 600″ to bind, I decided I had to learn. I became the One Who Binds By Machine. I got good at it too!
Lesson#4 came when I also realized, I had 24 mitered corners to do-got good at them also!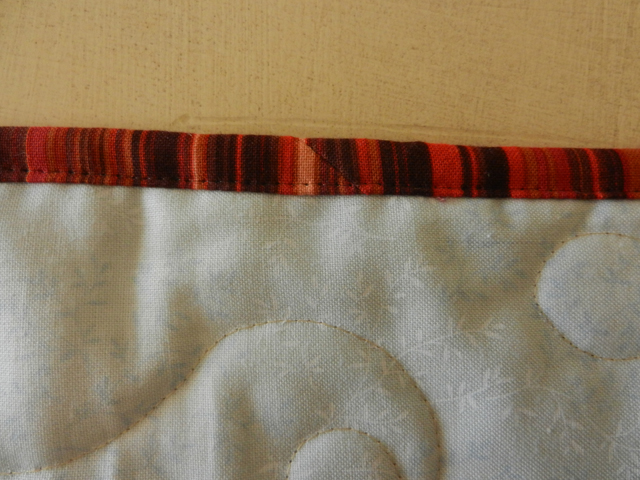 Lesson#5 came when I realized I had to also perform that pesky task of joining the ends of the binding in a way that lies flat and blends in well-yup, got lots of practice at that too! I'll post a tutorial in the next few days about the easiest way ever to do this.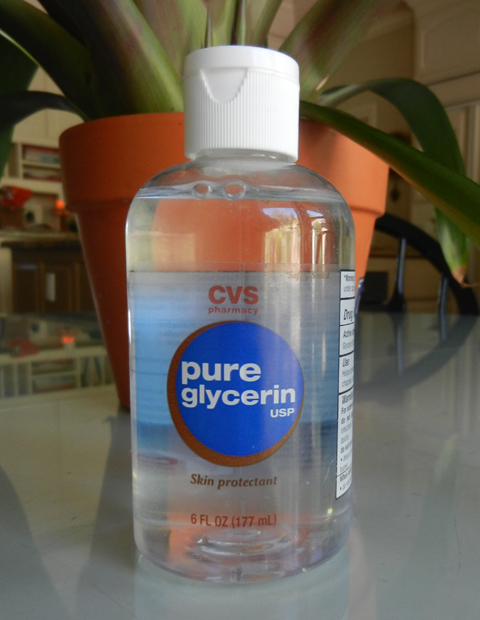 Lesson #6: During the quilting phase of the process, I tried a tip I had recently seen on someone's blog-so sorry I lost track of whose blog it was. I used glycerin in place of gloves to provide a "sticky" surface that would grip the quilt well and allow me to move it around easily. I am happy to report, it worked beautifully, did not stain or mar the fabric in any way and felt very light on my hands. It's a nice alternative to machine quilting gloves, especially in the summer when gloves can get pretty hot and sweaty.
I have been working diligently on competition quilting, polishing my curriculum and other "business" tasks. I enjoyed a delightful break making these sandwiches and learning along the way. Changing it up is good!