IQF-Long Beach-I'm Still Vibrating!
I'm giddy, almost vibrating from last week! I just got back from International Quilt Festival-Long Beach and it was a blast. I met all kinds of fascinating quilters, saw some amazing quilts, enjoyed the balmy beauty of Long Beach and had a spectacular time presenting at the Saturday Night Sampler.
The Saturday Night Sampler where I presented was so much fun! There were 15 presenters, each with a unique subject. Participants could freely roam the room and listen to the presenter of most interest to them. My talk was on "Fast Fixes 4 Free Motion Frustrations" and I covered the most vexing and common problems free motion quilters encounter. There was great enthusiasm and interest in my presentation so I was thrilled! I hope I have the opportunity to present again next year-I love IQF-Long Beach!
I have too many photos for one post so I'll split this in two. IQF-Long Beach is an exhibit, not a competition, so in a way it's kind of a "best-of-the-best" type of show. There were over 500 quilts and 250 vendors-nice ratio, huh?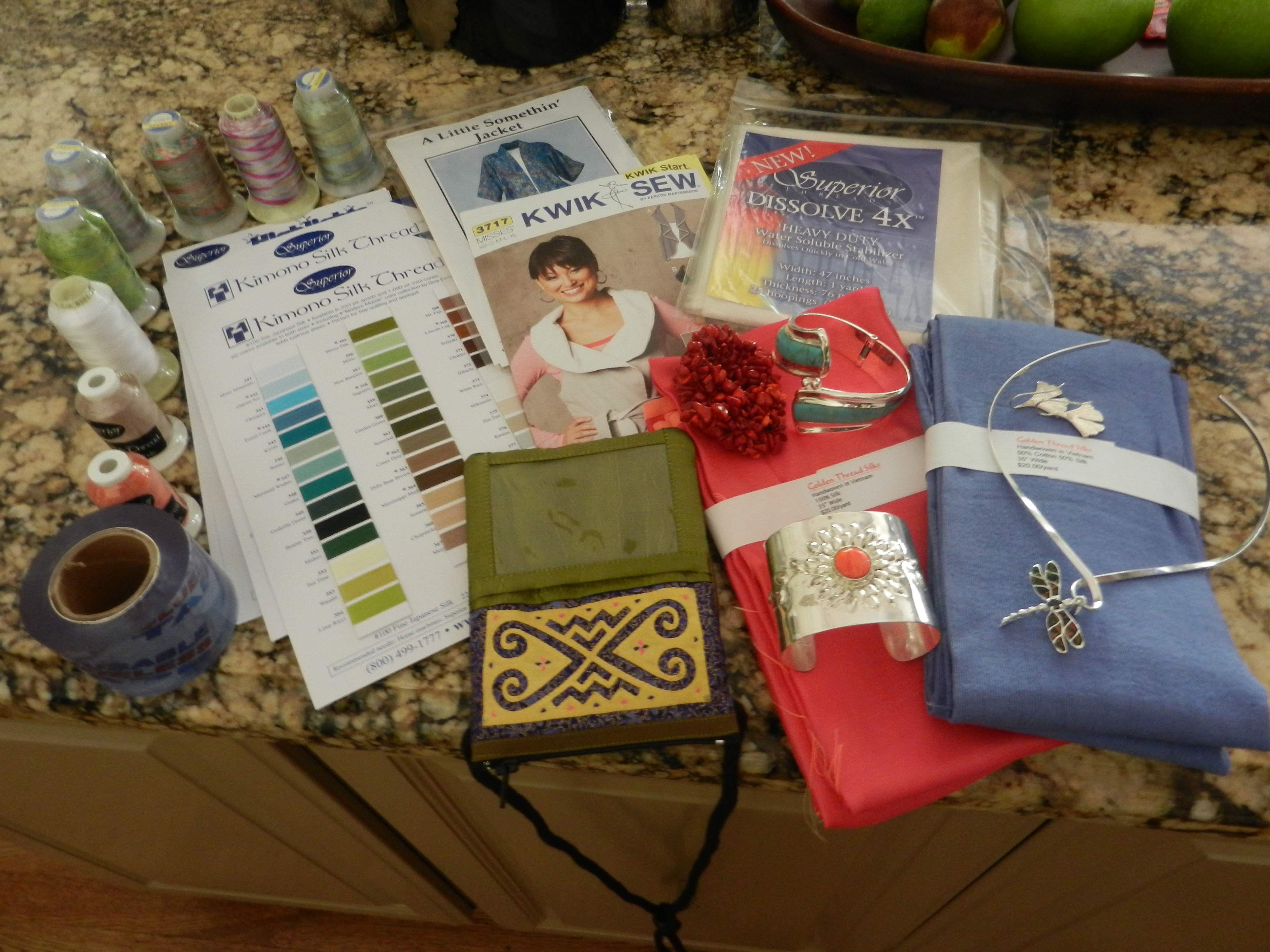 I was actually rather restrained on my purchases but I'm excited to play with all the treasures I brought home.
Let's start with some quilts!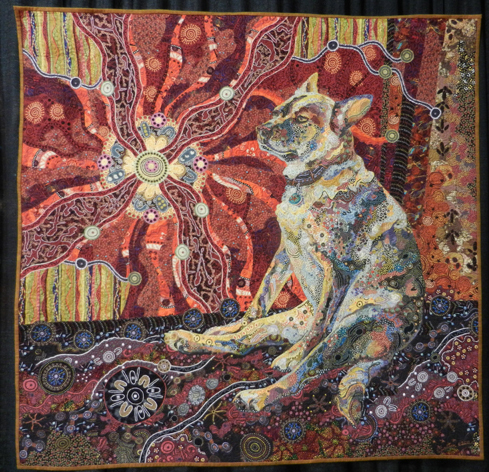 Susan E. Carlson (Maine) created Dixie Dingo Dreaming, a collaged piece based on a photo of her mixed breed "Pippen" who sounds very spoiled and well loved!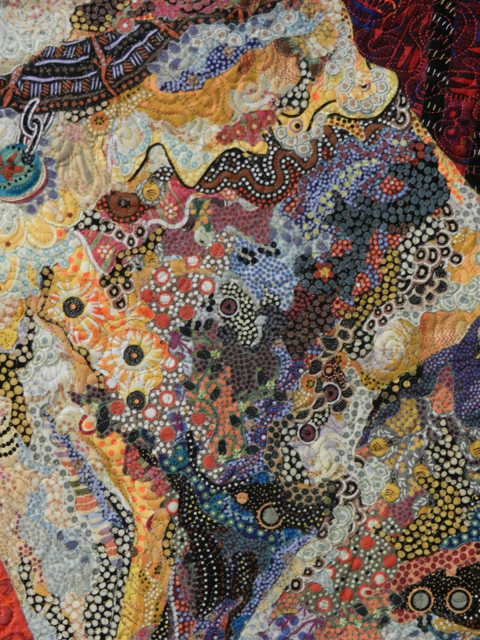 This detail shows her skilled use of commercial fabrics-amazing! This was displayed in the "Festival of Art: Good For You" section.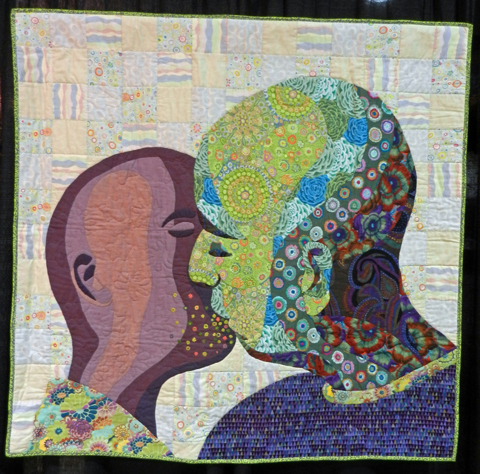 Jo Dixey of New Zealand created "Kiss" which also was displayed in the "Festival of Art: Good For You" section-there for obvious reasons! I love this piece! The little explosions on the person on the left side are hand embroidered-lovely and charming piece.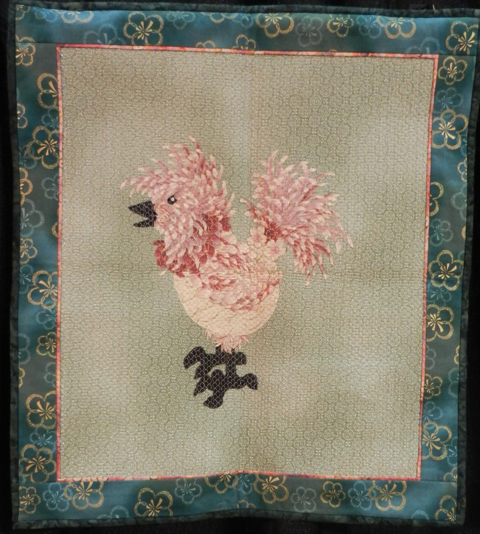 There were many Hoffman Challenge pieces but none as cute as "Kiku" by Heather Miles (Michigan).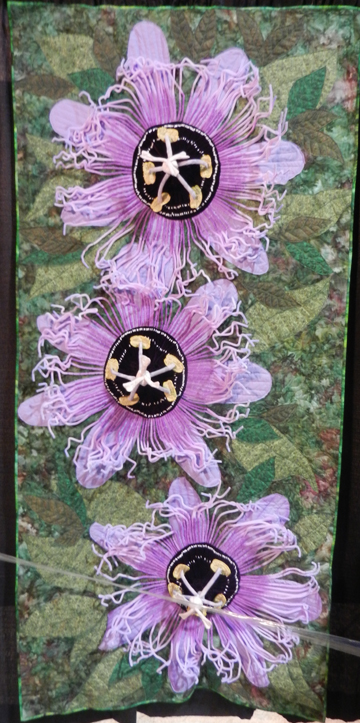 The "Celebrate Spring!" area included this fascinating piece: "Passion Flower" by Mary Ann Vaca-Lambert (Texas).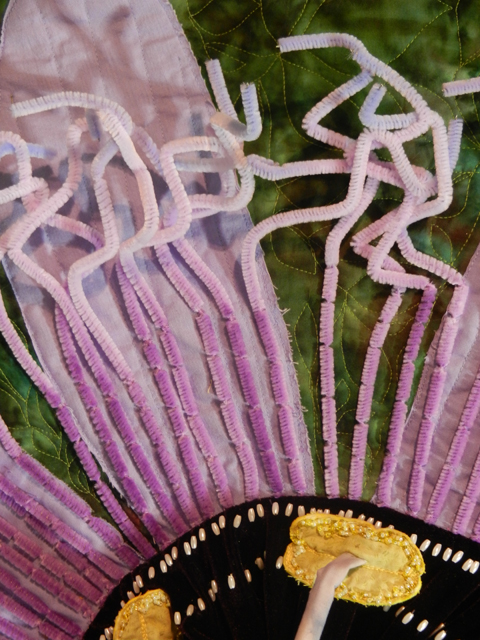 Isn't this fabulous?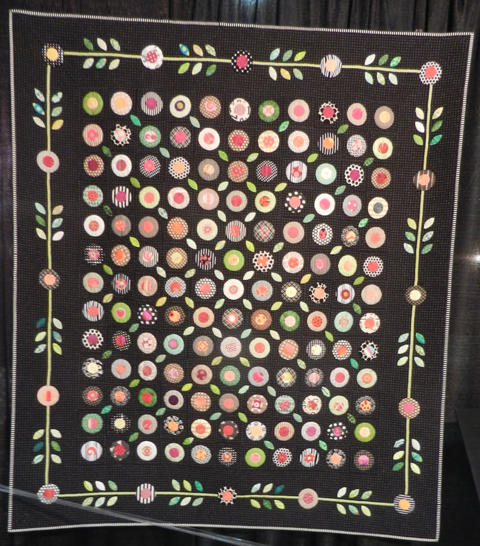 "Portraits of Flora" by Timna Tarr (Massachusetts) was almost always surrounded by onlookers. The detail was beautiful and the whole piece elicited a smile! This was part of the "In Full Bloom:Floral Quilts in Memory of Helen Pearce O'Bryant" area.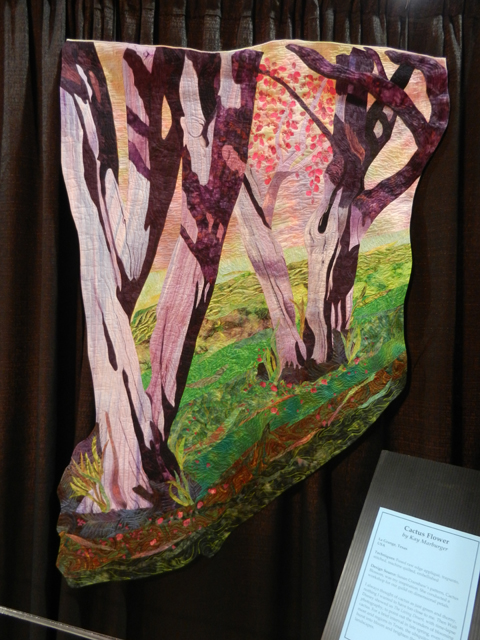 Roxane Lessa's (North Carolina) "Crepe Myrtles 1-Summer" was also in the Floral Quilts section. I have some Crepe Myrtles in my yard also and I love the bark almost as much as the flower. Roxane did a great job of capturing the look and feel of the bark.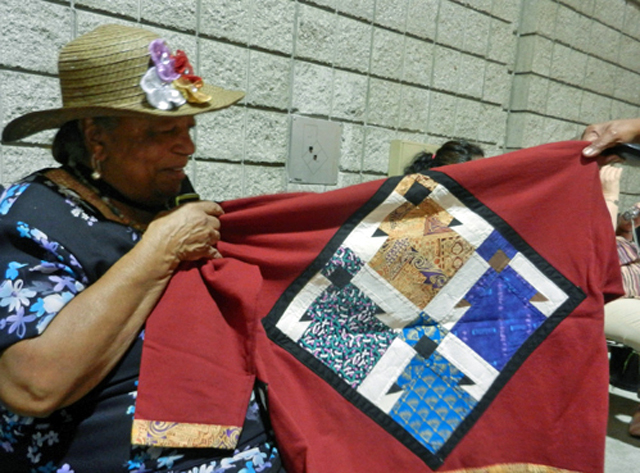 One of the most fun things about quilt shows is the people. I met Alma when I sat down to rest and remarked "Quilt shows are hard work!" Alma and I then engaged in a 30 minute conversation about life, quilts and everything else. Alma began quilting at 66 and she's 80! She just bought a Bernina 830 and she's gonna have some fun with that! She proudly displayed her jacket with the "African Queen" block. She was  a hoot!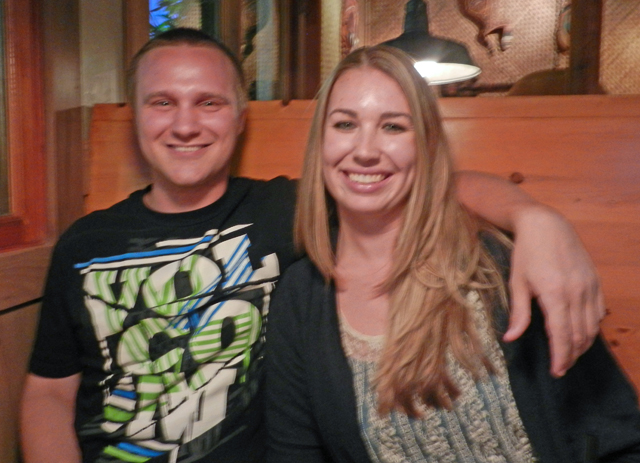 Lucky Mom I am! Son #2 lives in Huntington Beach, close to Long Beach so DH and I were able to meet him and his sweetie for dinner. Crappy photo I know, but it was such a wonderful evening of catching up with them.
I'll be posting again about Long Beach very soon-stay tuned!