What a week-I actually completed 2 t-shirts in just a few days! One was a "remodel" of an existing t-shirt and the other I started from scratch. Considering that I have Fear Of Knits, that is quite an accomplishment.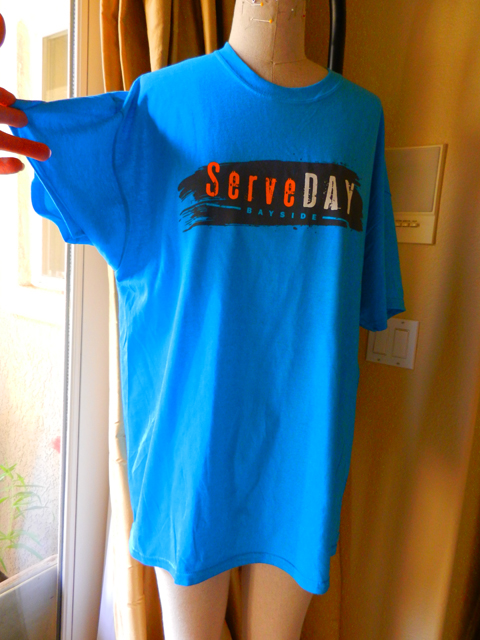 My church is going to have an  area-wide service day where we all go out to various projects in the community and work at whatever needs to be done. We are going to wear t-shirts to identify ourselves. I decided I am just too cool to wear a plain unisex t-shirt, so I made mine over using the "T-Shirt Makeover" by Pamela's Patterns. The whole process took me exactly 68 minutes, not that I was keeping track or anything…
First I cut off the sleeves and then cut out the pattern of the body.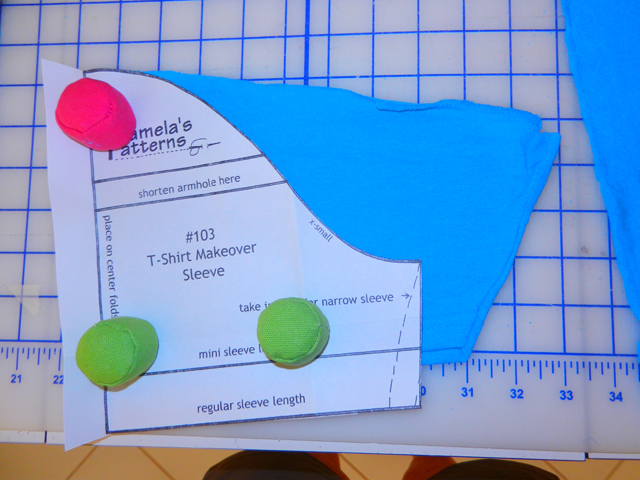 After attaching the sleeves, I sewed the side seams and underarm in one seam. Double needle a hem and  you are done! It's almost cute on me now!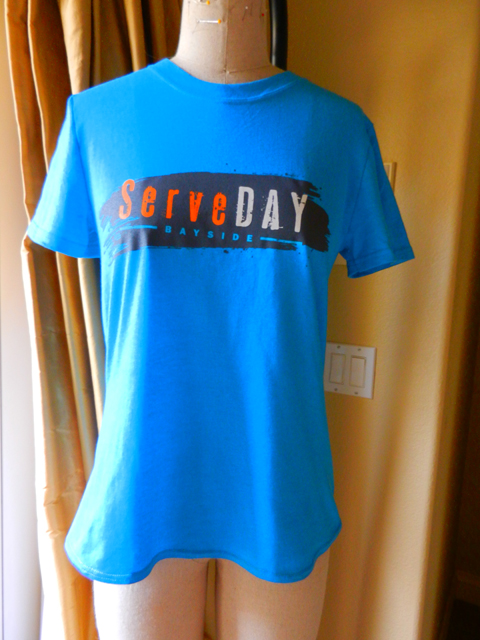 My clothing group that I co-lead for American Sewing Guild is going to learn how to sew a "couture t" next month. We have selected a pattern and I decided to sew one up first as a muslin. Then I will be able to see the difference that the couture elements will add to the t-shirt.
We're working with Christine Jonson's "Shirred T" pattern. I frequent a great fabric shop, Mostly Natural, and the proprietor, Lenore, carries the CJ line of patterns. Lenore also makes up samples of most of the patterns so that you can try them on-is that not the coolest thing?
Fortunately she had made up the Shirred T in my size and I was able to try it on and see that it fit me well. Except, the neckline was obscene on my figure so I raised the neckline about 2″ and that was the only alteration.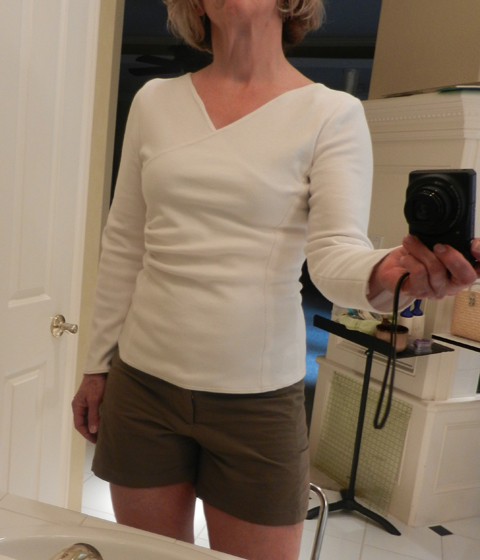 I'm actually pretty pleased with the muslin and intend to wear it. I purchased the rib knit at JoAnn's and it behaved pretty well. Probably the only change I will make is to dip the neckline back down just a bit, maybe 1/2″, otherwise I am please with the fit.
Who knew that I could actually work 2 knit projects in a few days?