I'm excited-the Folsom Quilt and Fiber Guild Show is coming up this weekend, Feb 8-10 in the Folsom Community Center. It's always a great show and this year has even more entries than last year. I'm especially excited to see a sizeable increase in Wearable Art entries with several new artists-yahoo!
One significant way we raise money is with our Boutique. We will have over 150 baskets and items for raffle. I always have something to contribute and I also try to create some new item for raffle.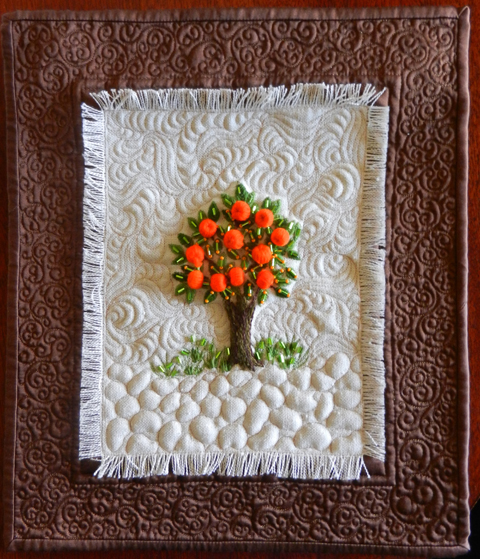 This year's raffle contribution item is directly tied to the Foothill Guild's show. I bought the sweet little crewel-worked centerpiece from their Country Store a few years ago and was waiting for the right idea to surface that would do it justice. It's just the cutest thing and the oranges are dimensional-I think they are big fabric-wrapped beads.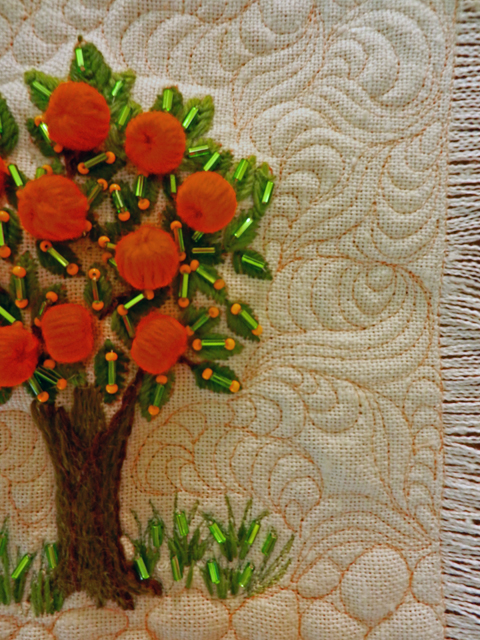 I took the piece and set it upon some silk/cotton Radiance, wool batt and a cotton sateen backing-it's now 8″ x 13″. All my quilting is done with silk thread and I added some beading at the end just for whimsy. It was originally hand hemmed but I removed that and fringed the edges.
I almost always like the back as much as the front and this is no exception. Students and former students are not allowed to notice the tension issues on the "curves" border!! ("Always test your tension after a few stitches to make sure it's right"!)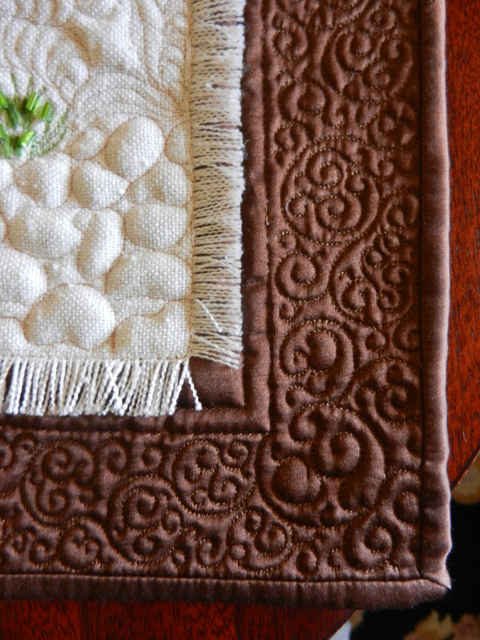 I had a great time making this sweet little piece. The center just spoke to me and led me down this path. And of course, it took me waaaay longer than I ever intended to take!
You must come to the show if you are in the area. We have great lunch offerings from Karen's, known for their great salads, soups and much-too-tempting deserts. And every day at 2:30 we have a Fashion Show, with Yours Truly as your host. We will have all manner of wearables from fun every-day sweatshirts to aprons and dressy stunners.
One more thing-our art quilt group, Quartz, will display this year's challenge-"Red Line". When you walk in the show you will see a stunning display of 14 art quilts all connected by a red line-you MUST come!