Quilting Adventures in Montana
I just returned from my very first visit to Montana and what an adventure it was! Wendy Gerke of Bearly Square Quilt Shop asked me to teach 2 days of free motion quilting.
Last fall when I taught at Houston International Quilt Festival, Edna Gregory was the Bernina rep in my classes. She is an absolutely delightful person and I enjoyed getting to know her. Edna works at Bearly Square and suggested to Wendy that she consider bringing me in to teach at the shop-that was my entre.
Okay, I left my camera in Montana so all these are cell phone photos-sorry!
I flew from Sacramento on a 2-leg flight, first landing in Seattle. I then took a small, noisy plane to Great Falls. I almost always fly out of Terminal B, filled with fabulous art work including this giant jumping rabbit, "Leap" by Lawrence Argent-love this happy guy that greets me at the beginning and end of each trip.
The layover in Seattle was delightful-both ways. The Sea-Tac airport is a bit quirky, with live performers here and there and a fun vibe. I doubled down on oysters taking an oyster shot as an appetizer to my fried oyster plate. And that was breakfast for me. My return flight breakfast was Smoked Salmon Scrambled Eggs-carpe diem!
Even the flight there was a bit of an adventure:
Is that not a sea of half square triangles I spy there on Alaska Air?
And flying in those smaller planes you fly at lower altitude, giving a great view of the Cascades.
Once I landed in Great Falls Wendy picked me up for the 2 1/2 hr drive to Havre. I am from the Midwestern plains and in many ways it reminded me of north-central Illinois.
This is grain, cattle and sheep country. What amazed me were the grain elevators no farther apart than 10 miles almost the entire way to Havre. They intrigued me and I have many more photos than this one. I liked the weathered look, the different configurations, their stark height against the flat plain and big sky.
Havre is located in north-central Montana in the "Hi-Line" district, about 47 miles from the Canadian border. The history of the area is colorful and fascinating. It's hard to convey how amazing that Big Sky is. The light show radiating through the clouds was a glorious sight.
I was treated like a queen while visiting Havre-I was greeted with flowers, chocolate and fabric in my hotel room. My every need in the classroom was anticipated and filled. And I sewed on a Bernina 740-a high-end machine and one I had never sewed on before-what a treat!
My first class had 18 students…and 16 had Berninas! The shop is a Bernina dealer, but that many Berninas in a regular class was unprecedented in my experience. And I would guess that half had the higher end 7- or 8-series machines!
The second day had 10 students and part of the reason was…..it was branding season and several would-be students were involved in branding. Since branding season must take place in dry, seasonable weather, we could not anticipate it. Now that is a first for me-reduced enrollment due to branding season!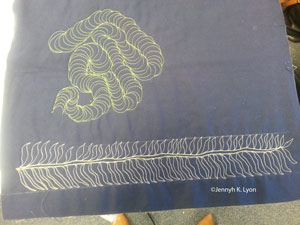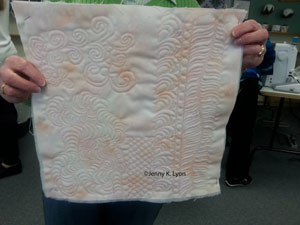 I was delighted with the work of my students. This was work from the second day and most of the motifs were brand new to them. They were quick to take what I taught and make it their own. I LOVE it when students start with what I teach and then personalize it.
The people there were so genuinely friendly-it was delightful. And my students were so eager and attentive and well-schooled on how to use their machines-dream students.
But look how grumpy my hosts were! It was such an enjoyable experience.
Lucky for me the Liquitex inks I ordered arrived while I was gone so I got to begin playing with silk organza I intend to use in my next quilt. I love the look of the morning sun raking across the texture of a whole cloth quilt.
Okay now that I've been to Montana, I have only Idaho to visit and I will have visited all 50 states. Know of any shops or guilds in Idaho that might be interested in me?
It's been a grim re-entry into my normal life. I have to fill my own water, lift my presser foot instead of pressing a button, thread my own machine, make my own meals-woe is me. But what an adventure Montana was!