In search of the "perfect" quilt sandwich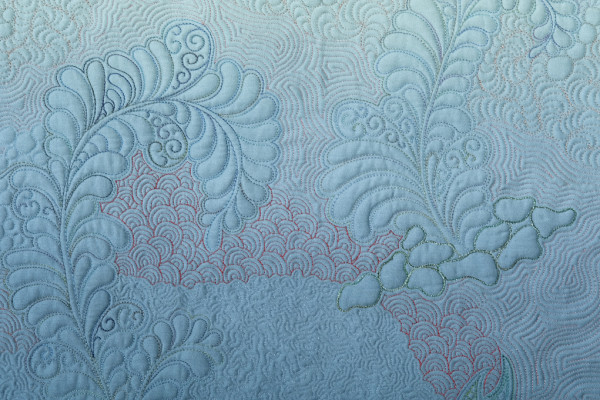 Detail- "Emerge"
Preparation is key for beautiful quilting. Before you take one quilting stitch, you have already made a lot of decisions that have a huge impact on how easy it is to quilt that quilt. Your quilt sandwich carries with it a set of decisions that are set for the duration of your quilting. So a lot of factors go into that "perfect" quilt sandwich and it's best to make mindful decisions about each part of that sandwich.
I finally I think I have found the best combination for an easy-to-quilt quilt: Terial Magic + Misty Fuse + batting of your choice (which for me is wool). I have written here and there about my process, about Terial Magic, and about Misty Fuse, but it's the combination of them that works so well for me.
When you think about it, most of us do one thing, not both: we baste our quilt sandwich together, but do not stabilize the fabric. What would happen if we both stabilized and basted?
I think it's important to do both: stabilize and control movement (basting). I want to both stabilize my fabric and get all 3 layers to move together with no chance that any layer will move independently of the others. Tucks occur when one layer goes rogue from the others.
Let's look first at stabilizing the fabric. I noticed that embroiderers, who obviously stitch very densely, always stabilize. It made me think, how can I stabilize my fabric without the embroidery hoops or add-in fiber stabilizers that they use? There is no way I'm going to hoop each section of a large quilt, and fiber stabilizers would make my quilt stiff and detract from the beautiful dimension of my quilting. (And yes, I've tried the wash out stabilizers-expensive and they did not stabilize as I'd like). I also noticed that Terial Magic was actually made for embroiderers to use for "hoopless" embroidery. Hmmmmmm-could that work for domestic sit-down quilters?
I started to play with the concept of stabilizing the top and backing of my quilts. And once I began to stabilize my fabric, it made a world of difference. Whether you quilt densely like me, or lightly, I think it is best to somehow stabilize your fabric so that you don't get tucks. I know many quilters will use some sort of quilters hoop device or starch their fabrics, but neither method worked for me. Hooping was intrusive to me and starching was just not enough.
To stabilize my top and backing, I spray with Terial Magic, wait a moment for it to settle into the fibers and then press. The Terial Magic makes the fabric almost as stiff as paper, yet the fabric will yield enough to easily manipulate it in the harp of the machine. It's a nice combination of stiffness and flexibility. I've used it on cotton and silk with no ill effects.
Because the Terial Magic completely stabilizes the fabric, you must be mindful to press with the grain of the fabric. If you were to inadvertently press against the bias, you might "stabilize" wonkiness into your quilt and you do not want that! Not that I have ever done that…
Even with stabilized fabric, you still need to control the movement of all 3 layers: top, batting and backing. There are all kinds of ways to baste and I've covered my thoughts in previous posts, but I will review them again. My opinion on basting is this: I want a "naked" quilt sandwich to work with-I do not want anything in my way. I want to romp across that quilt without running into pins or basting threads.
I am not a fan of pin basting. I see two problems: the pins and the weight of the pins. If I am quilting a pin basted quilt, I have to stop and take out those pins as I go along. It's really easy to have a wobble when I restart my stitching. And how many times have you caught your quilting foot on a pin? Also, on a large quilt, those dog gone pins can weigh a lot! Plus, they really don't do a good job of holding my fabric in place anyway. If I'm in a tricky area and release the pin, all the puff goes floating away, waiting to make a tuck. Ugh.
My favorite basting method is to use Misty Fuse. Misty Fuse is a two-sided fusible that does not alter the hand of the fabric at all. It is almost gauze-like. I first learned of this method from Judy Coates Perez and her method is here.
In summary, I fuse the front of the quilt solid with Misty Fuse and the back of the quilt with 1″ square (or so) pieces of Misty Fuse, about a fist's width apart all across the back. Then I fuse the backing to the batting, then the front to the backing/batting. The result: a "naked" and stable quilt sandwich. All 3 layers move as a unit-perfect! I buy Misty Fuse by the roll since I use it so much.
So now, I've got a quilt sandwich that is both stabilized and securely basted. I can just enjoy the quilting, with no concern about tucks or a wonky quilt-love!
I'll be linking up on Friday with Nina-Marie's Off the Wall Friday and she always has a great collection of interesting links.