Goldbug Quilters Show-2016
If it's Fall, it's the "kickoff" of quilt show season, and the Goldbug Quilters' Show is the first of the season in my area. I always look forward to their show and one reason is…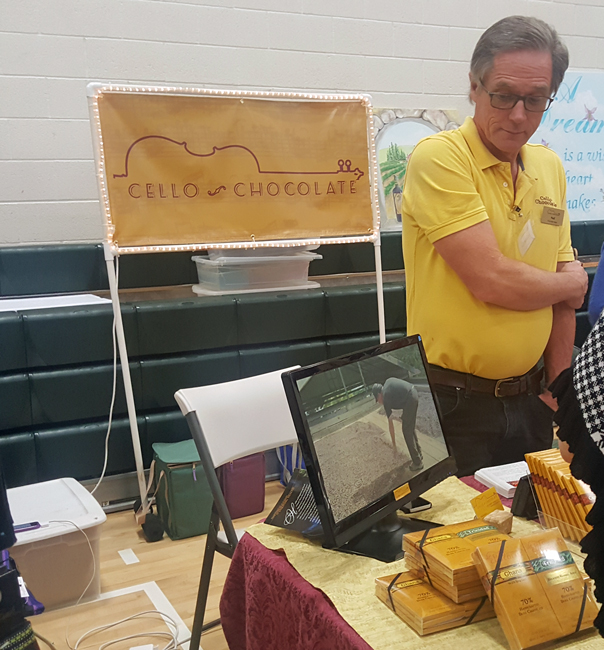 Cello Chocolate is a vendor! Why don't ALL quilt shows have chocolate vendors, huh? They make "handcrafted chocolate from single origin cocoa beans". They set up a tasting bar with samples of all their chocolates and you really could taste the difference with "notes of honey" or vanilla or berry. How cool is that? There were some quilts there too…
I don't usually admit to having a favorite, but this piece won me over. I love how perfectly simple it is, how the gorgeous hand dyed silk is featured, the composition is just perfect. And there is no visible quilting! I heard this was from a Sandra Mollon class. Dang this is beautiful!
Vicki made this piece for the guild's landscape challenge. It commemorates a trip she took with her husband through the Mid-West. Love that red!
Lenore Crawford made a visit to the Goldbug guild and this is Lynette's beautiful, peaceful mini made from the workshop.
Susan calls this her "happy quilt" made from an Elizabeth Hartman pattern. It is so happy!
I've long been a fan of Winding Way quilts. Sherry used a great selection of fabrics to get a lot of movement on this quilt.
The colors and patterns remind Virginia of her fishing trips to Baja Mexico.
Lynne finished this top in a Strip Club (Lynne!!) in 2007. It's never too late to finish those tops! It was beautifully quilted and colorful.
I don't know if this was an original design or not but is a fun piece, full of lovely detail and color. I love the primitive figures!
Lucky Donna won the Needle Nellies Opportunity Quilt! I like the addition of some non-Christmas colors-pretty!
This was made from Keepsake Pattern's Block of the Month. Sally received the kit as a Christmas present in 2015 and intends for it to be passed to female family for generations.
This quilt was in the 1983 issue of Bride's Magazine. Carol recreated the quilt on her own, changing the original colorway to suit her tastes. The quilting was especially beautiful.
This is Malvina's first Log Cabin and she found the project to be daunting, but what a beautiful result! I enjoyed her color choices.
There was no information on the card about this quilt but it always had a crowd around it. The piecing was perfection but the quilting….
made the quilt. I love a backing that shows the quilting and this was just sooo pretty from the back!
This quilt is much more spectacular than my photo shows. It won Best of Show as well as Gentleman's Choice and Best Small Quilt for good reason. Paula made this for the World Gold Panning Championships, an exhibit that travels the world.
I love the edited simplicity of this piece. Linda also used a light hand with the quilting and the perfect thread to carry it off.
My photo cropped out the name (sorry!) but this too was made for the World Gold Panning Championships. Audrey's statement noted the importance of water, even above gold.
The Miniature category was amazing with lots of spectacular work. I particularly enjoyed Beverly's piece that remembers her trip to Greece.
The precision and beauty of Inger's mini caught my eye. Mini's are difficult to piece accurately!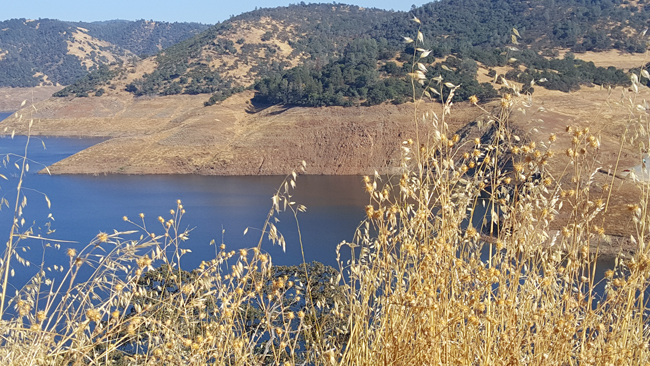 I enjoyed this view on my way to the Sierra Gold Quilters Guild of Tuolumne Co. This was my third year to be invited back! Did I remember to take a single photo while there? No! I truly love to teach and it is a blessing to be surrounded by skilled, vibrant and enthusiastic students. It was a great way to start my week!
I'll be at the Pacific International Quilt Show on Thursday, working the SAQA booth from 10-12. Stop by to say hi! I'll again be a part of Nina Marie's link-up party at Off the Wall Friday-be sure to see what else is going on in the quilting/art world.