2017 Folsom Quilt and Fiber Guild Show-Small Quilts, Wearables, Other
I get so excited about my local guild's show-it's always fabulous! Enjoy a peek at this year's Folsom Quilt and Fiber Guild show: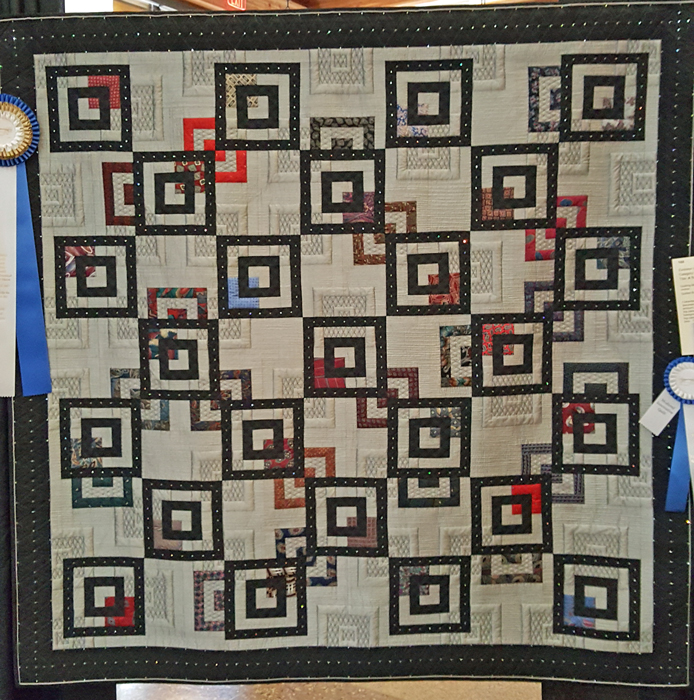 Best of Show, Inger Blood: "A Taste of Tie". Inger inherited her father-in-law's silk ties which she deconstructed and pieced into these Log Cabin blocks. She designed the quilt in EQ7. Inger works on a domestic machine!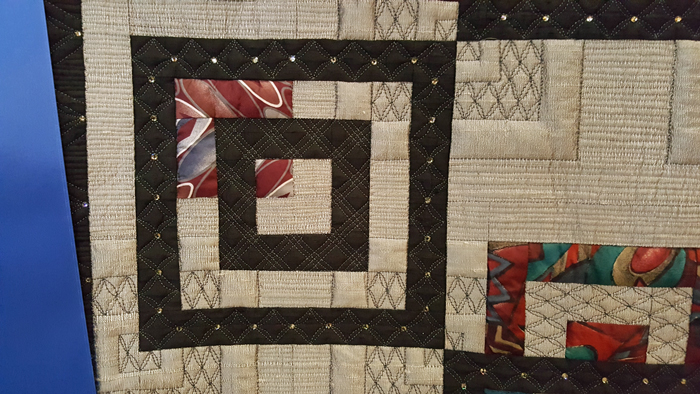 In the detail you see her exquisite quilting and the sparkle of the crystals! It shimmered as it hung.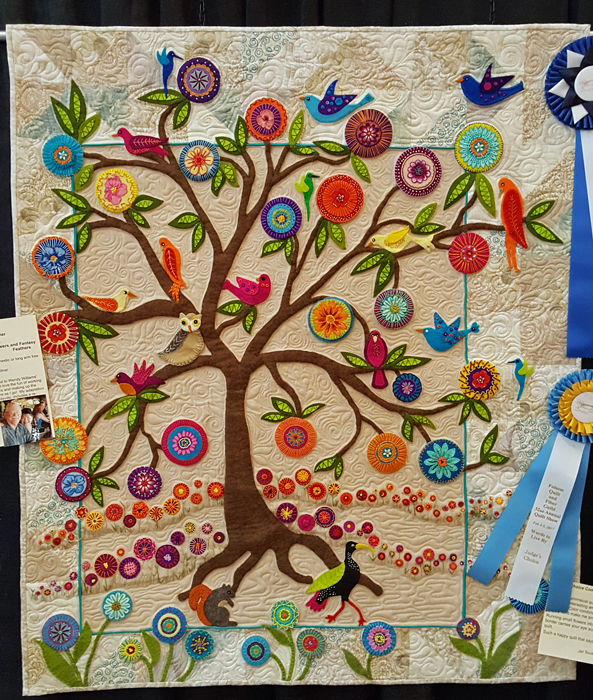 Judge's Choice, Karla Delner: "Fabulous Flowers and Fantasy Feathers". Karla did a bit of redesigning of one of Wendy Williams' wool felt designs. Love those happy colors!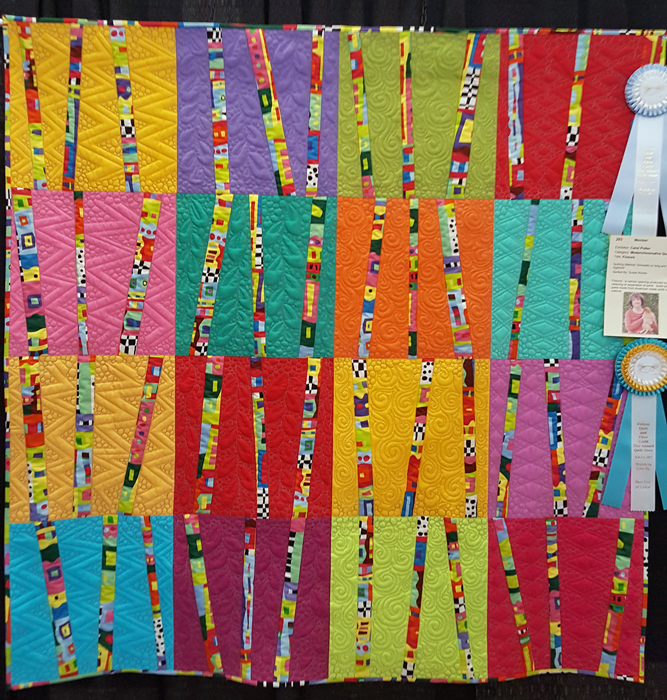 Best Use of Color, Carol Potter: "Fissure". Carol used American Made solids to create her colorful quilt.
"Bounce", Diane Wilhelms. I love the story on this one. Diane took a class from Helen Hardwick on inset circles-all those are pieced, not appliqued! Diane also took a few classes from me on free motion quilting. Both Helen and I were impressed at what Diane had done with what we taught-waaaay beyond the class! As a teacher, no better result than a student who takes it and makes it their own, beyond your expectations.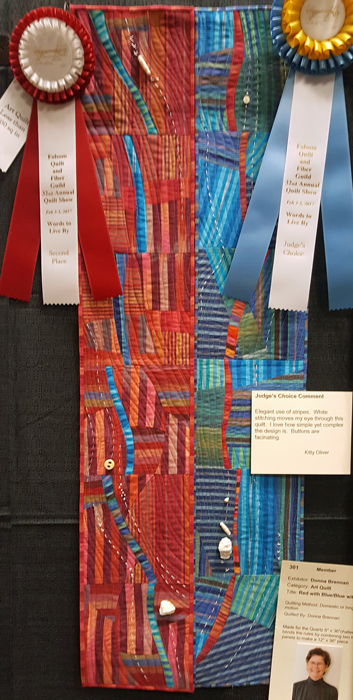 "Red With Blue/Blue With Red", Donna Brennan. Another one of the Judge's Choice for good reason. I love the colors and look for all the lovely details in stitching, texture, ephemera!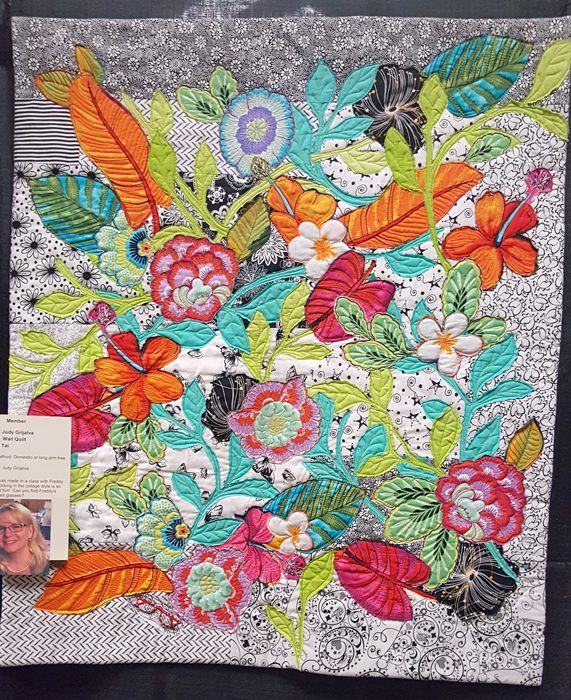 "Mai Tai", Judy Grijalva. Judy took a collage class from Freddy Moran-she hid Freddy's signature red glasses within the quilt! I see them. Love that our guild is getting a Modern influence.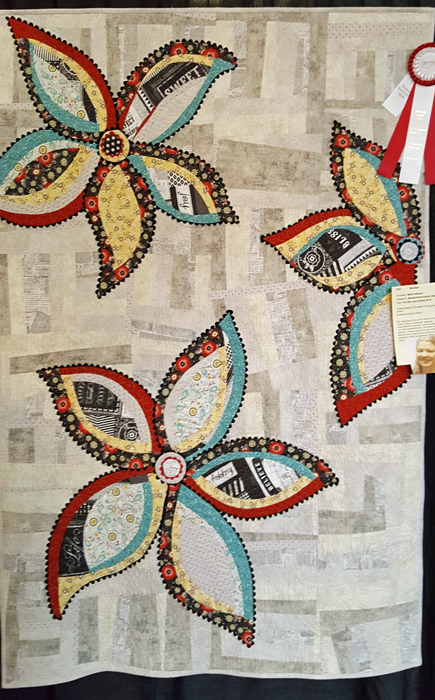 "For the Joy and Bliss of It", Marie Nelson. This is Marie's response to the HMQS ADORit challenge. She used improv piecing, applique, rick rack and free motion quilting to embellish her work. Love this!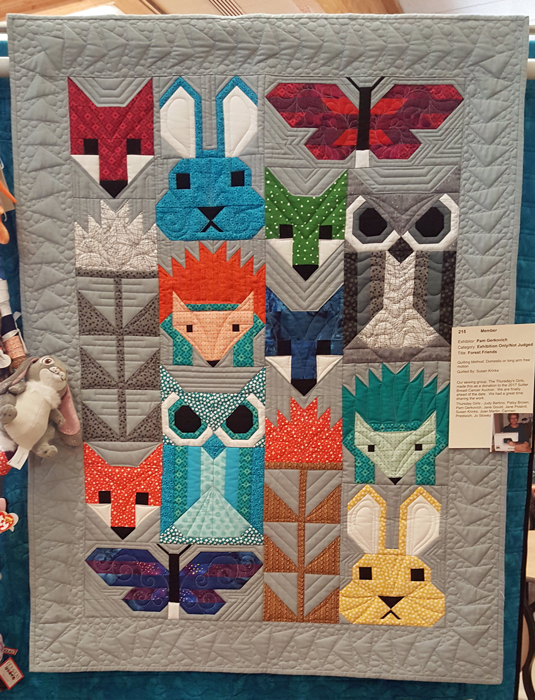 "Forest Friends", the Thursday Girls Sewing Group, quilted by Susan Krinks. This is the group's donation to the Sutter Breast Cancer Auction. What a fun quilt!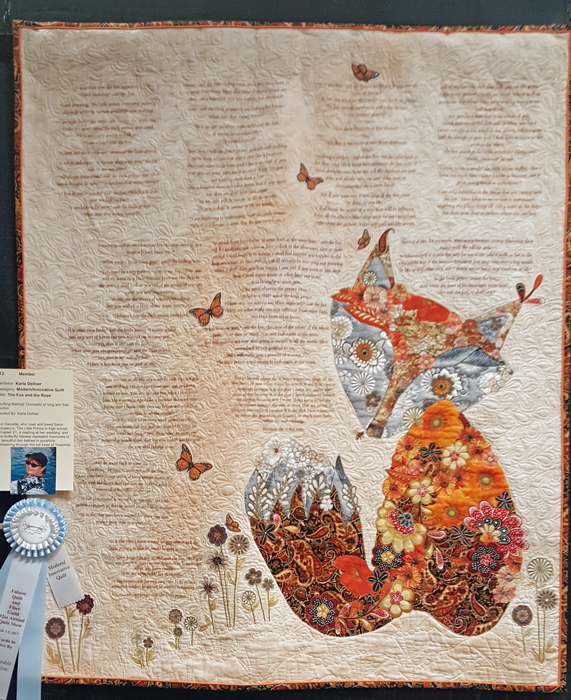 "The Fox and the Rose", Karla Dellner. This was made in honor of her daughter who loved The Little Prince. This is whole cloth, created by Karla! Adorable.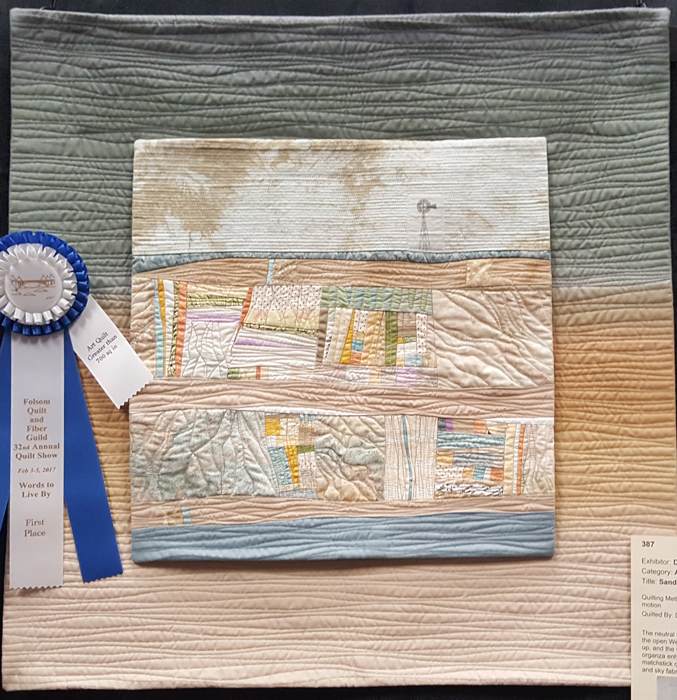 "Sand Storm", Denise Schmidt. Denise's quilt suggests the lines of the West Texas plains where she grew up. Look for all the detail!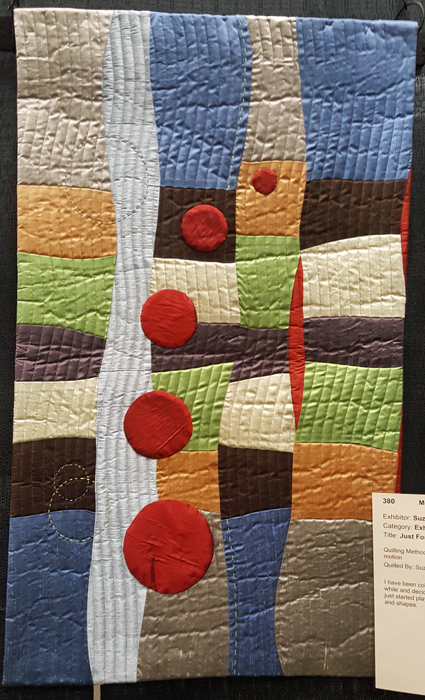 "Just For Fun", Suzie Quinnell. Oh I loved this one-gorgeous colors, silk and details that pull you in-divine.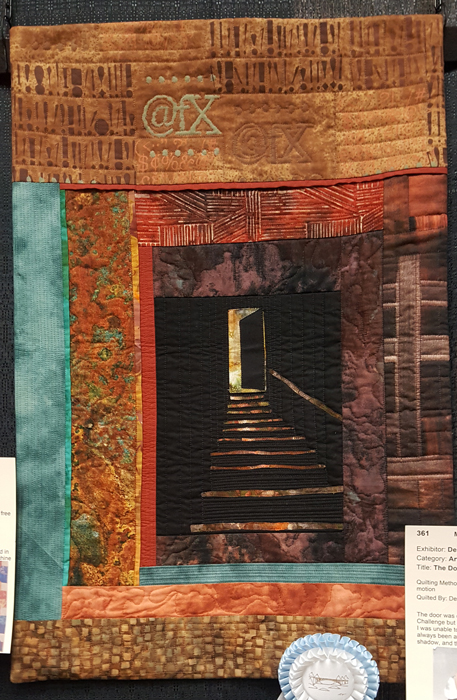 "The Door", Denise Schmidt. Denise wrote that she is attracted to strong light and shadow-she nailed it on this!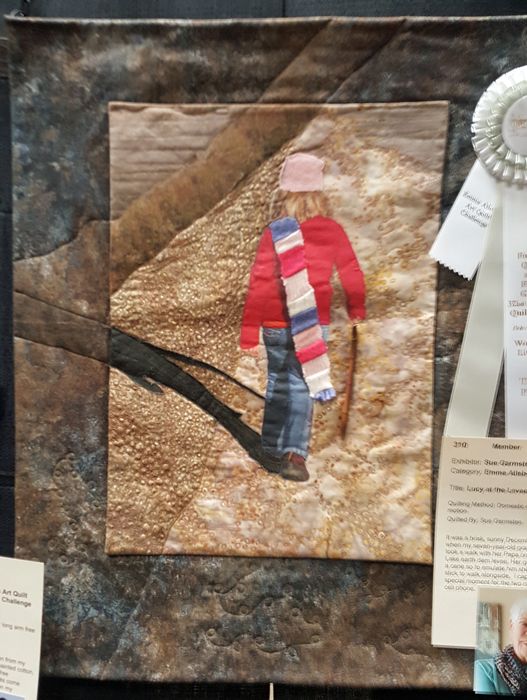 "Lucy at the Levee", Sue Garmston. The image came from day when Sue's 7-year old granddaughter took a walk with her Papa on the Folsom Dam. She picked up a stick to mimic her Papa's cane.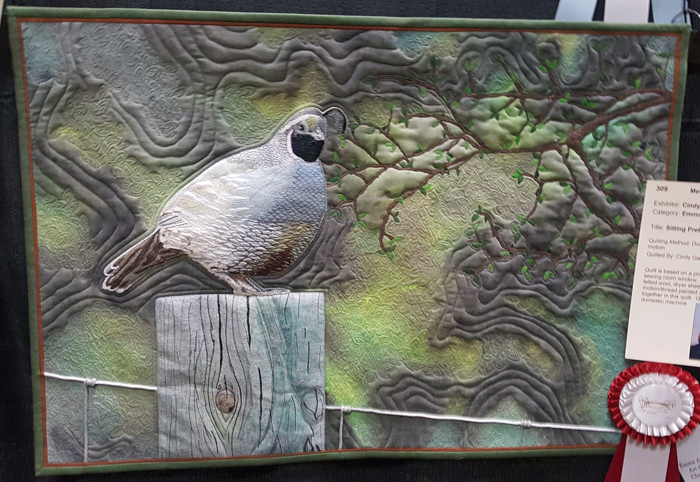 "Sitting Pretty", Cindy Gangler. Cindy's quilt is based on a photo taken from her sewing room window. She combined hand painting with dryer sheets, felted wool and appliques to create this beauty.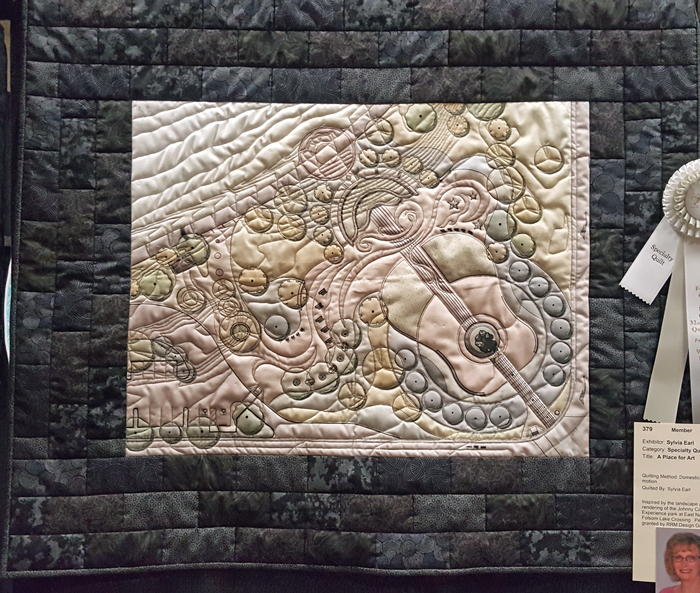 "A Place for Art", Sylvia Earl. Sylvia was inspired by the landscape architect's rendering of the Johnny Cash Trail Art Experience Park. It has a lovely sheen and an abundance of detail.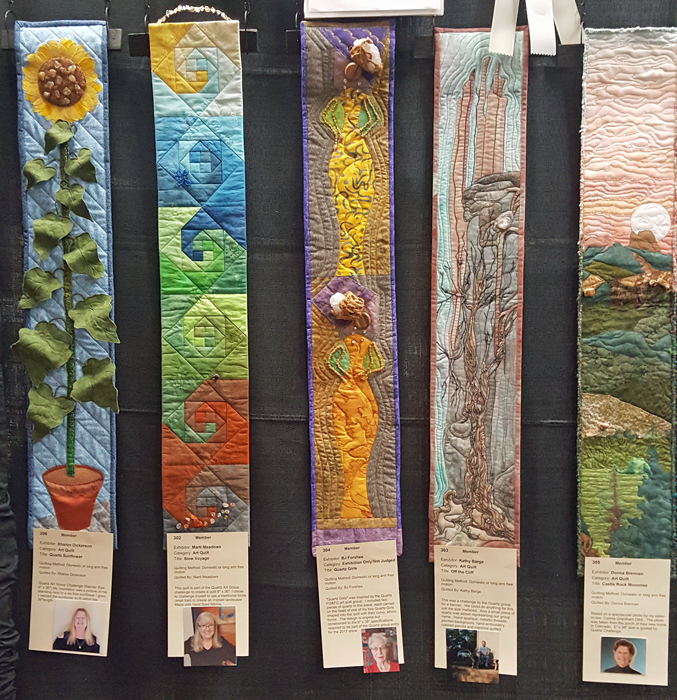 Sharon Dickerson, Marti Meadows, BJ Forshee, Kathy Barge and Donna Brennan. The Quartz Art Group challenge was to create a 6″ x 36″ quilt. Each quilt had all sorts of detail to draw you in.
"Photobomb", Sharon Baxter. Sharon worked from a photo and said this image made her smile every time. When I saw it, I couldn't help but say out loud, "Well hello there"!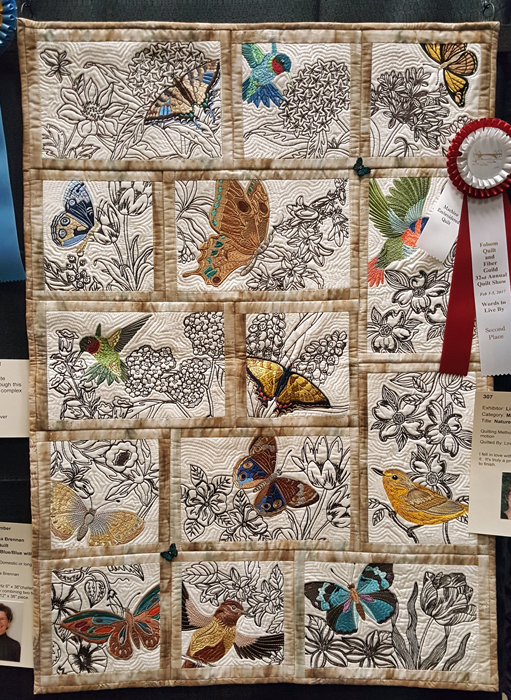 "Nature Sketches", Linda Sliepen. Linda combined free motion quilting with embroidered design-loved the combination of the black and white with the colorful birds and butterflies!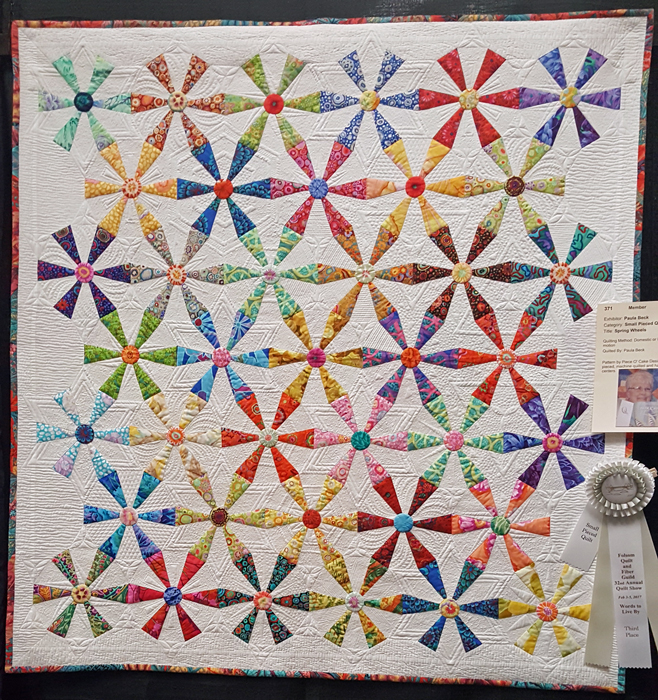 "Spring Wheels", Paula Beck. Made from a Piece 'o Cake Designs pattern, paper pieced. And exquisitely quilted. I was anxious to see this one as Paula teased with progress photos on FaceBook-love it!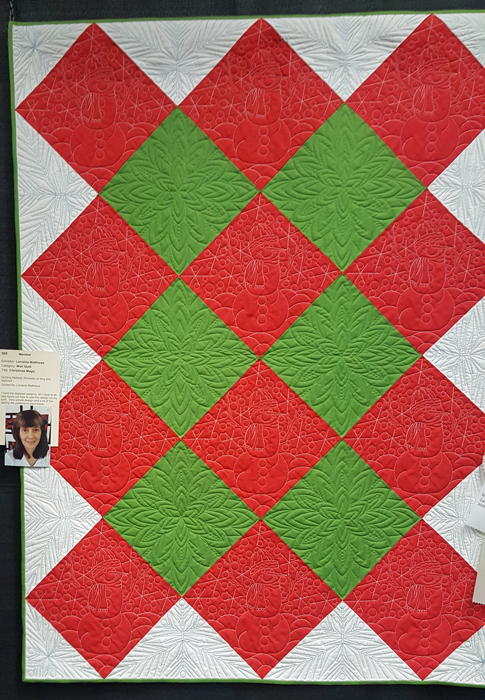 "Christmas Magic", Lorraine Matthews. Very simple piecing, digitized design, stunning results! Many do not realize how much artistry is involved in "computerized quilting". This is just beautiful.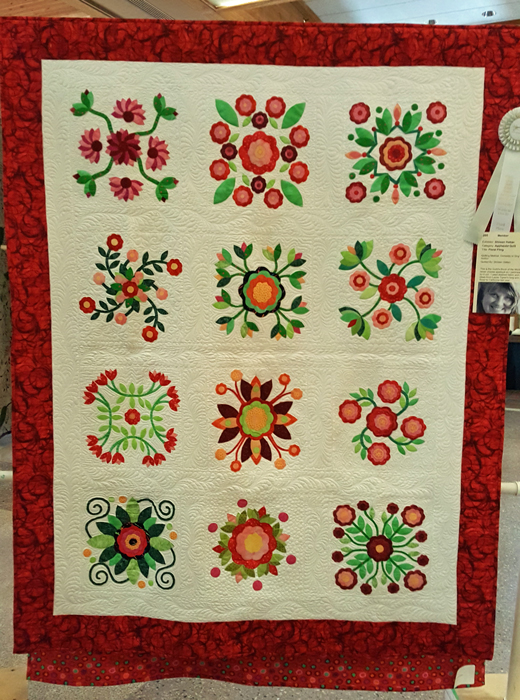 "Floral Fling", Shireen Hattan. This was our guild's Block of the Month and Shireen was new to applique! The lighting in that area was not great-it's much prettier in person. Loved the quilting!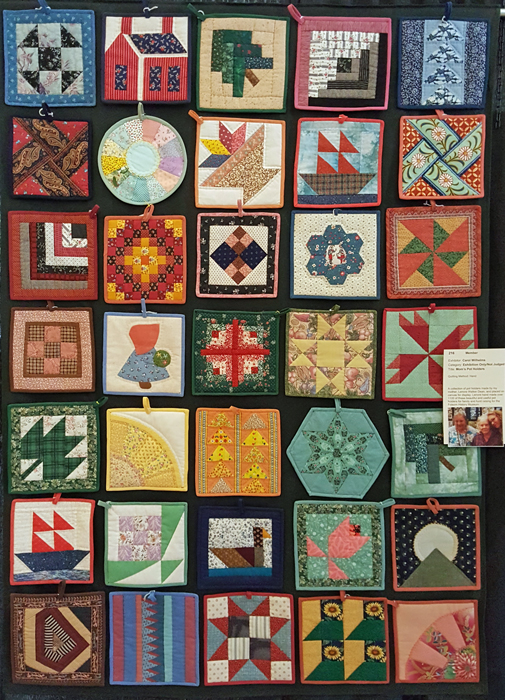 "Mom's Pot Holders", Carol Wilhelms. Carol's Mother made over 1100 pot holders for friends, family and charity. Her Mother was a Founding Member of our guild and passed last year at the age of 102.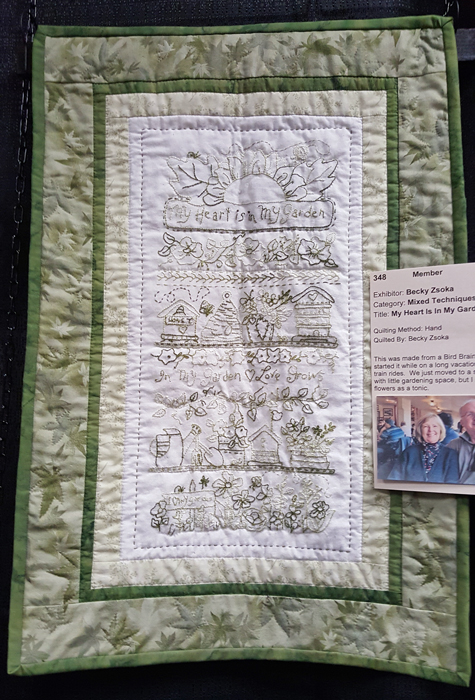 "My Heart Is In My Garden", Becky Zsoka. Becky started her Bird Brain designed piece while on a long vacation with many train rides. So sweet!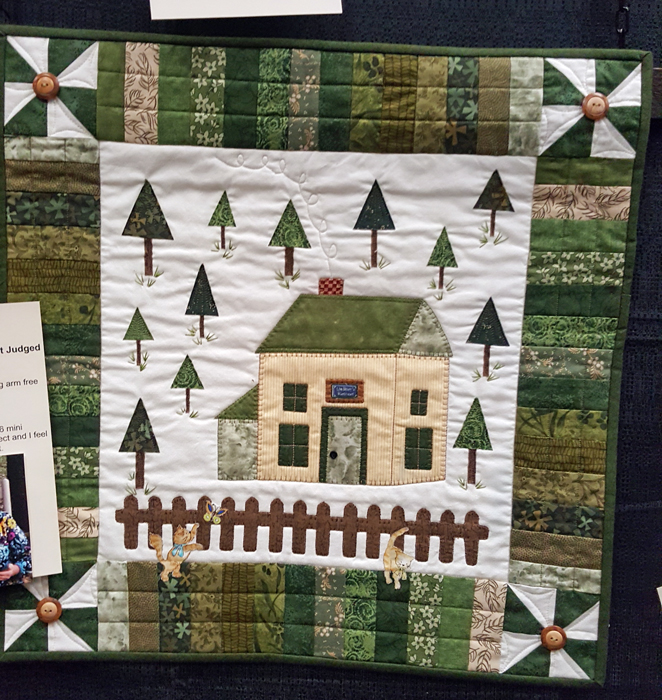 "Respect", Nancy Hitchcock. Nancy chose "respect" as her word for the mini-challenge. She feels that respect should be a part of every home. Lots of fun details if you look closely.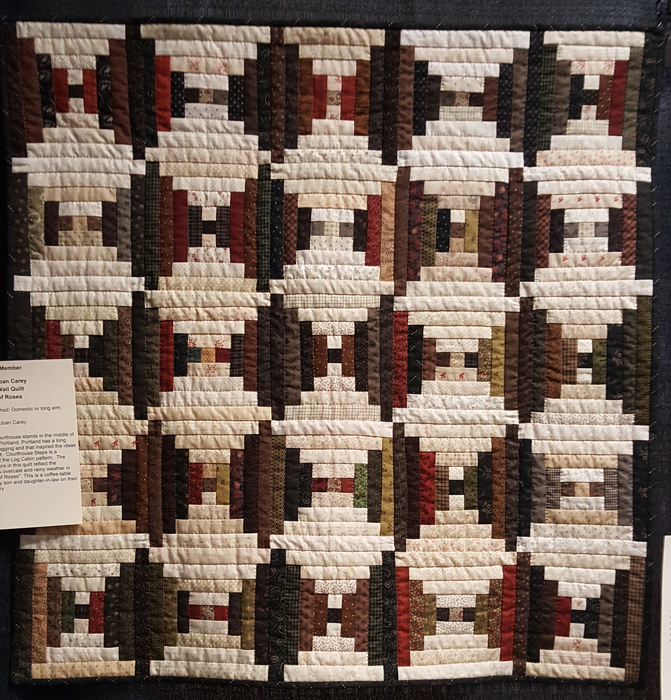 "City of Roses", Joan Carey. You gotta love a Courthouse Steps! Joan chose these colors based on the courthouse in Portland, Or and its overcast and rainy weather.
"Hitofude", Debi Henry. Debi had long admired this pattern and finally gave it a go. I should learn to knit now so that in 10 years I could actually make something this beautiful!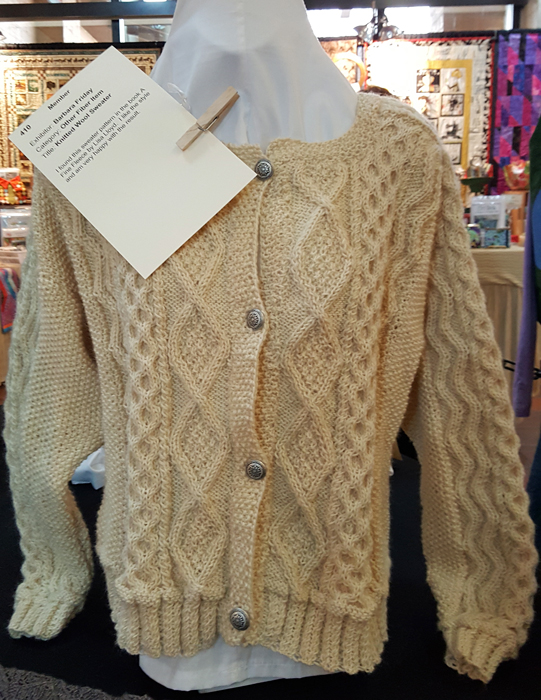 "Knitted Wool Sweater", Barbara Friday. Made from the book "A Fine Fleece". Gorgeous, full of texture, lovely.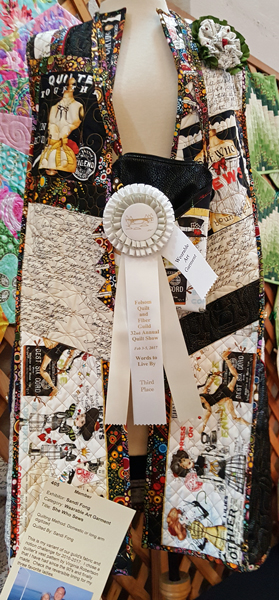 "She Who Sews", Sandi Fong. Sandi made this in response to the Wearable Art Challenge for the guild. She has an homage to her 3 favorite ladies in the lining!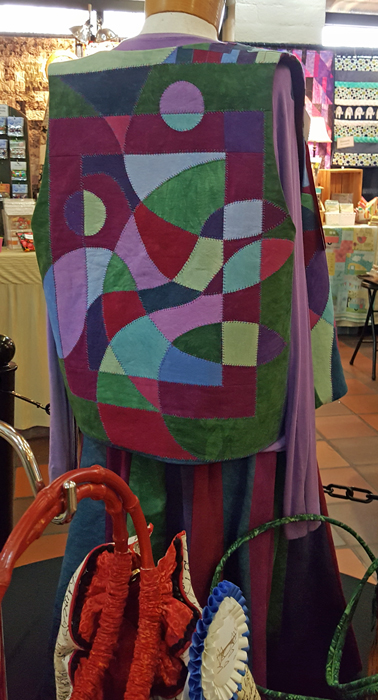 "Cherrywood", Dee Cavanagh. Inspired by a Modern Art quilting class at PIQF, Dee created this ensemble which includes a 20 gored skirt.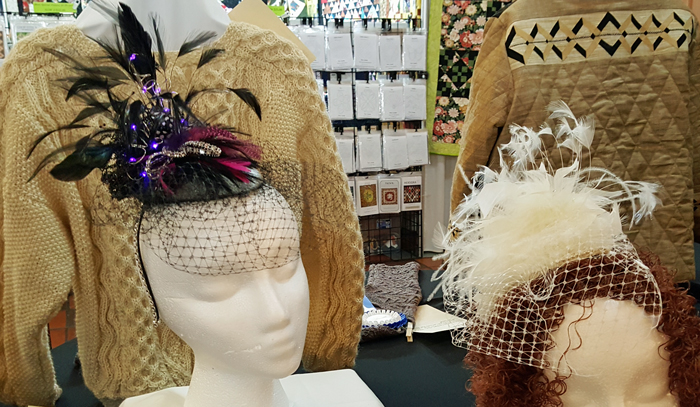 "Fantasy in Feathers", Karla Delner; "Feathers and Pearls", Alison Berry. Both Karla and Alison responded to the guild's Fascinator Challenge-how fun!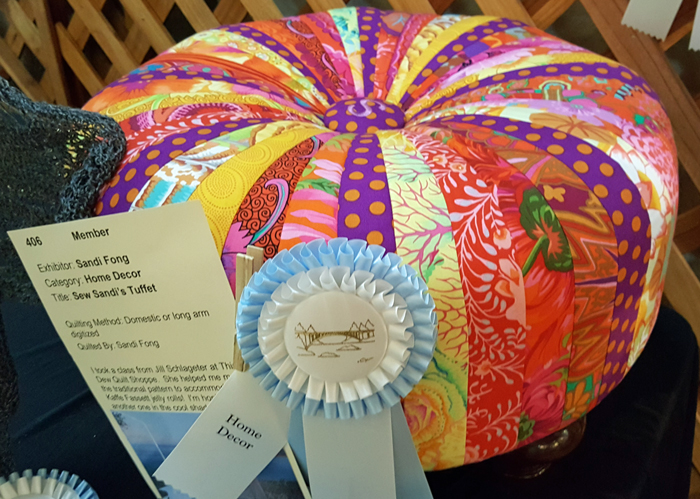 "Sew Sandi's Tuffet", Sandi Fong. Sandi combined a variety of Kaffe Fassett fabrics to complete her tuffet. I would love this in my home!
I did have to leave out some photos that were just terrible. I was going on 4 hours of sleep. I had a wonderful, inspiring visit to the Fallbrook Quilters Guild. When I came home it was late, I unpacked, and was still wired! Also, if a quilt has already been a part of a previous post, I do not include it the second or third time it might show. I'll be linking up with Nina-Marie's Off the Wall Friday. And this is just part of the show-more to come next week!