2017 Folsom Quilt and Fiber Guild Show-The Big Quilt Room
On to the Big Quilt Room: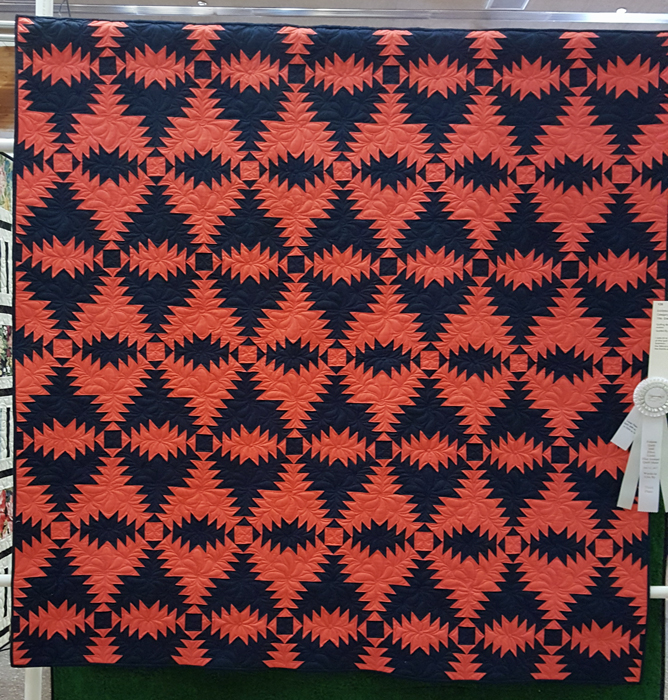 Debi Henry, quilted by Brandi Rayburn, "Crazy Two Colored Pineapple". Debi saw a photo of this quilt done on a cruise with Anita Grossman-Solomon and knew she had to make it. I love how graphic it is, beautifully pieced and gorgeous quilting.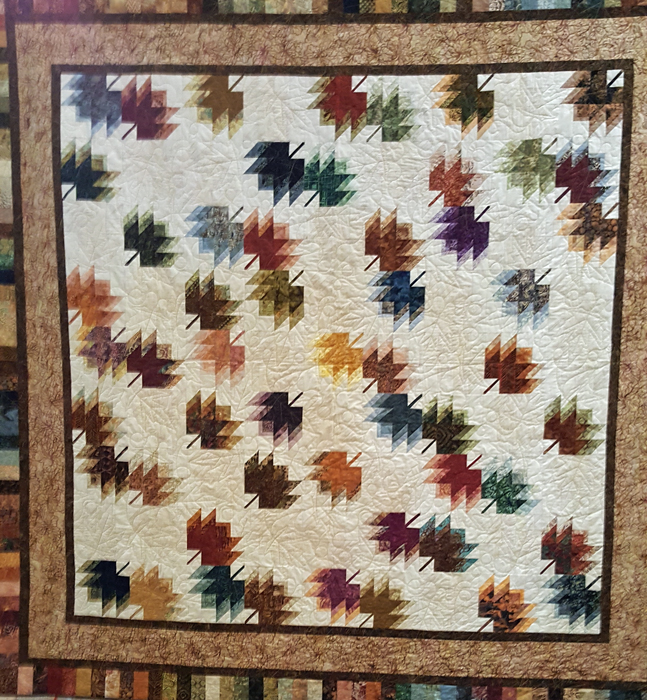 Chris Bender, quilted by Sandi Fong, "Leaves". Chris modified a pattern by Donna Lynn Thomas. There are 2,300 pieces in this quilt! Her use of color makes the leaves "fuzzy"-kinda cool!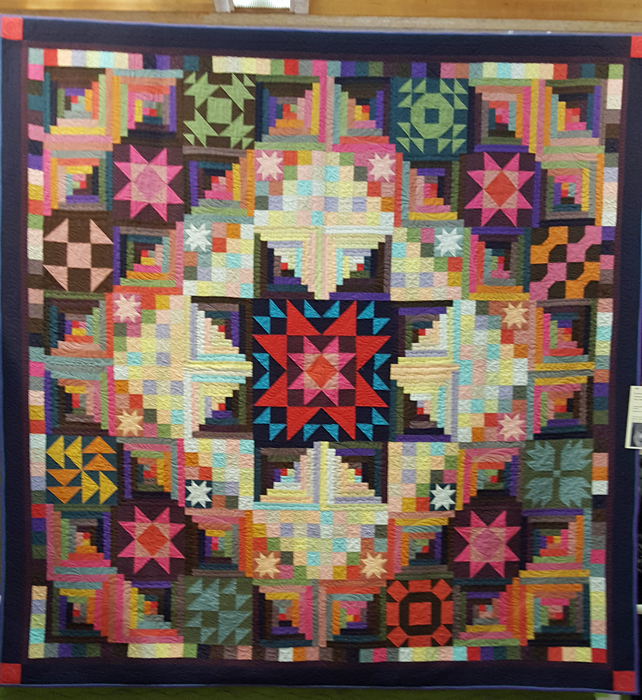 Shireen Hattan, "Amish With A Twist Slightly Twisted". Shireen picked this up from a Nancy Rink Block of the Month close out sale. Oh I love those colors and Shireen's expert quilting!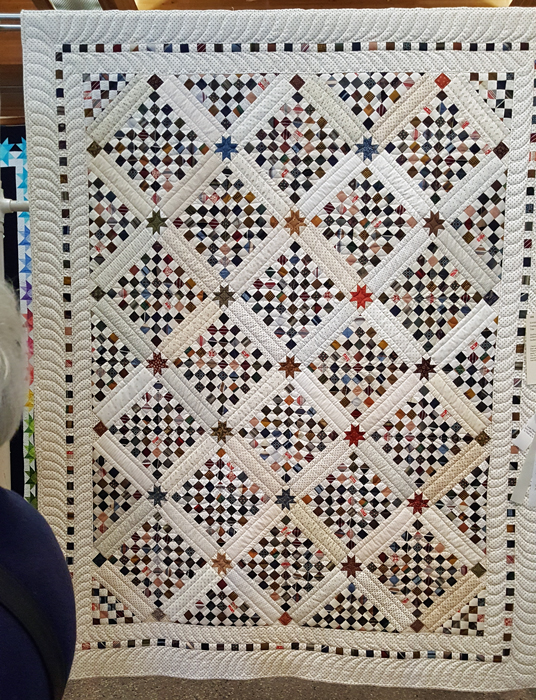 Janet Sweetland, quilted by Lin Squires, "Blessed be the Ties That Bind". Janet incorporated her father's favorite ties in this beautiful piece. All that silk was just glorious. Lin's quilting is restrained but dang those feathers just had to go into the border to finish it off!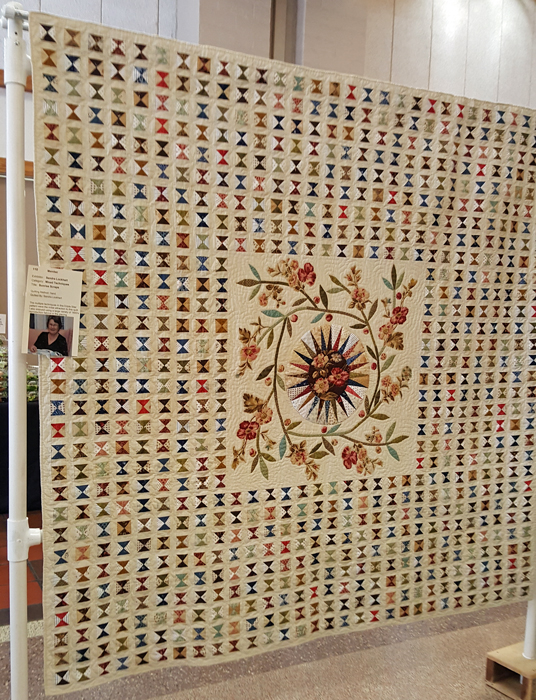 Sandra Lockhart, "Sunrise Scraps". Ya gotta love a scrappy quilt! Sandra used a variety of 1800's reproduction fabrics in this beautiful quilt from an Edyta Sitar pattern.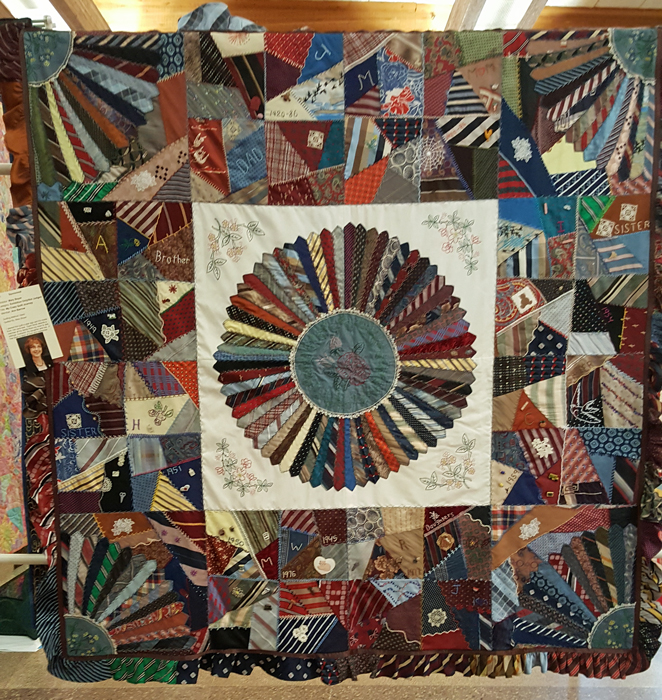 Mary Boyer, "My Crazy Quilt Journey". Mary used 144 neckties in the making of this quilt.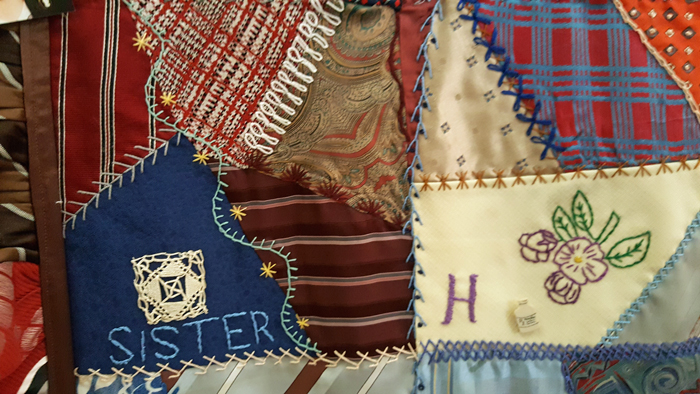 Each block depicts a member of her family. Lots of gorgeous hand work in there!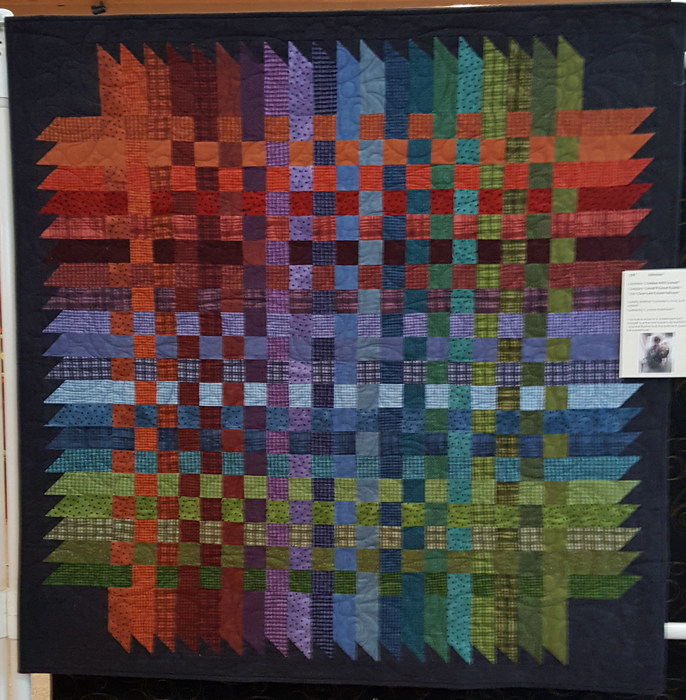 Colleen McConnell, quilted by Lorraine Matthews, "Over and Under Woven". Colleen said this was quite the challenge. She used flannels and the colors and texture were divine!
Colleen McConnell, quilted by Lorraine Matthews, "Kaffe Handkerchief Corners". All Kaffe fabrics. Of course the colors are glorious with Kaffe and I love the precise piecing and placement of fabrics.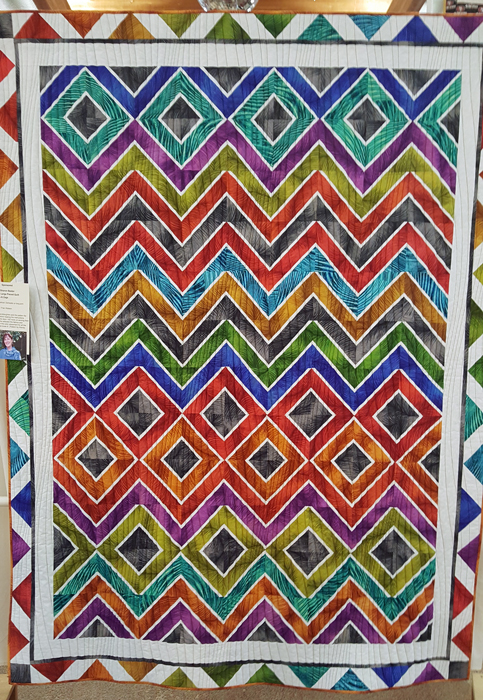 Sharon Baxter, quilted by Fran Watson, "Zigs and Zags". Sharon made this for her granddaughter who picked the pattern and colors. She encountered more challenges than she bargained for but what an impact!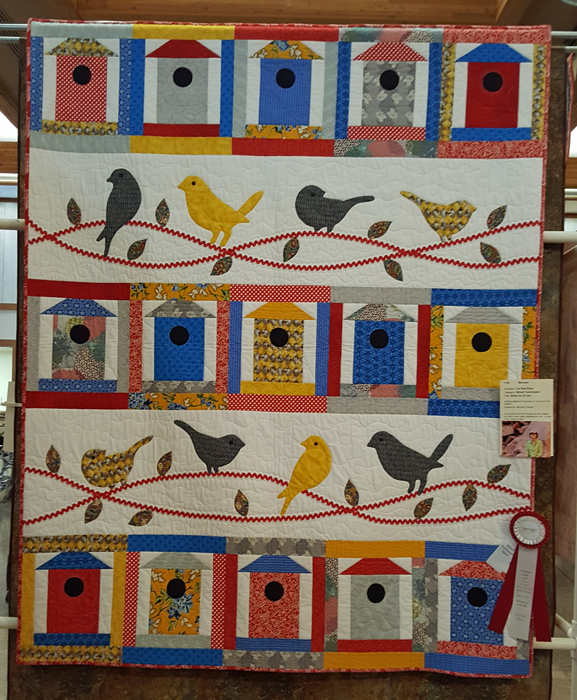 Lor Rae Raus, "Birds on a Line". This was an Abby Lane pattern-so adorable!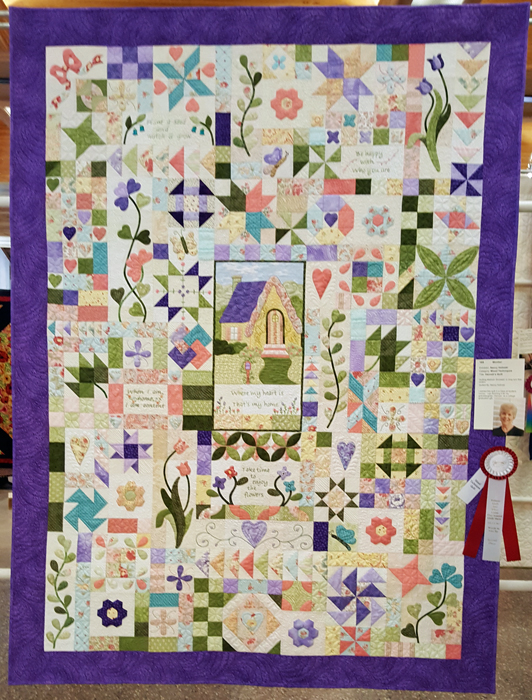 Nancy Holinski, "Hannah's Quilt". Nancy started this in a class at Quilter's Corner and made it for her granddaughter's college graduation. Such beautiful applique and quilting!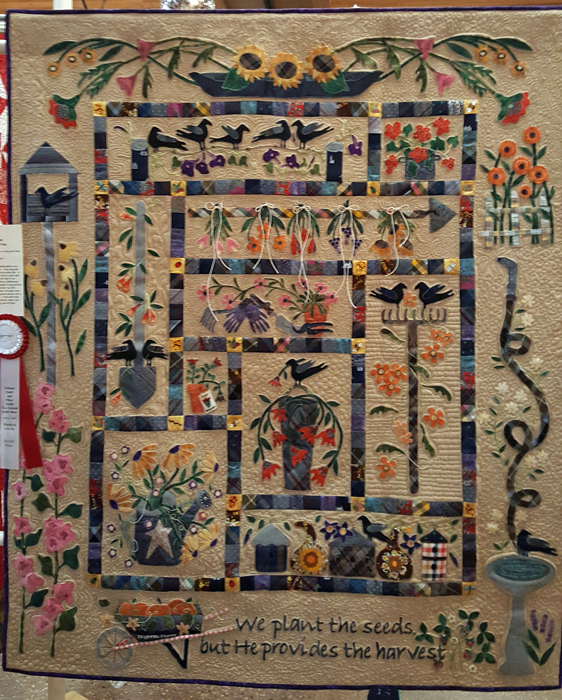 Linda Braden, quilted by Sharon Kerlagon, "Fred's Garden of Ties". Linda made this from a Primitive Gathering Garden Quilt pattern that she scaled down. She used all of his ties in the making of this quilt. What a beautiful tribute and quilt!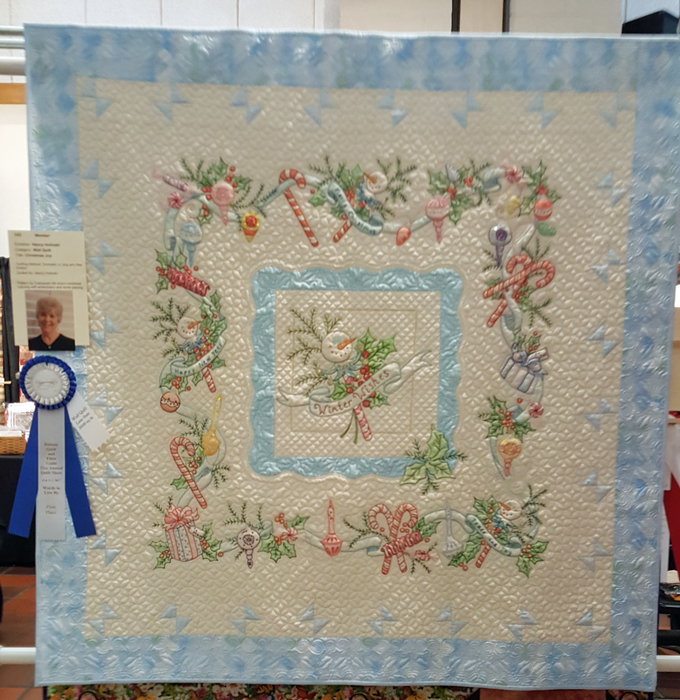 Nancy Holinski, "Christmas Joy". Nancy used a Crabapple Hill design plus coloring, embroidery and piecing to create this sweet quilt.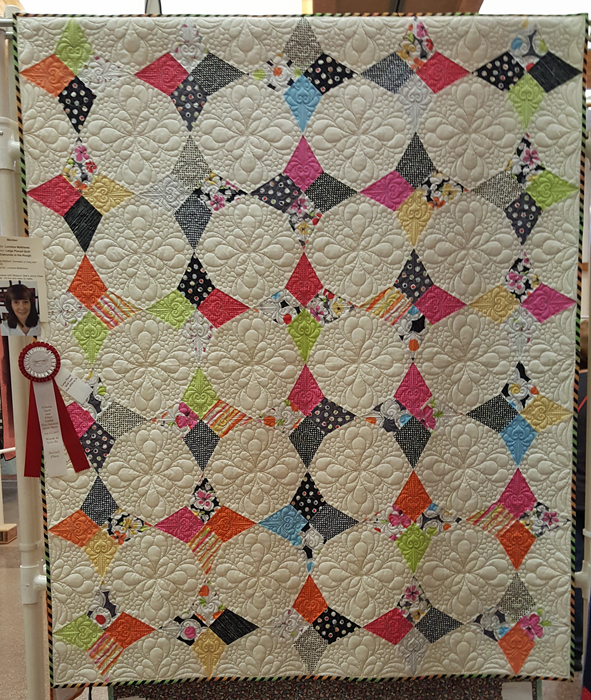 Lorraine Matthews, "Diamonds in the Rough". Lorraine used a Missouri Star tutorial  to construct her quilt. Love her choice of quilting pattern in the plain blocks and the fun binding!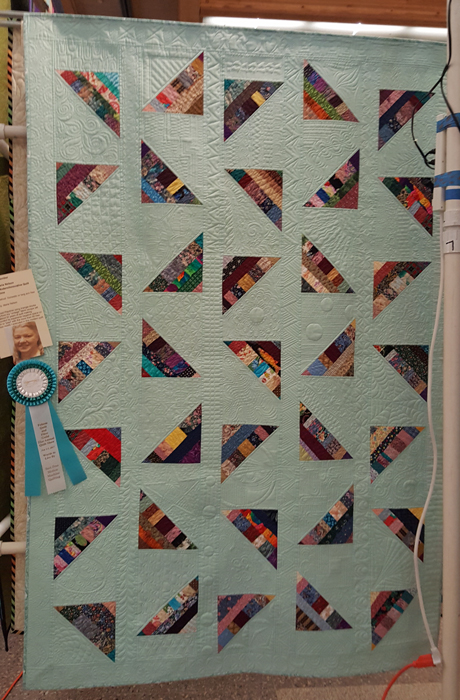 Marie Nelson, "Playtime". Marie won Best Machine Quilting and my photo does not do the quilting justice. She used scraps from 20 years of quilting to create the triangles and then had a blast quilting the negative space. She used more than 85 different motifs yet it is beautifully unified.

Sue Garmston, Gayle Simpson and Donna Brennan, "Sutter Street". Sutter Street is the main drag in old Folsom. Members of the art quilt group each took a portion of the downtown for their quilt. There is so much delightful detail in each quilt and I know it doesn't show well here. Trust me!
Helen Hardwick, "Taku". Helen used "random bargello" to represent the beautiful Alaskan glacier Taku. I loved the striking colors and undulating bargello.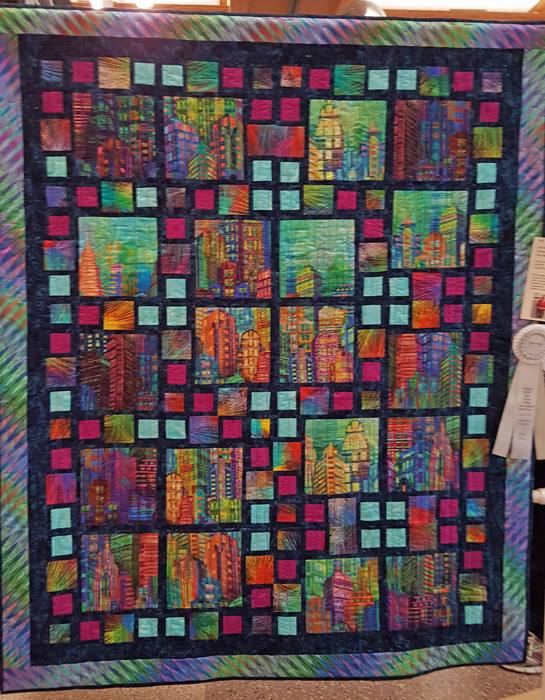 Sally Scholtz, Lorraine Matthews, "Skyline Sensation". Sally went to the Houston show in 2015 and picked up the pattern and fabric from a vendor. Aren't those colors glorious?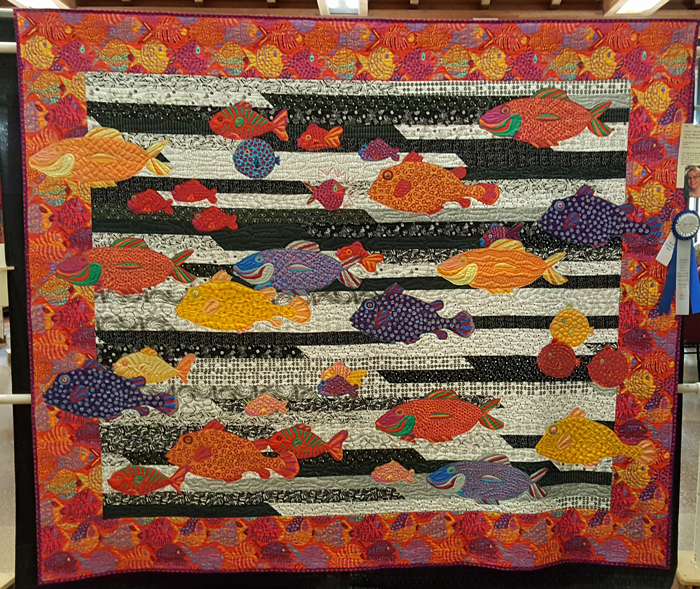 Judy Grijalva, "You're Going the Wrong Way". Judy started with a jelly roll race and added the whimsical raw edge appliqued fish. And then there was that one fish going the wrong way….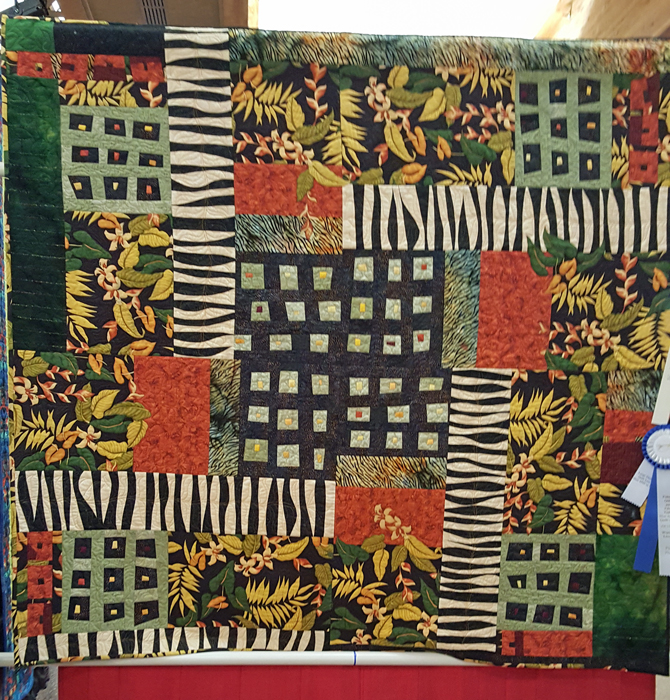 Lynn Daly, "HIdden in the Jungle". Lynn adapted this from a pattern in a Modern quilt book. Love her expert use of those prints!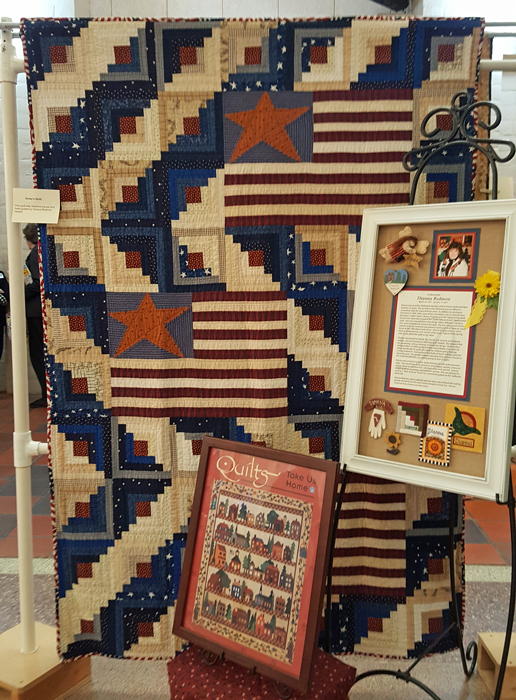 A tribute to one of our dear members who was stolen from us. We miss her.
I know I have missed some, but I'm tired! I hope you enjoyed the show-it was a good one! Put it on your calendar- Feb 9-11, 2018. Be there!
I'll be linking up with Nina-Marie's Off the Wall Friday.