News, Something New, a New Newsletter…and an Epilogue
Don't you just love how quilters help each other? I title one of my lectures "Quilting is a Contact Sport" based on that premise. This week my friend Helen came to my rescue: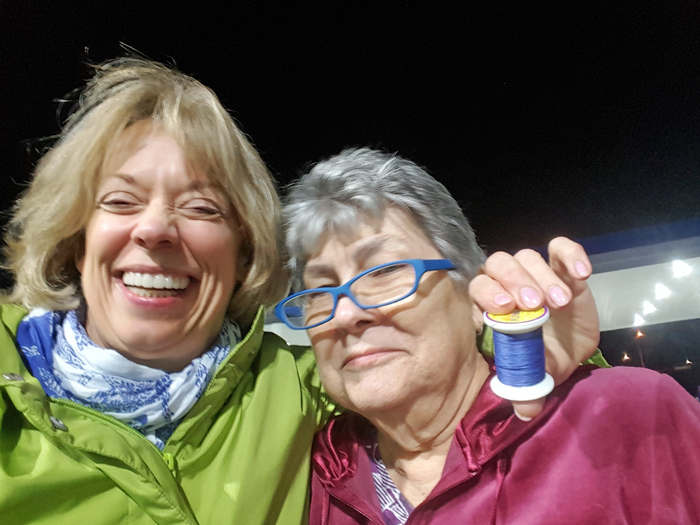 I was working on a project at night and I ran out of King Tut #903. Horrors! I posted to FaceBook: "How will I live-ran out of King Tut color #903-need it now!" You KNOW the feeling, right? I received many responses but Helen got right on it and called me, wondering if I could meet her. No hesitation there-sure! Now this was on one of those blustery, rainy nights we've had too much of here in  Northern California, so it was blowing a gale at the time. What a friend!
Yes, I know I might have found it in the morning or ordered it-and I have lots of sources. But you know that feeling-you're in the groove and you just can't wait! Helen was there within an hour of my posting-and I would have done the same for her. Love quilters!
And two of my students in last week's Fearless Free Motion Fills and Frills class surprised me with their projects made after the Intro class: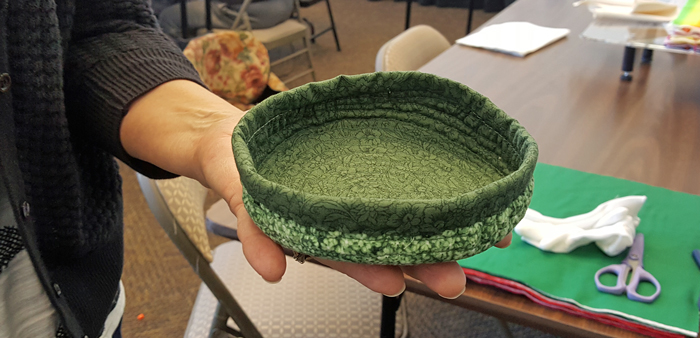 Isn't that adorable? Great for gifts or to hold pins and such at the machine.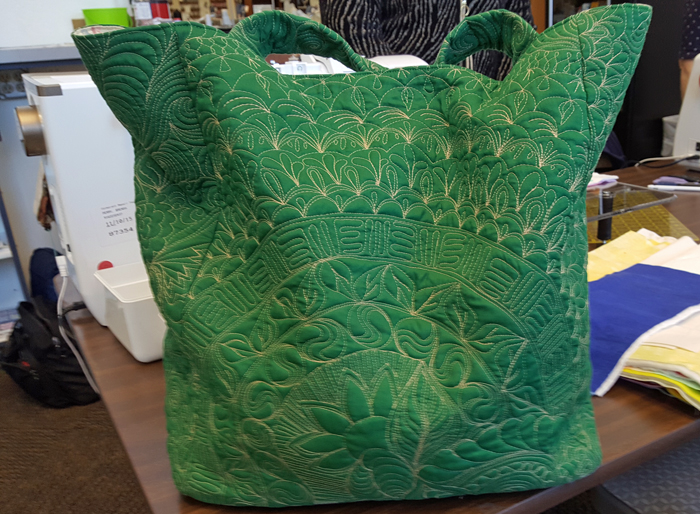 And this student challenged herself to create/find as many new motifs as possible. I think she nailed it-love this bag! Nothing makes a teacher's heart soar more than seeing her students flourish.
Now on to a follow up, an epilogue of sorts. You may recall, I recently sold this quilt: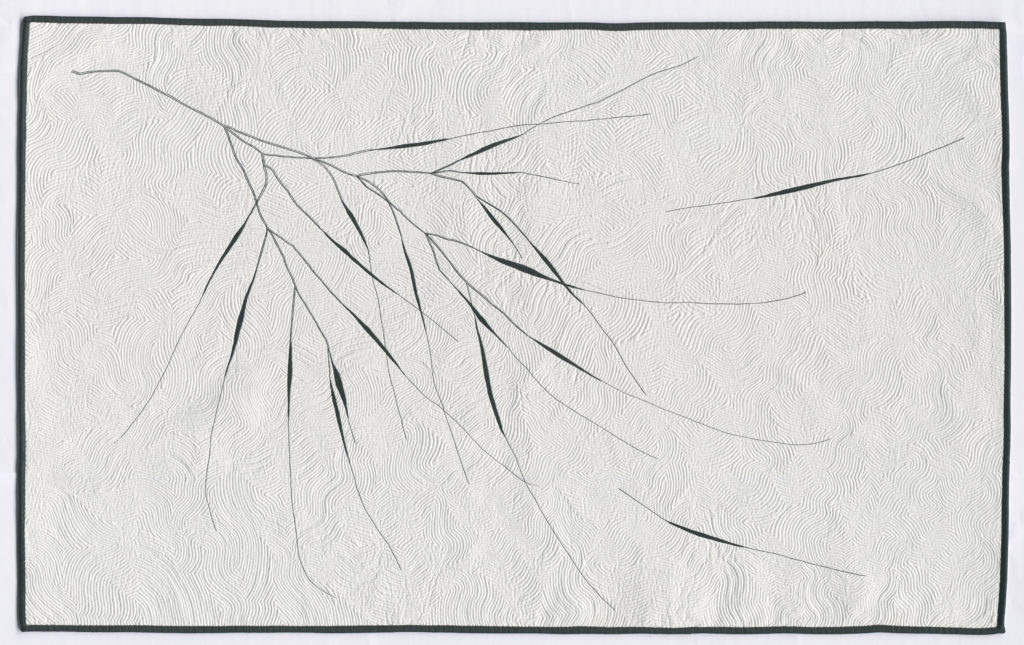 And although I was unquestionably happy that it sold, I had some mixed feelings about it leaving me. All that cleared up when I received a lovely note from the collector. She had renamed it "Serenity". It's previous moniker was the oh-so-sexy "Stipa Gigantica". She reoriented it to hang vertically  and it hangs in her meditation/yoga room. And she noted that she views it daily and she too loves grasses!!! Oh my heart was filled to read that. And she even included a photo of it in place. I have total peace and joy over my quilt finding its way to this collector. Sigh.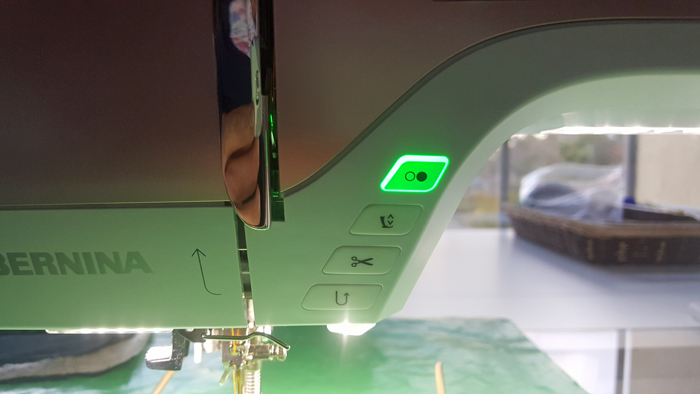 And lo and behold, I tried something NEW! I, gasp, used my Start/Stop button on my machine. A little background here. I advise students in my free motion quilting classes to not use the Start/Stop button. If you were to use it, you would set the desired speed and when you push Start-it will chug along at that preset speed, eliminating the need to control the speed with the foot. The thought is that it simplifies the process with one less thing to worry about.
The reason I discourage its use for free motion quilting (only!) is because your fmq speeds will ebb and flow. When you know what you're doing, you will go faster; when you're unsure, you will slow down. If your machine is chugging along at the same speed, you will find yourself either trying to catch up with it (think of a dog chasing its tail), or moving the quilt faster than you should for that speed. The latter will result in long, pixelated stitches.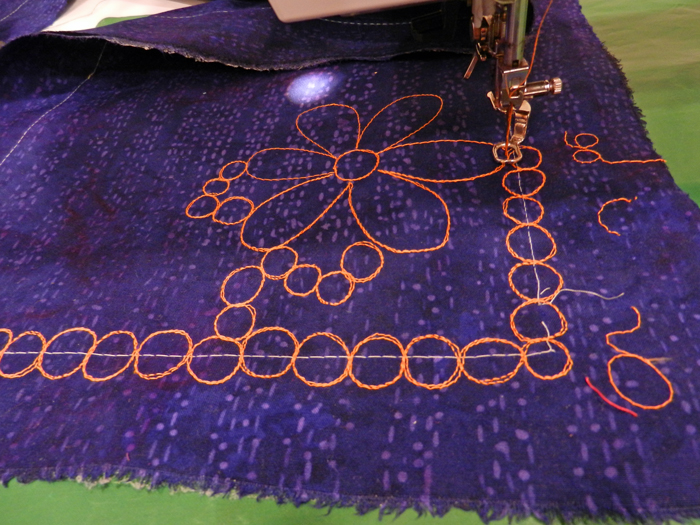 But in this case I was doing 5 yards of bubbles in a row on the outside border of a scarf. Now that is the same thing over and over. It occurred to me that that was the exact situation where the Start/Stop button would excell. And it did! I moved smoothly and quickly and I relaxed into the process. Win!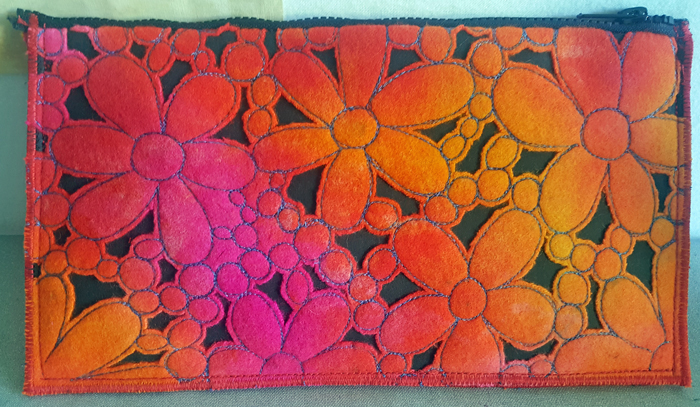 And I made a new "Money Bag". My old bag was the ubiquitous black money bag from my bank. Someone commented to me about how it just announced that it had money in it and it occurred to me that I needed to up my game on that one. So I placed some of Linda Waddle's glorious hand dyed wool atop Kraft-Tex. Kraft-Tex is "paper that looks, feels, and wears like leather, but sews, cuts, and washes like fabric". Over time, with several washings, it acquires a lovely wrinkly patina.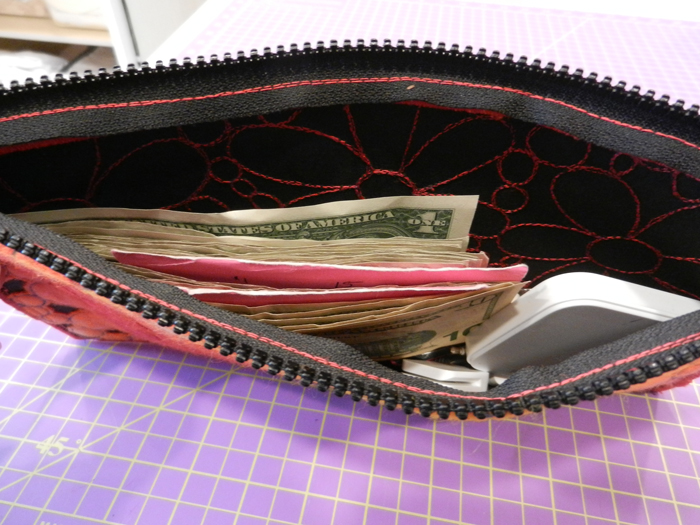 I free motion quilted the wool to the KraftTex, cut out the negative space and assembled the bag. It's a very rudimentary bag and does the trick. And it's a lot prettier than my old one! By the way, that is the King Tut 903 (on top) that I used for the free motion quilting-the one that required a rescue from Helen and an emergency run!
One more thing: I will be sending a newsletter and I NEED YOUR HELP! I need help for two things:
-Please help me name it! I want it to be something about Jenny or Lyon or quiltskipper. It will have news about my wanderings and showings as well as tips and tricks.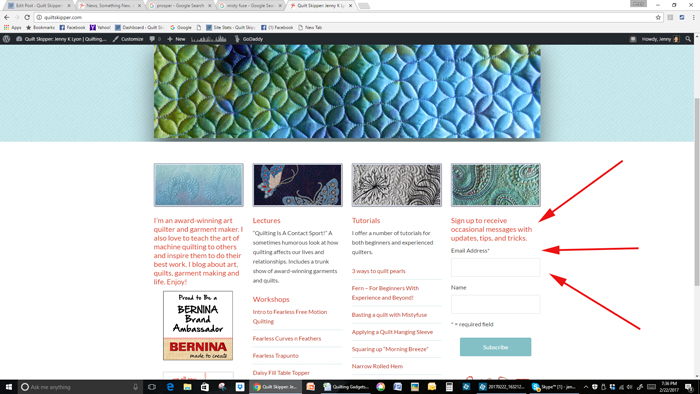 -Sign up if you're interested. I would be crying in my beer if no one signed up, sniff, sniff. I think it will be fun and I will always include something of value-a tip, product review, trick, etc. I don't yet know how often it will go out, no more than once a month for sure. Image above is where to sign up on my main page. Otherwise you can sign up in the top left on my blog. Thank you!
So give me your suggestions for a name for the newsletter please! And sign up! I'll be linking to Nina-Marie's Off the Wall Friday. I hope you click on some links because she has some of the best bloggers linking up with her.