I've got a short post today as I'm readying for a weekend engagement in Southern California.
I recently sold a quilt that I didn't really set out to sell. It is one of my best pieces and also one of my most edited pieces. I wonder if that is a coincidence…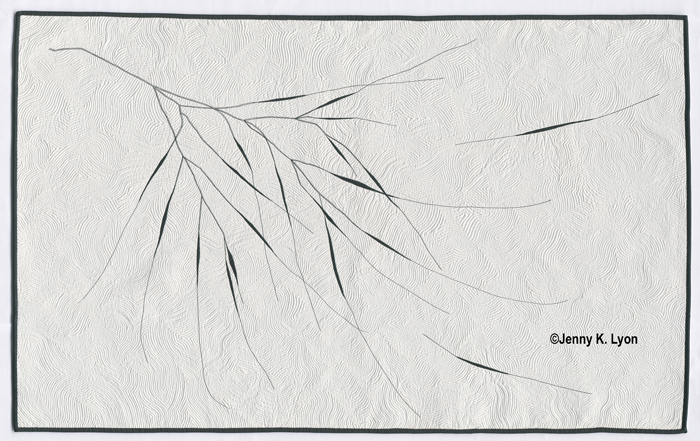 So here's the piece. If you follow my blog you've seen this more than once. And I wrote previously about its acceptance into the Art=Quilts=Art juried exhibition at the Schweinfurth Museum in Auburn, New York. I cannot find my paperwork on the exhibition, but I am pretty sure I had an option to offer for sale, but it was not required. But I'm not totally sure!
And it almost did not make it to the show! I had inadvertently entered that quilt in two shows whose times overlapped. I wasn't sure what to do so I contacted fellow SAQA artist Betty Busby. Betty works with SAQA exhibitions and I knew Betty would know what to do. Betty gave me some wise counsel and I accepted the spot in QAQ. And I am so thankful for that moment of wisdom from Betty!
I will enter a show with a certain mindset, and by the time I'm accepted (or rejected), I will be in an entirely different place creatively. I'm surprised that I offered it for sale! I don't usually sell my quilts because I travel to teach and lecture and always want a current, full, Trunk Show. A sale takes away a quilt from the rotation. I'm not sure why I decided to offer it for sale.
I also don't do commissions as they take a lot of time and emotional energy. And I'm not motivated by sales. I'm sure it must be very gratifying to do commissions, but for me, teaching and lecturing are what excites me! So the sale has left me with some conflicting feelings.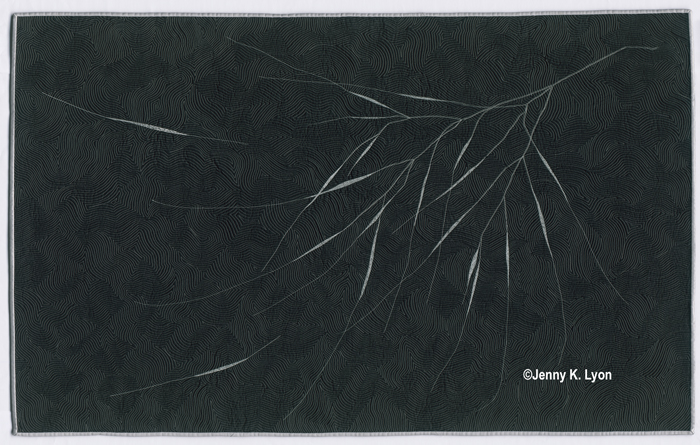 I am definitely stoked about the sale! It's an ego (and resume) builder for sure. And it went to a collector's home who also bought another quilt by a Respected Quilter from the same show. And only 3 quilts sold. I'm not sure if the collector would want all the details out there, so that is why I am being a bit cautious. So in the last few months, two of my quilts have found their way into the home of a Real Collectors!
At the same time it feels like a child that left for college a year early. It's a delightful thing that it left me, that's not a problem. But I expected to travel the quilt, it was a strong piece. I did not need to hold it in my personal collection forever, I'm just surprised that it left so soon. This is a Good Problem.
And part of me is just tickled that it will hang in a home! How lovely, she found a forever home! If I could afford to buy quilts, I too would be sooooo excited to make a major purchase.  Oh how I wish I could buy big quilts! I have my eye on a few specific quilts already…
And then part of me wants to pet it one more time, stroke its surface and enjoy the texture. I wanted to make sure that it did not get damaged or dirty before it went to its home.
Such are the random thoughts of a Textile Artist whose quilt found a Forever Home. I'm curious how you all feel when a quilt sells. I'll link up to Nina-Marie's Off the Wall Friday-see you there!