How to Choose the Right Sewing Machine for You
I get asked this question all the time in class: "What machine should I buy?". Well, if you sewed and quilted the same as I, had the same space restrictions, the same budget and the same husband as I, then you would have the same machines as I do! But of course you don't, so you're probably going to have a different machine. This question is asked a lot in class so I thought I'd pass my opinions on about buying a new/different sewing machine.
I am wildly happy with my BERNINA's and I am a BERNINA Ambassador, but I won't tell you that you need a BERNINA. Okay, secretly I do hope you'll get a BERNINA-shhhhh. I hope are wildly happy with your machine not matter what the brand or model.
I'm a quilter so my thoughts apply to quilters, garment makers and general sewers. And I'm writing about machines in the $1,000 plus range. Generally, machines under $200 are for short-term or temporary use, as any repair or service they might need will usually exceed their value. Machines in the $200-$600 range are made for the occasional sewer, not the dedicated sewer/quilter. See more about this in my NOTE below.
Consider these things when shopping for a machine. I'm opinionated!
1. Figure out your budget first. You don't want to get excited about a machine outside of your budget. Make sure you include the cost of a cabinet in your budget too-it's so much easier to quilt or sew with your machine set into a cabinet. There may be feet or accessories that you will want/need: walking foot, tote to haul your machine to class, zipper foot, etc.
If the machine you want is outside of your budget, consider buying a used machine. Sewers frequently turn in their used machines for the newest model, even though their current machine works well. Of my 4 machines, two were purchased used.
2. Buy from an independent dealer not a big box store or the internet! You are buying more than a machine-you're buying service and support. Consider this:
Most dealerships spend thousands of dollars a year educating their staff on the various machines, so that we can walk in and talk with someone who knows our machine.
Most dealerships will match internet pricing or prices from another store.
Most dealerships offer lessons to go with the machine-you need those lessons! I have been BERNINA since the mid-70's and I still take the lessons on my new machine.
Most dealerships also offer quality fabric and thread. Don't even get me started on the stuff that the big box stores sell….
If you are not enamored of your closest dealer, consider other dealers in your area.
3. Consider your needs-general sewing, quilting, some embroidery, garment sewing? Specialty feet or accessories may be needed to do what you want to do and may be in addition to the cost of the machine. Buy the machine made for your kind of sewing.
For example, if you are not interested in embroidery, don't pay for an embroidery machine. The machine you buy may have some embroidery functions, like mine do, but a machine that is designed primarily for embroidery is probably not the best choice for a quilter who rarely embroiders. You'd be paying for a function you won't be using!
4. Bring your own fabric or project to test on. You want to bring representative fabrics or quilting that you would normally work with to test a machine.  You want to clearly understand the differences, advantages and disadvantages between the models and brands. Be patient. For example, when I shop for a machine, I bring all weights of thread to put in the bobbin, because that's how I roll! If that machine is not going to go easily handle all those threads, then it's not for me. It takes me several trips to figure out for sure what I want.
5. Take your time! This is a major purchase and you want to love your machine. You may need to "date around" for awhile before you set your heart down on a machine.
5. You want to LOVE your machine! Persevere until you find the one that sews like a dream. If you work with heavy layers, make sure it plows right through a sample. Make sure the foot control makes it easy to control the speed. An intuitively designed front panel makes sewing more pleasant. I love my machine and I want you to love yours!
NOTE about light-weight and/or inexpensive machines.
Light-weight inexpensive machines are not fully featured machines and most times they are 3/4 size machines. Their size and scaled down features are what makes them light weight. I know that free motion quilting may be a little more difficult on these machines as a result. Yet I have seen some amazing quilting and sewing come from them! Do keep in mind that in this price range, the machine may not be worth fixing if something goes wrong. A basic service in my area is $150.
If your budget only allows for an inexpensive machine and no cabinet, go for it! I sewed all through college and my hippie chick years on a dreadful White sewing machine. I was so happy when I could afford a quality machine, yet I was very thankful to have that not-so-great machine all those years! I did a lot of happy sewing on that machine.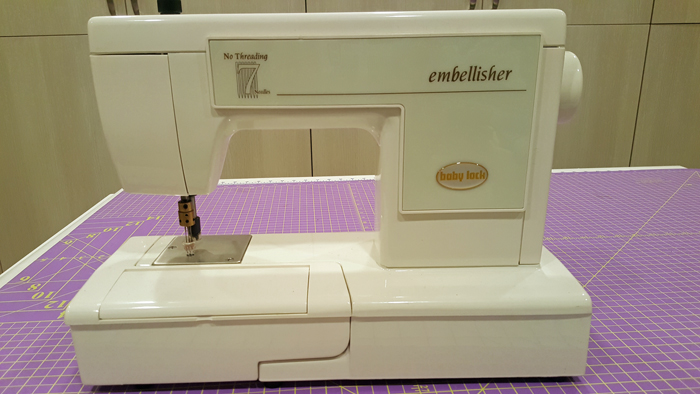 Okay, so you're wondering about my current machine inventory, I've shown you everything. Four BERNINA's and a machine needle felter. When I purchased each of these machines, I fell in love with them. I hope you find the machine of your dreams!
Check out the links at Nina-Marie's Off the Wall Friday-it's always a great link-up party!