"Focus on Fiber" is a national juried open fiber arts show that accepts all fiber techniques and is housed at the Sacramento Fine Arts Center. It is showing in conjunction with the Korean Fiber exhibit that I wrote about last week. It was an interesting show given its variety in technique, form and fiber. I didn't take a whole lot of photos and some were impossibly poor given the lighting in the room.
This piece was so intriguing and unique. I loved the juxtaposition of the 3 figures upon the spare and ghost-like background.
Same artist. It makes me think of how I am a ghost of my junior high self…thank goodness!
I am familiar with Louise's work but had not seen her newer works. I love how she integrates the photos with the background and quilting. You can imagine your own story behind this piece.
The exhibit did not have cards with artist's statements-I sure wish there were. I'd like to know the story behind this one.
What beautiful use of great shibori! The beading in the middle really sets this off. I think the piece was all silk if I remember correctly. Just beautiful.
Don't you just love this piece? It received Best of Show. I didn't keep track of ribbons, just happened to notice this received BOS. There's a lot there with perspective, color, value, hand dyed fabrics and great detail.
I'm not sure I photographed the correct card on this one-I did find the identification cards confusing. I love the texture and subtle nature of this quiet piece.
Love this.
I like the way this is displayed, to show its delicate and translucent nature.
Lovely mixed media piece with lots of texture, dimension and color.
Sorry, I could not get rid of that glare from any angle. What a stunning interpretation of Klimt in fabric! Lots of detail and textural interest there.
Joyful indeed! A fun and whimsical piece that made me smile.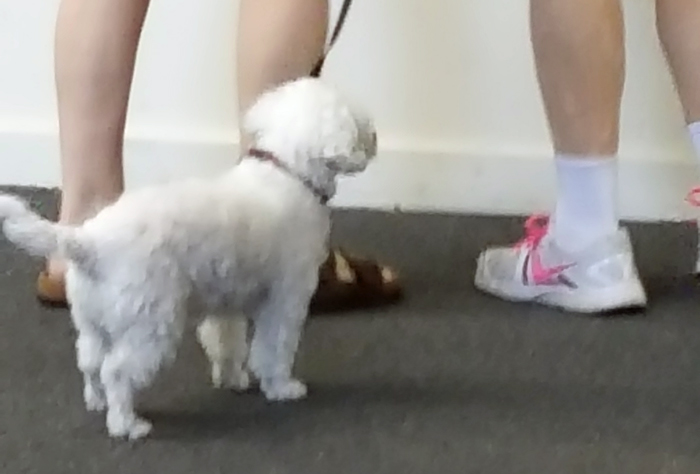 And the Shame Award goes to this couple! Granted, it was 105 that day, there were only a few people in the Center, and the dog appeared to be well behaved, but who thinks it's okay to bring a non-service dog into a gallery?
REMINDER-STUDENT CALL FOR ENTRY!

If you have been a student in any of my classes or workshops, I would love to show off your work in my upcoming book! If you have a piece that you'd like me to consider, send a note and attached photo to jenny@quiltskipper.com. I'll get back with you about the details and timing. I am proud of what my students do! Feel free to let others know. Deadline for entries: July 7, 2017
I'm baking in the heat here-over 100 for 6 days straight, tomorrow will be 108. It is Sacramento and it is June so I should not be surprised nor bothered by it. We're lucky-we'll get a string of these and then that glorious Delta breeze will kick in and it will be in the low 50's at night again. I'll be posting at Nina-Marie's Off the Wall Friday so check it out!