Korean Voices in Fiber at the Sacramento Fine Arts Center
I completely forgot it was Thursday-sorry for the late post! I am running as fast as I can… Today I am writing about the Korean fiber exhibit, but please note that there is a fabulous and concurrent annual exhibit "Voices in Fiber". I am simply unable to cover both in this post, so look for a future post on that.
I was delighted to be able to visit the Sacramento Fine Arts Center and view their most recent exhibit "Korean Voices in Fiber". The exhibit was co-curated by Misik Kim and Mirka Knaster, with Youngmin Lee as laison.The exhibit highlights the ancient heritage of fiber art in Korea, as well as the vibrant modern transformation of traditional techniques and materials. It was spectacular! I left inspired and full of ideas for my own art. Here is a brief and edited look at the exhibit:
I was able to be there in time to see Youngmin Lee's Bojagi demonstration. I adore Youngmin and her work is exquisite.
This is a spectacular piece, appealing to me on so many levels: the sheers used, its awesome beauty, multi layers, there was movement, intricate detail….oh my!
I hope you can get a sense of its layers-exquisite.
I am sorry to say that my photo of the card was too blurry to read. Another stunning piece!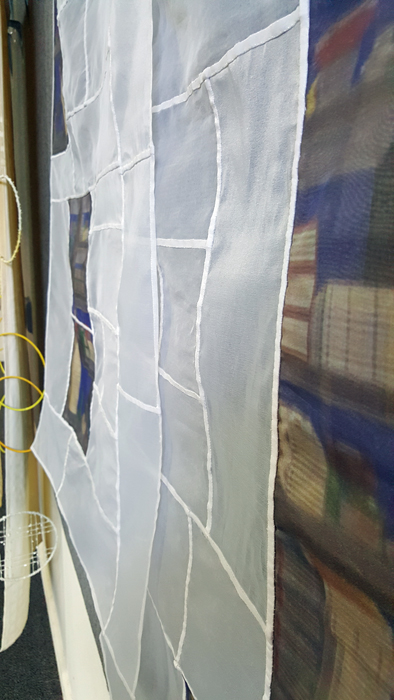 Again, the layers-divine!
A reinterpretation of civil and military official badges.
This piece is expressing peacefulness and simplicity using traditional Korean colors.
So much to love here-simplicity, edited beauty, hand stitching, holes…
Simplicity, color, detail, beauty.
Using traditional Korean colors, Yoonkyung is peacefulness and simplicity.
Oh the beautiful detail on this one!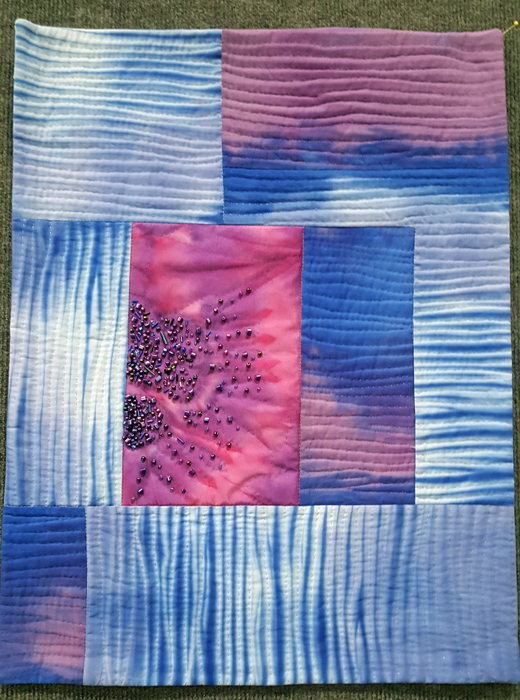 I forgot to photograph the card-shibori and silk and beading. Swoon.
An homage to Misik's Mother who passed in the spring.
Oh I loved this piece-sheers, edited, holes…
What exquisite detail!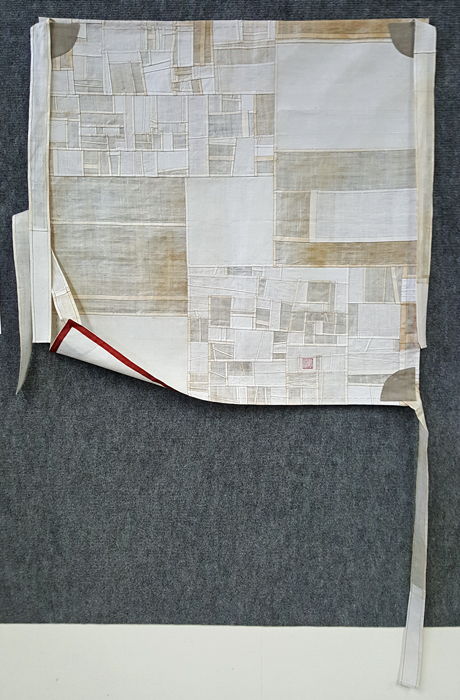 I did not photograph the correct card on this traditional wrapping cloth. Of course I love the Bojagi, but that contrasting scarlet on the underside is lovely.
Pure thread!
Byung is expressing her love of nature's beauty and colors. This piece truly shimmered.
Wasn't that fabulous? Locals, this show is on until June 25. This is a must see!
I'll be linking up with Nina-Marie's Off the Wall Friday, your source of excellent links!