Annual Textile Exhibition-Olive Hyde Gallery
This was one of the best shows I've seen; every piece was exquisite. I stole an afternoon a few weeks ago to see the 49th Annual Textile Exhibition at the Olive Hyde Gallery in Freemont, Ca and apparently I have been missing something in the past few years! Unfortunately the show closes this weekend but I'll share some of what I saw.
I am in crunch time with my book (seems like I've been saying that for months) so I am only going to post one photo from each artist. Trying to choose one image per artistiwas like choosing a favorite child.
The first room's exhibit was titled "Lines, Angles and Shapes", and included works by Jean Renli Jurgenson, Sue Siefkin and Geri Patterson-Kutras. I'll let the signage explain: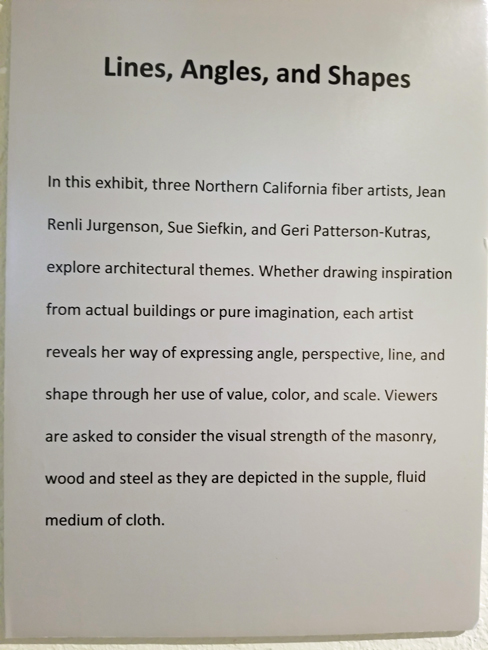 I am proud to write that I know all 3 of these artists through SAQA, yet another reason why I am passionate about SAQA and you should be too if you are an art quilter.
I'm going to say I love each piece, because I do! I appreciate how Geri's work is abstract yet interpretive–I am not totally lost. If you saw this piece in person you would appreciate her perspective of different "house parts" (my term) but also how the piece changes as you walk back and forth due to the quilting lines.
Jean's work frequently explores architectural details. This work is large and impressive. The detail is superb and adds much to the piece–shading, quilting lines, perspective. The scale of it gives me the same feeling as if I were in the midst of a grove of redwoods.
Sue's work frequently gives a unique perspective to landscapes. The title suggests to me that I'm pulling away from the dock after a lovely visit, sad to be leaving. She captures the scene so well and I felt the emotion in it. There are details galore in this piece through fabric, stitch, shading and I'm assuming some hand dyes.
Denise captures landscapes so well! It was difficult to choose my favorite from her work. All the tiny pieces of fabric create this beautiful, colorful depiction of a field of poppies. I wish I'd taken a detail shot.
I found this piece delightful! It's a light and joyful piece, simply quilted with a whimsical feel. Nancy's skillful placement of fabrics and color are superb. The gradated, fiery strips add a lot of interest.
I had to Google Terra Mundi as I was not familiar with the term-money pots? This piece is amazing-large scale and impactful. The play of the line and color across the quilt kept my attention.
I could not help but ponder the technical aspects-how the heck did she piece that and how was it quilted? Improvisationally pieced I assume, but when you study it, you're left with a lot of questions. Although I would guess it was long arm quilted, its scale makes me wonder how those long sweeping horizontal and vertical quilt lines were accomplished.
I forgot to get the name of this one. This piece is stunning, I stood in front of it for a long time. It's beautiful, complex in its construction yet easy for the eye to understand. I would guess the fabrics are all commercial. I saw this top before it was quilted and I was in awe. Ellen has studied with Nancy Crow and I love how she takes that foundation and totally makes it her own. What artistry!
There were several works in other mediums also and I was intrigued by this woven piece. The shadows created by it on the wall were lovely. She used a variety of wire, paper, ribbon and rafia (?) to create this piece. It was fairly small with a lot of detail that drew me in.
If you're local and can go this weekend, do! Next year I will make a point to go as I was so impressed with this exhibit. I'll share on Nina-Marie's Off the Wall Friday so look for the other links there!