River City Quilt Show 2017
Good show River City! In random order: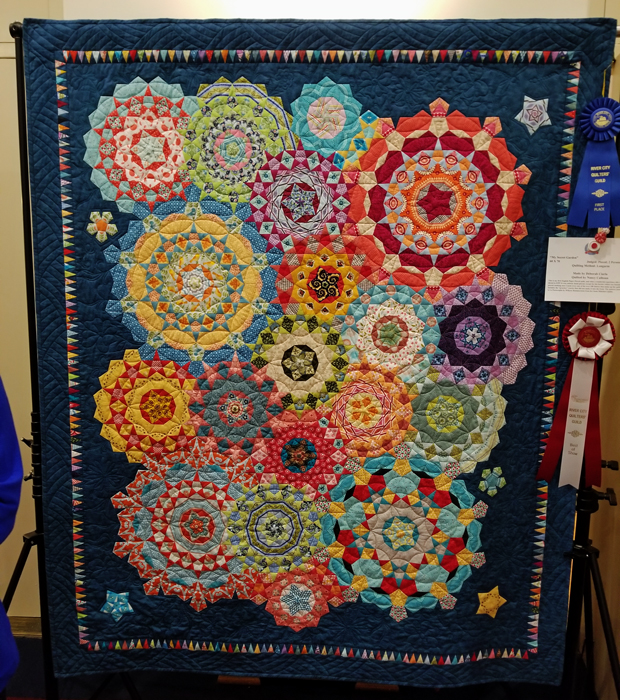 Best of Show was "My Secret Garden" by Deborah Ciarla, quilted by Nancy Calhoun. This was entirely hand pieced using the English Paper Piecing method, except the border which was foundation pieced. Wowsa!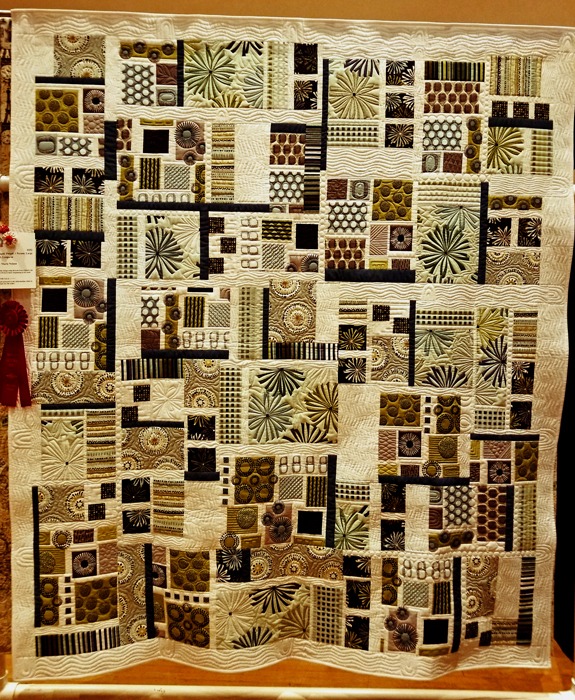 "Oasis Improv" by Marie Nelson. Using discards from a friend and some fabric from her own stash, Marie pieced this together and added some fabulous quilting.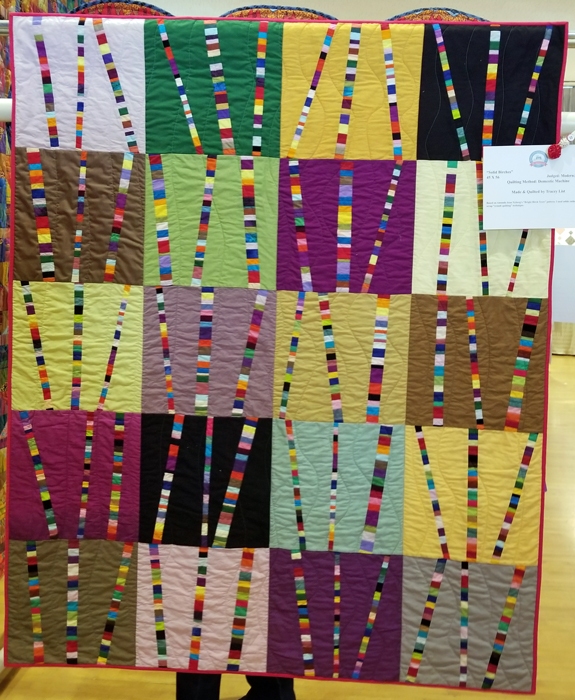 "Solid Birches" by Tracey List, based on Amanda Jean Nyberg's pattern. Bright and colorful!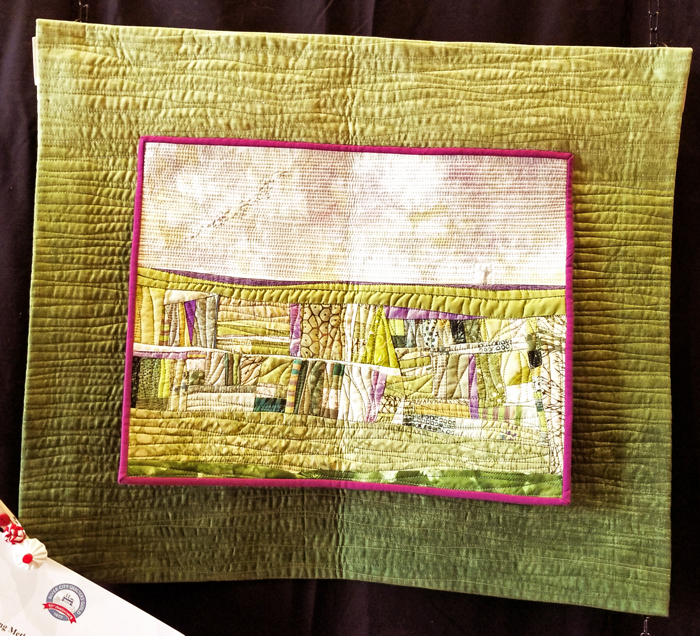 "Mesa Verde" by Denise Schmidt. Improv piecing and an Anasazi figure printed on silk organza, perfectly edited and beautiful.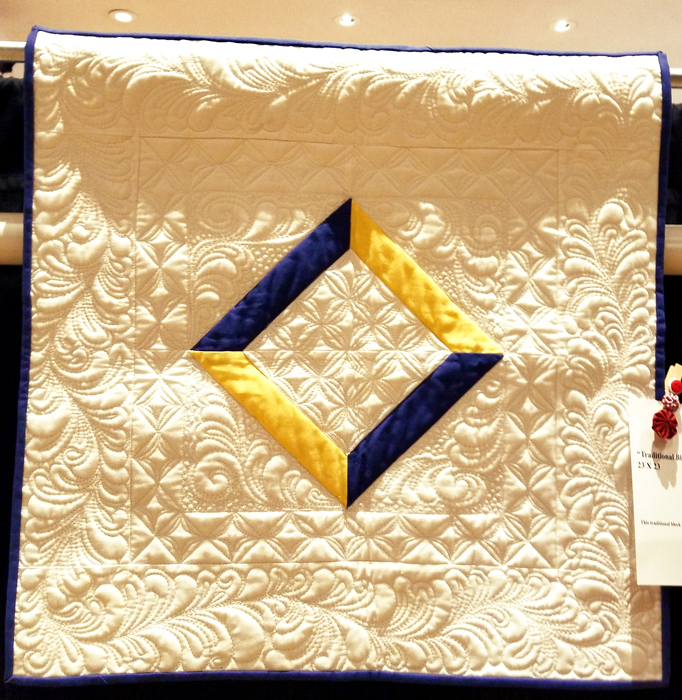 "Traditional Block" by Mary Jane Motter, quilted by Deborah Dolce. Just love the quilting on this one!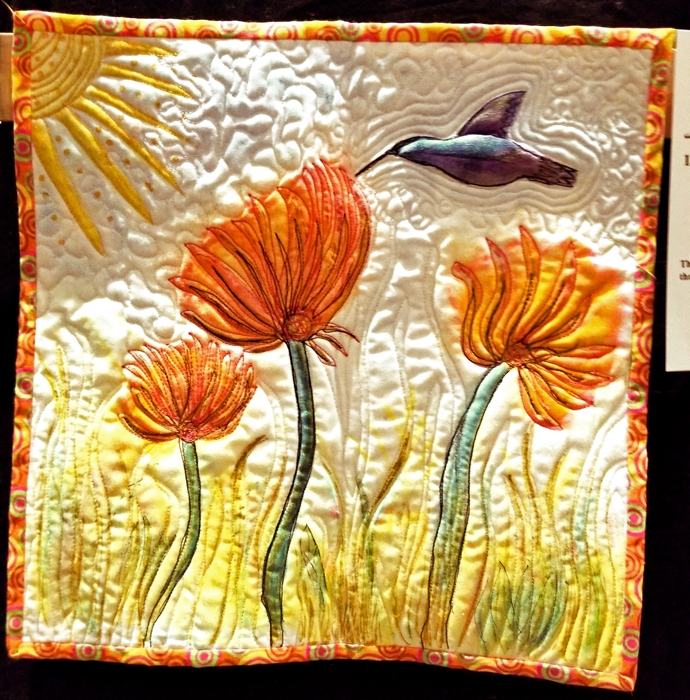 "Language of Flowers Challenge" by Carole Mah. Carole used acrylic paints, chalk, trapunto, thread play and free motion for this beauty.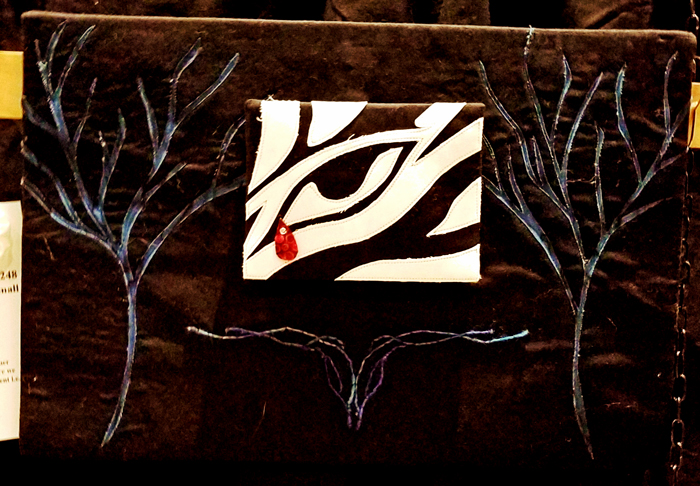 "Our Destiny" by Joy Valenton. A political statement about the view from the eye of the zebra regarding concern for the health of the environment.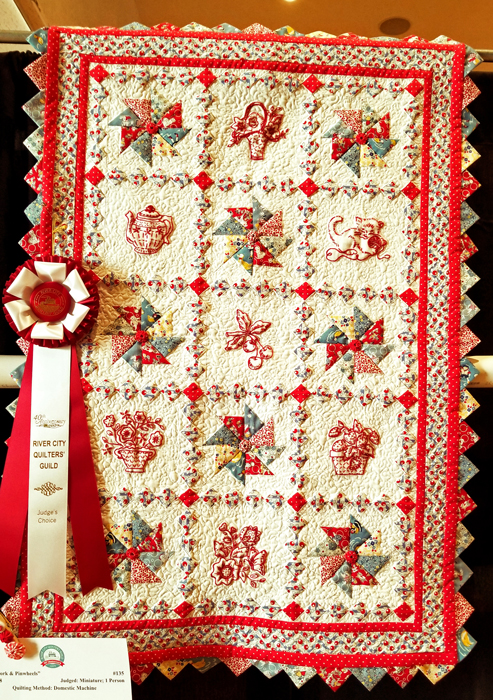 "Redwork and Pinwheels" by Jill Petrucci. Hand embroidery plus great quilting resulted in this absolutely charming piece. I love the Prairie Points!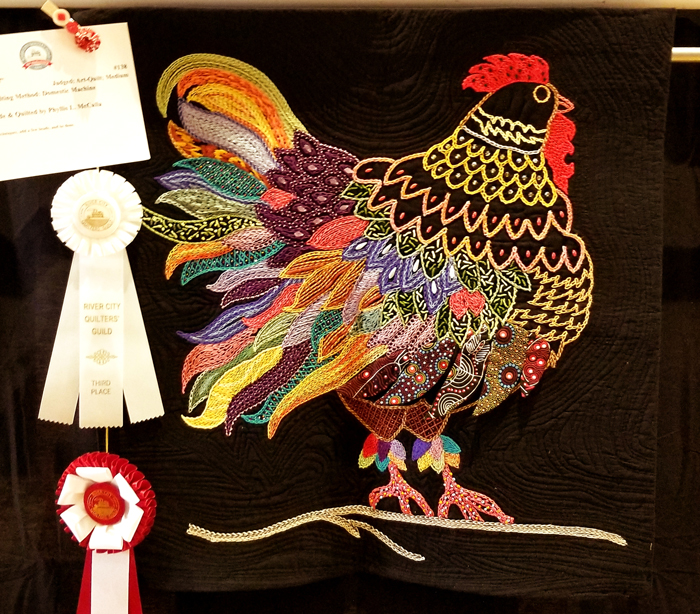 "Strutt Your Stuff", Phyllis McCalla. This was beautiful, with simple embroidery, beading and some nice quilting.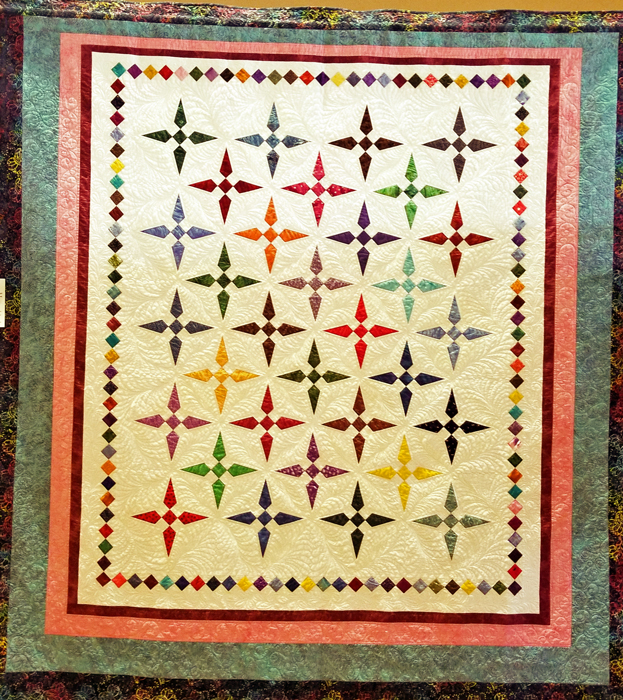 "Thirtysomething and then some Stars" by Brenda Perry. Brenda's scraps from Linda Ballard's "Thirtysomething Stars" class to create this quilt. The diamond border was a technical challenge but well worth the effort.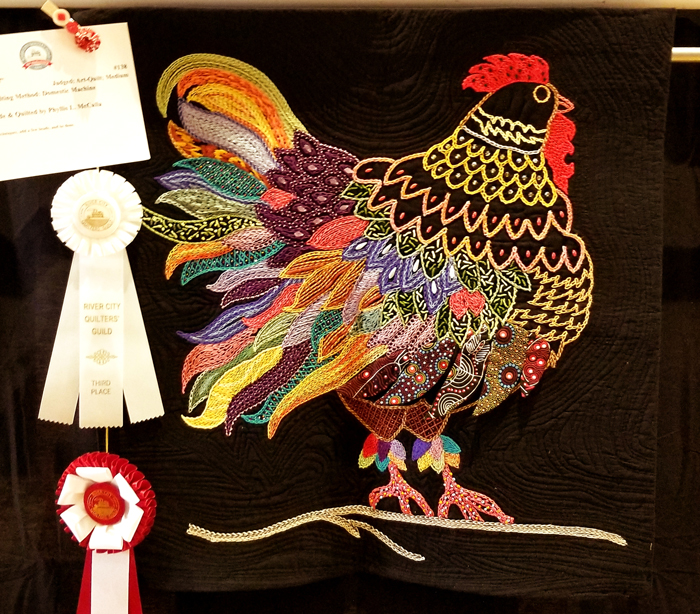 "Strut Your Stuff", Phyllis L. McCalla. Simple embroidery, a few beads and some lovely quilting makes for a colorful piece.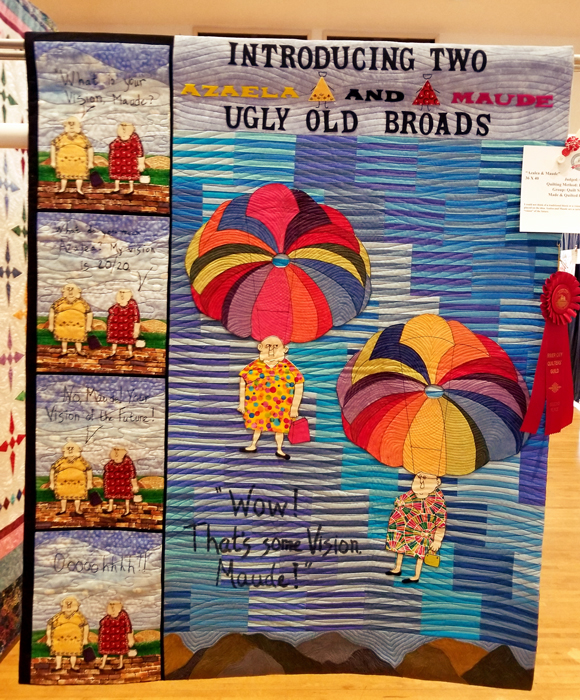 "Azalea & Maude" by Nancy Causey. Nancy created a cartoon of "two ugly old women" and their vision of the future. This is a hoot!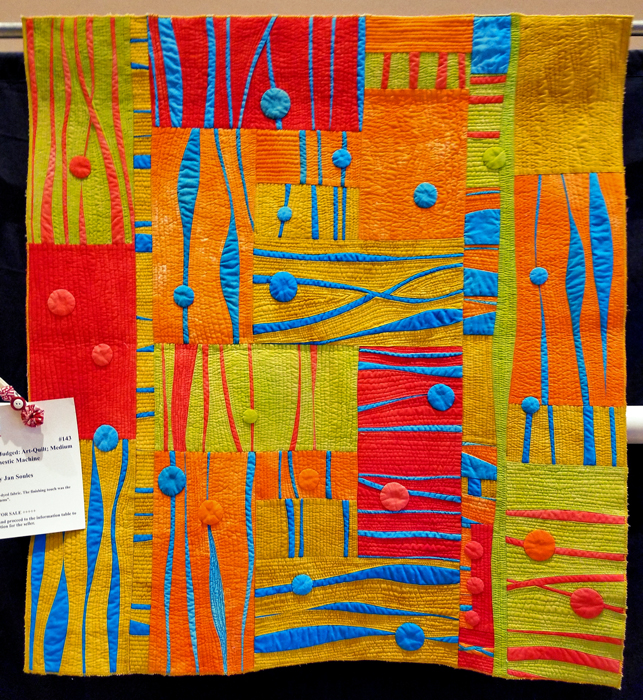 "Field of Dreams" by Jan Soules. Jan made this improvisational quilt using her own hand-dyed fabrics. Love the circles!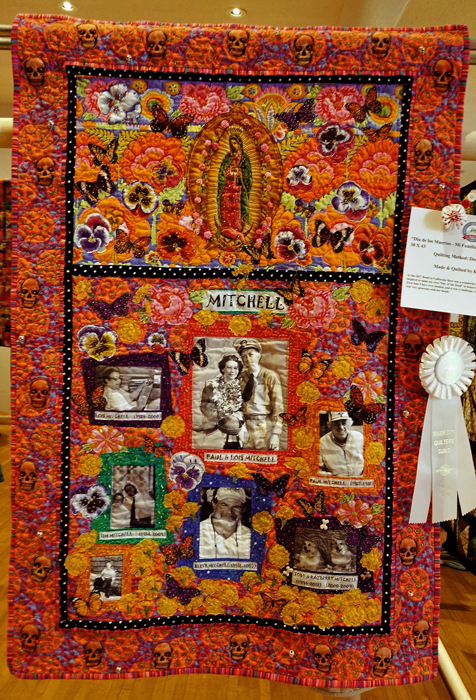 "Dia de los Muertos-Mi Familia", Kathy Mitchell. Kathy was inspired by the Day of the Dead quilts at the 2017 Road to Ca show. This was the first time Kathy beaded and this quilt was filled with delightful details.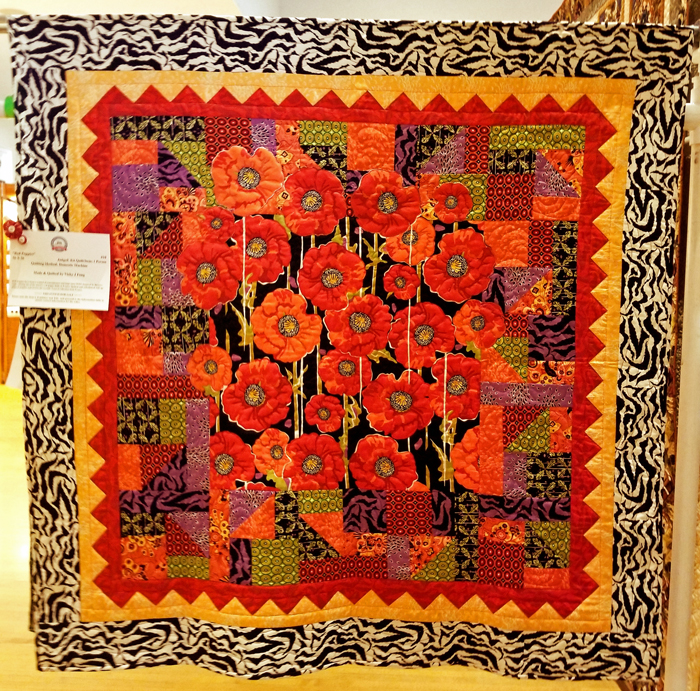 "Red Poppies" by Vicky Fong. The red poppies refer to the symbolism of remembrance and hope. Vicky appliqued the poppies and added just enough crystals for sparkle.
"Sunday Morning" by Jan Soules, quilted by Brandy Rayburn. This is based on a Civil War Bride quilt pattern, used hand applique, hand embroidery and ruched flowers.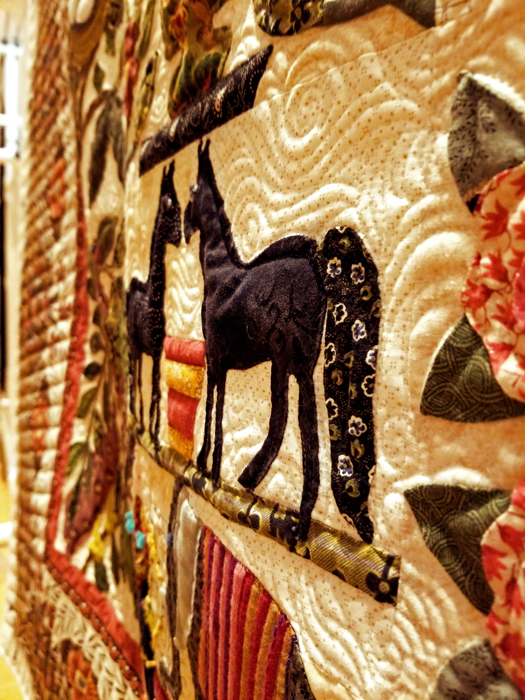 What exquisite details!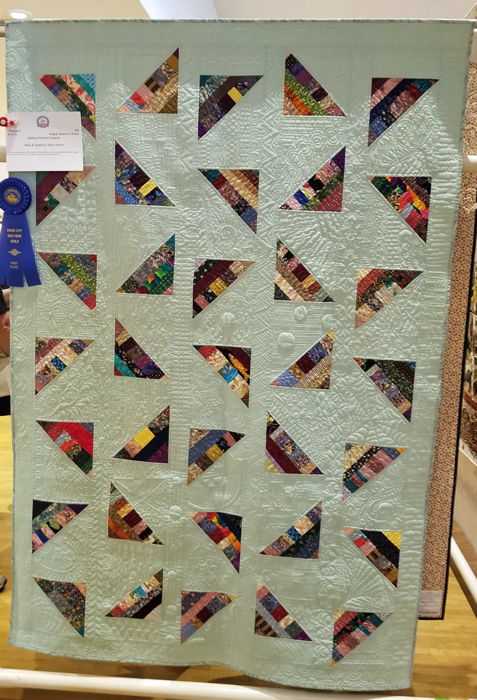 "Playtime" by Marie Nelson. Marie used her scraps and significant negative space to play with over 85 free motion quilting designs. It is gorgeous!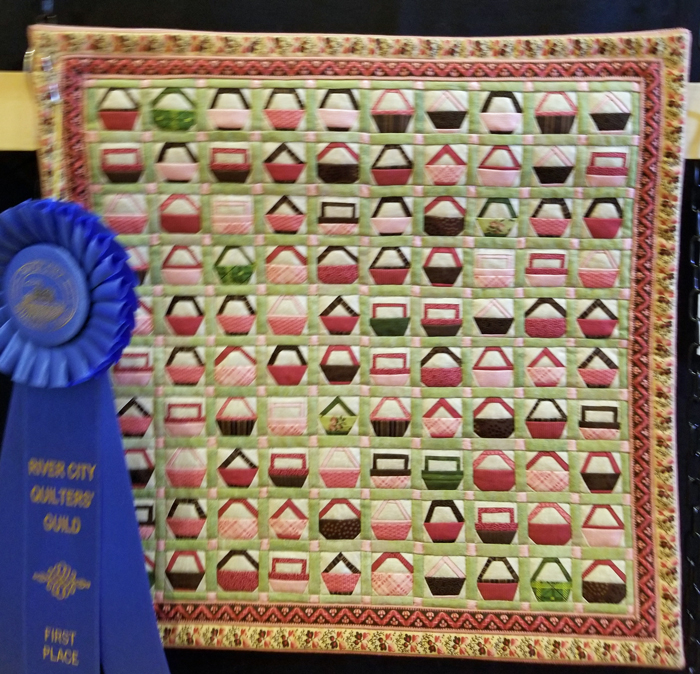 "Spumoni" by Kellie Willey. Sorry for the poor photography but I had to include this. It was maybe 14″ square-these are 1″ paper pieced squares!! It was a technical marvel, perfectly done, yet very charming. Swoon!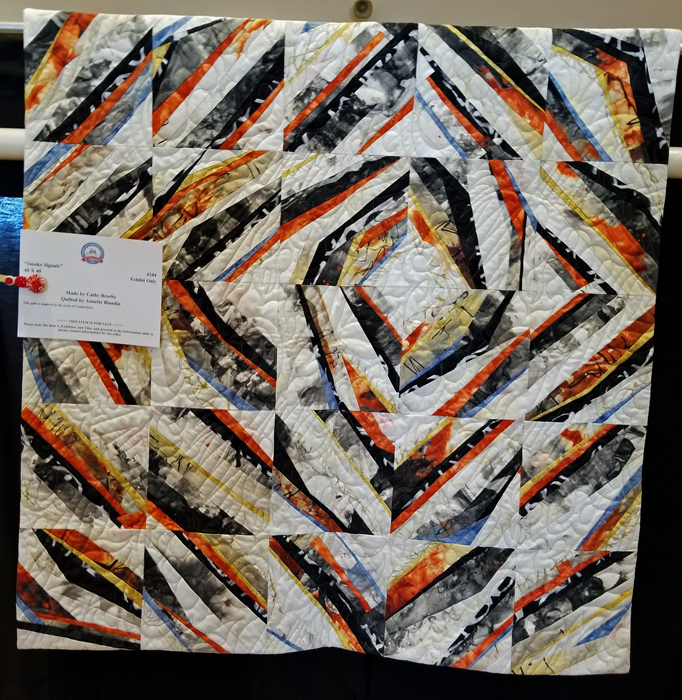 "Smoke Signals" by Cathy Brorby, quilted by Annette Blandin, inspired by the work of Ursula Kern.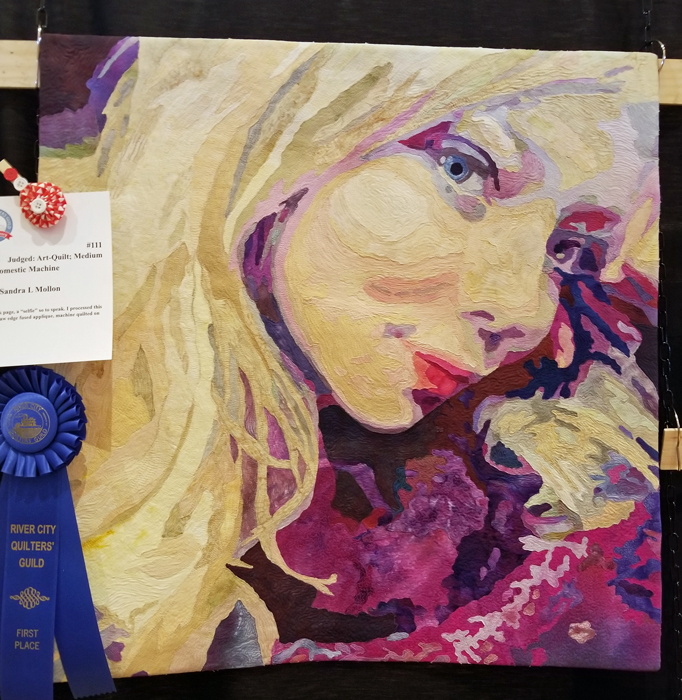 "Liz, From a Selfie" by Sandra L Mullon. Sandra used a selfie from her daughter's Facebook page as inspiration. She raw fused and machine quilted. Isn't his stunning?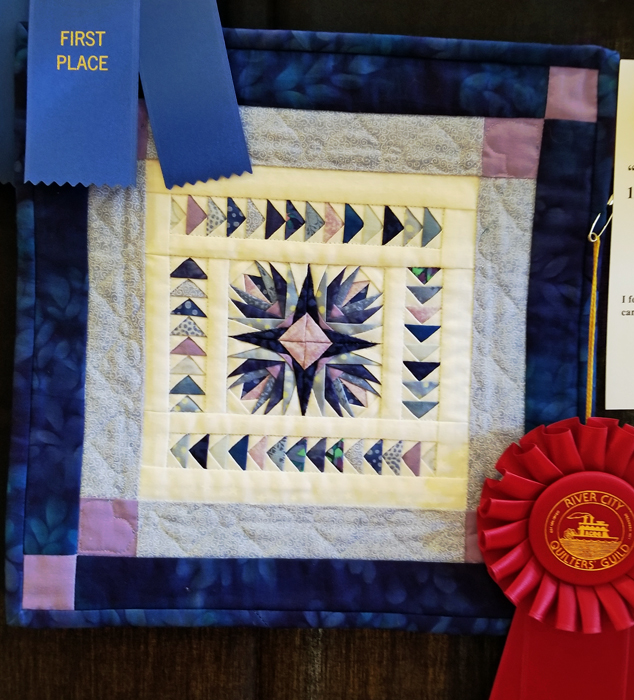 "Mariner's BLue Compass" by Paulette Trafecanty. This was beautifully executed and Paulette says the flying geese were tedious but worth it-I'll bet they were tedious!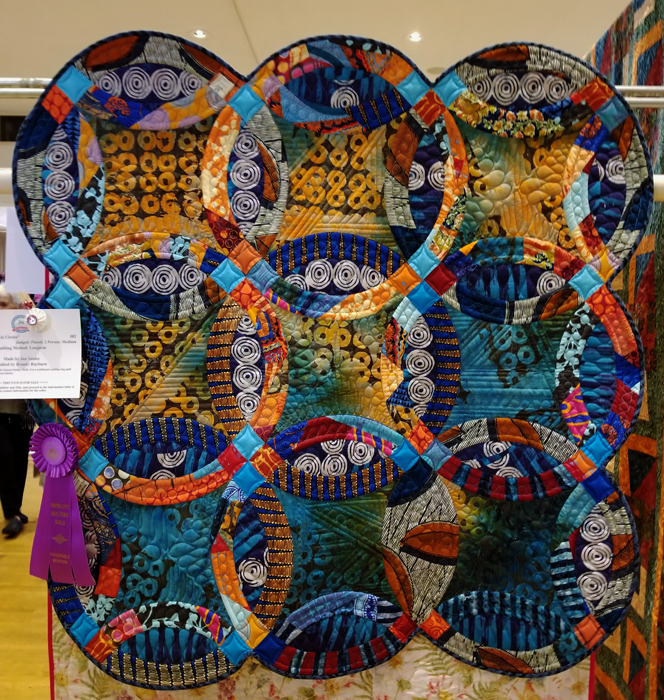 "Running Around in Circles" by Jane Soules, quilted by Brandy Rayburn. This started in a class with Victoria Finley Wolfe using her stash of African fabrics. I love this quilt!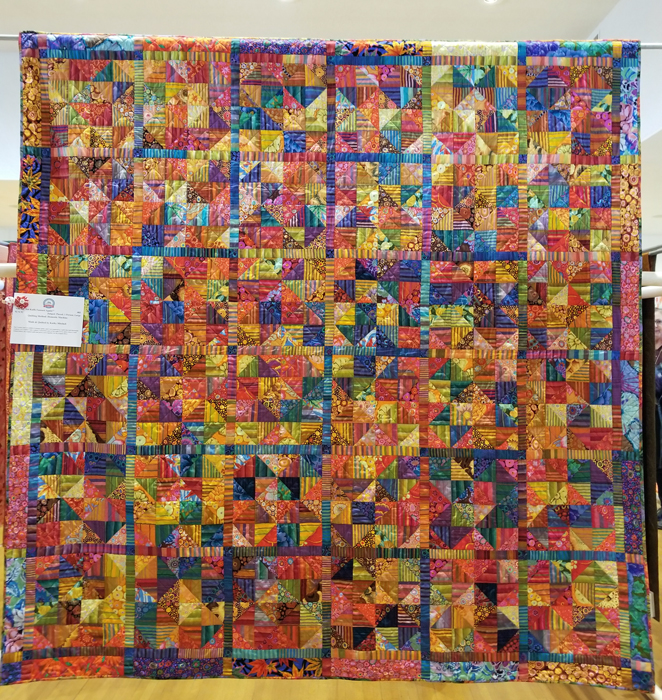 "Oh No! Not Kaffe Fassett Again!" by Kathy Mitchell. Kathy was inspired by an exhibit of antique quilts at the Crocker Art Museum in Sacramento. Where she used Kaffe stripes, the antique maker pieced her stripes!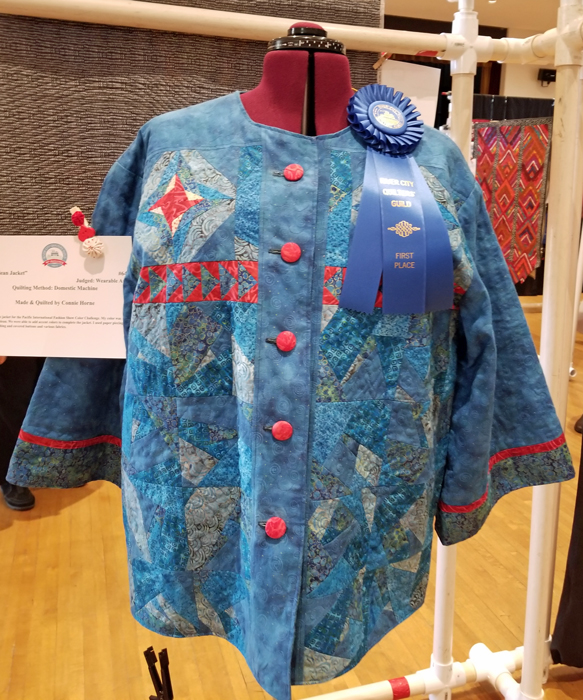 "Cerulean Jacket", Connie Horne. Connie made this for a PIQF challenge using paper piecing, crazy patches and covered buttons. Love the pop of red.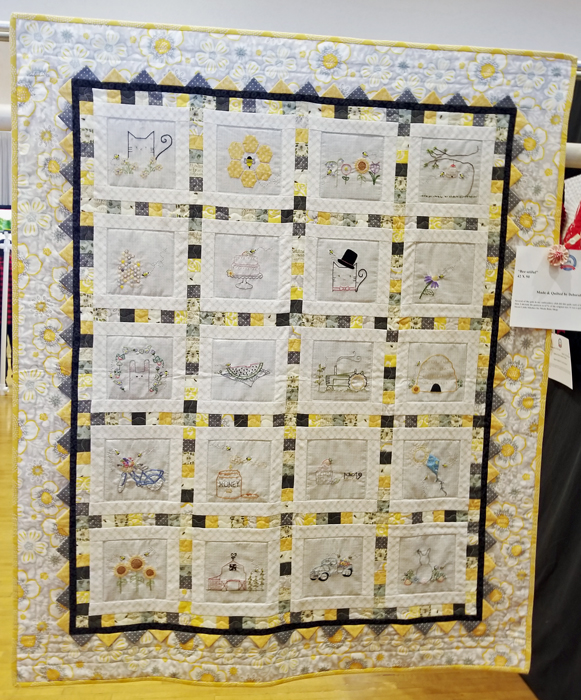 "Bee-utiful" by Deborah Ciarla. Fun embroidered quilt.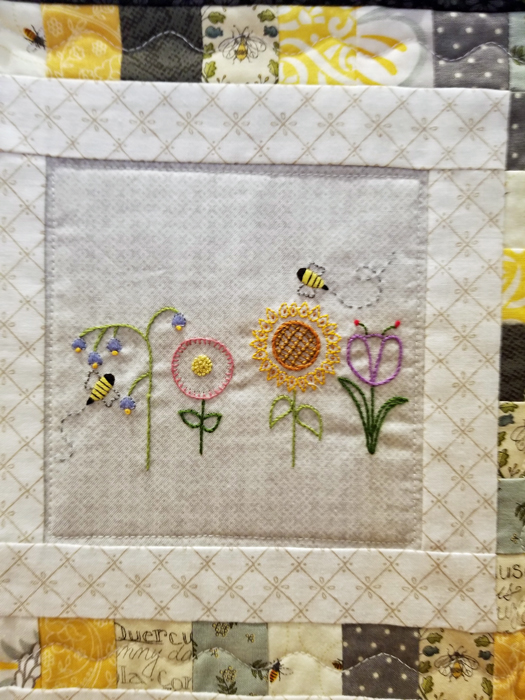 What charming details!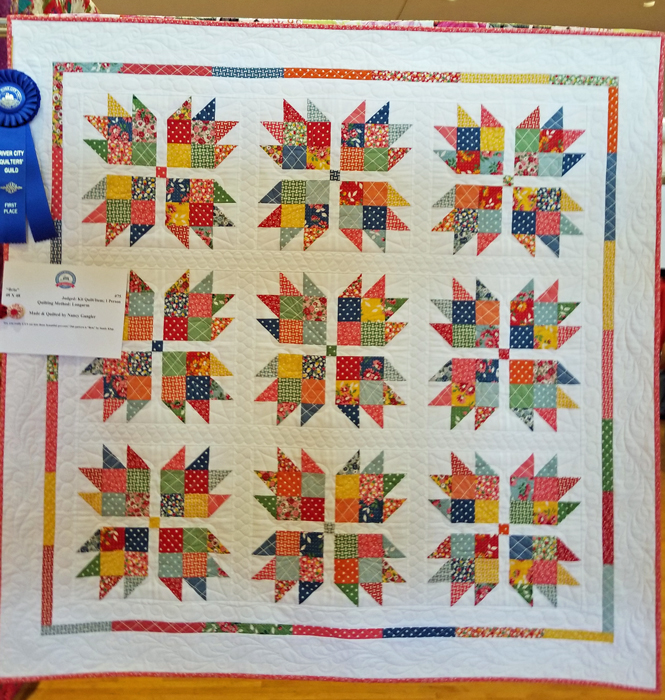 "Brio" by Nancy Gangler. This was made using pre-cuts. Love the bright scrappy feel on the white background.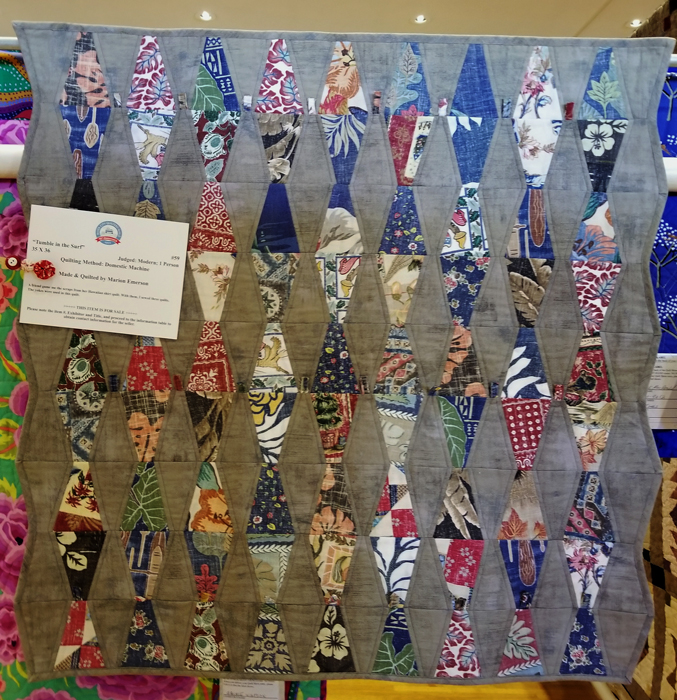 "Tumble in the Surf" by Marlon Emerson, made from the scraps of Hawaiian shirts-how fun and colorful! Love the unexpected gray background.
"Silver Challenge", made and quilted by Carol Smith. No information on the card, but a fun and colorful quilt.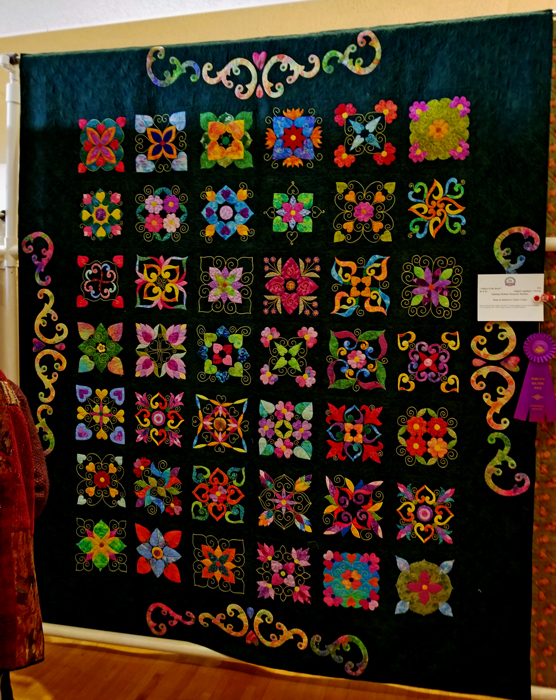 "Affairs of the Heart" by Ester Latino. Ester is an exquisite maker and applique-er. I was thrilled to see this gorgeous new creation by her. Oh if you could only see it in person…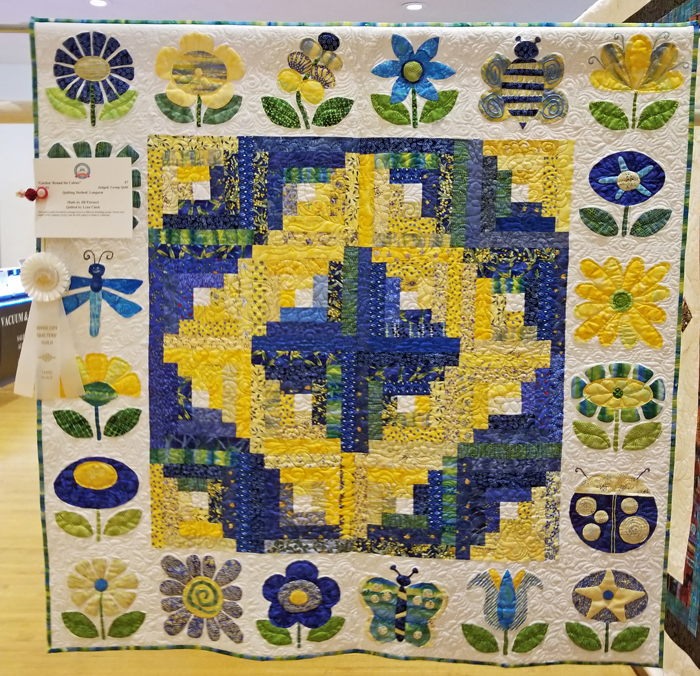 "Garden 'Round the Cabins", by Jill Petrucci, quilted by Lynn Clark. Jill used blocks from two different exchanges; I just love the classic combination of blue and gold!
Note: I'll have a post on the Pioneer Show shortly; I forgot and loaded River City first. Stay tuned! I've got lots of other interesting stuff going on including my take on wool batting. Look for my link in Nina-Marie's Off the Wall Friday.