June's Free Motion Quilting Challenge
The June tutorial for SewCalGal's Free Motion Quilting Challenge was provided by Cindy Needham. Cindy asked us to "divide and conquer" by creating a random areas to quilt by meandering a curved line across the surface of our sample. Cindy also provided some great tips for successful free motion quilting.
I used cotton sateen, wool batting, various weights of Aurifil thread, as well as Superior King Tut, Rainbow and Silk Kimono threads.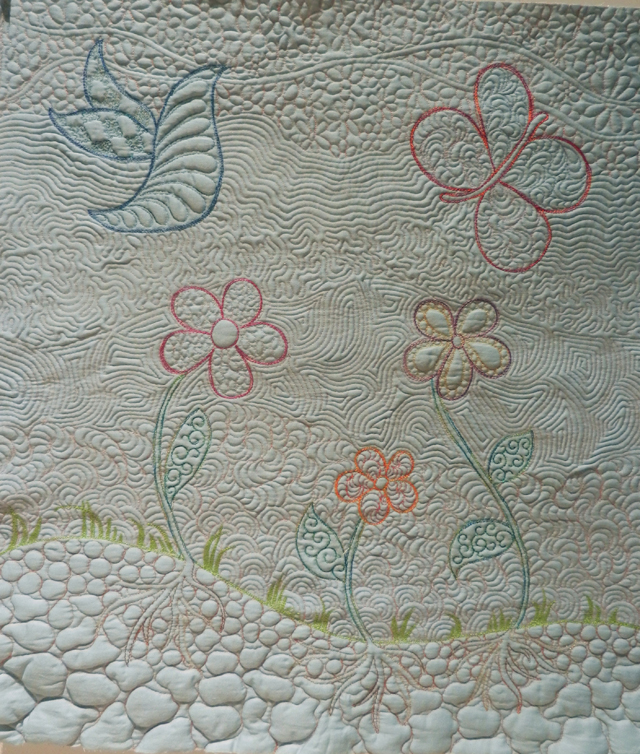 Since I recently went to the county fair and was especially taken by some of the youth art, I thought I would create a wholecloth piece with a naive style, like that of a child. Not so sure I came off as a kid here….
I did section the piece off and my challenge to myself was to try to gracefully morph the motifs into each other for an easy flow of design. That part was successful.
Apparently I was so focused on that part that I did not notice that my basic design was off: too symmetrical/linear/yet unbalanced. Note to Self: Check the design before quilting the heck out of something!
I do like the bottom portion of the piece though: the rocks and roots, little grass tufts and the leaves are fun.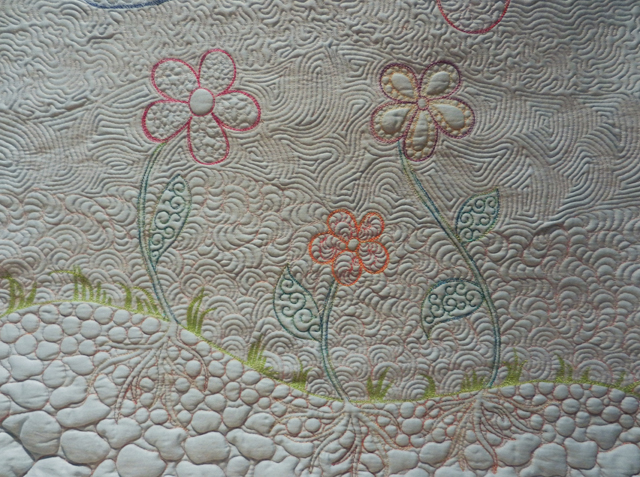 If I cut off the top part I think the composition almost works. Too bad, cause I liked that little blue bird up top.  I'm not going to try to rescue this piece-it was a fun little romp and I'm moving on. This was a fun challenge-thank you Cindy!