A Favorite Tool and Some Student Work
I am not a huge user of ruler work on my domestic machine, but occasionally my quilt will call out for it. Let me be clear, I am not calling myself an expert on ruler work. And I actually like the look of an imperfect line. But I'm working on a project that does "need" ruler work and I've discovered a fabulous ruler for straight line work: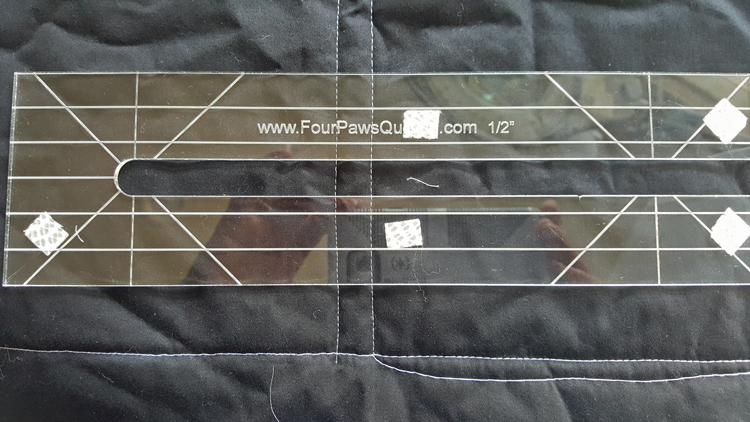 I love this Four Paws Quilting ruler! I haven't found another like it-it has a 1/2″ slot in the middle so you can't mess up your line! There are rulers with various types of grippy thingys and such, but without that foolproof channel, it is likely that at some point you will do this-
because you didn't snug your ruler foot right up to the ruler. There are also other rulers that have the groove, but it's wider than 1/2″, so you can still end up swinging out like this example.
If you're new to "ruler work", let's back up. Why rulers? Why not walking foot? If I use a ruler, I can free motion quilt my lines and not have to flip my quilt every time I want to move a different direction.
Ruler work requires two things: ruler work rulers, which are thicker than our cutting rulers. You need that extra height on the ruler to keep your presser foot from hopping over the ruler. You don't want to end up hitting the ruler with the needle-ack! And you also need a ruler foot, designed to snug up to the ruler. Most ruler feet are a convenient 1/2″ wide, putting the needle at the 1/4″ center. There are a variety of rulers available for domestic machine quilters. That 1/2″ foot snugs perfectly into the middle of the groove on the Four Paws ruler.
The following is not really a tutorial, but more of an overview of using this ruler for parallel straight lines: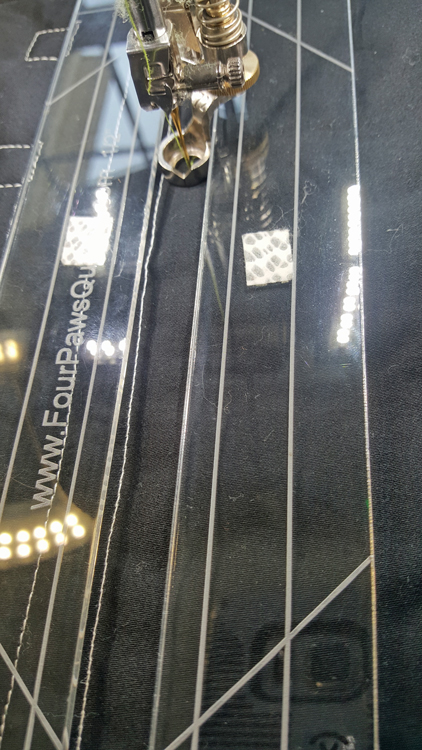 In my example, I started at the top of the piece and I'm quilting down towards me. You can see how the foot snugs in the groove perfectly, making for a foolproof straight line. I took the photo from the side so that you can see I placed the edge of the ruler right on the previous line. This will give me a straight line 1/4″ away. I was in a hurry so I grabbed a practice piece from my bin. The "straight line" to your left that I snugged my ruler up to, was free hand quilted without a ruler. Can you tell-see the little wobblies? I think that is fine for some pieces. For the piece I'm currently working on I wanted dead-on straight lines, hence the ruler work.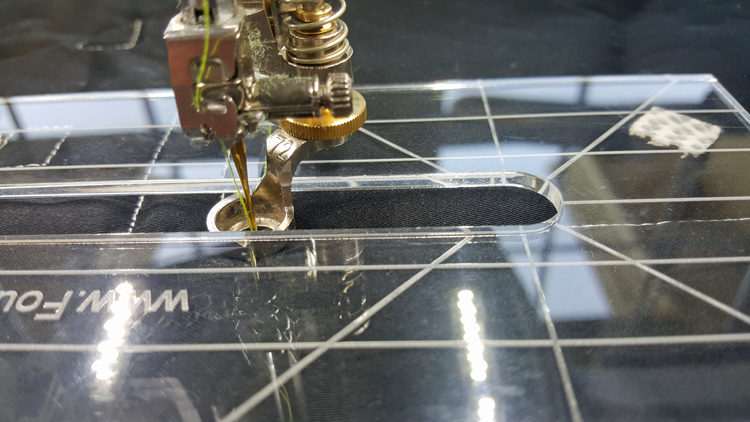 When I get to the end of my box, I want to pivot at 90 degrees, follow the previous line and pivot again (in the shape of a squared off "u") to create my next line. I lined up the marking in the center of the groove with the previously stitched line, trying to hit it exactly, and quilted 1/4″.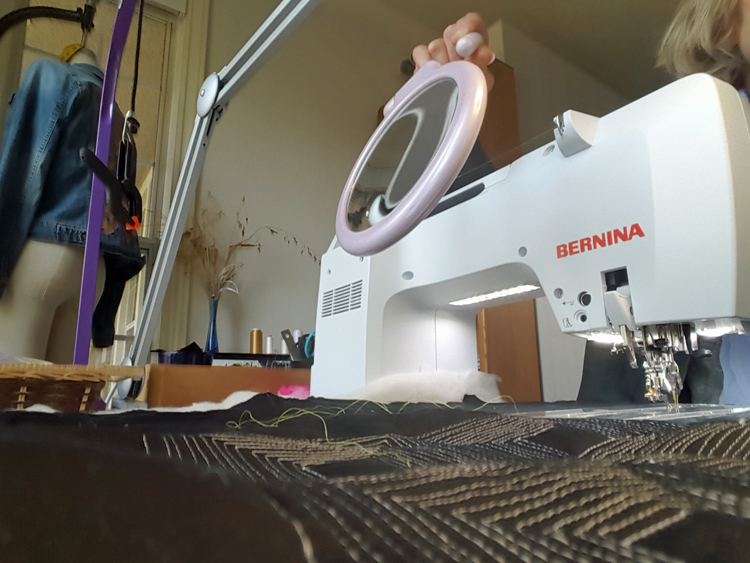 Ah, but when I try to line up that ruler as I'm quilting back to the top, I can't see through my machine to line up the ruler correctly back there. I devised this method of "seeing" through my machine. The mirror tells me what is going on back there.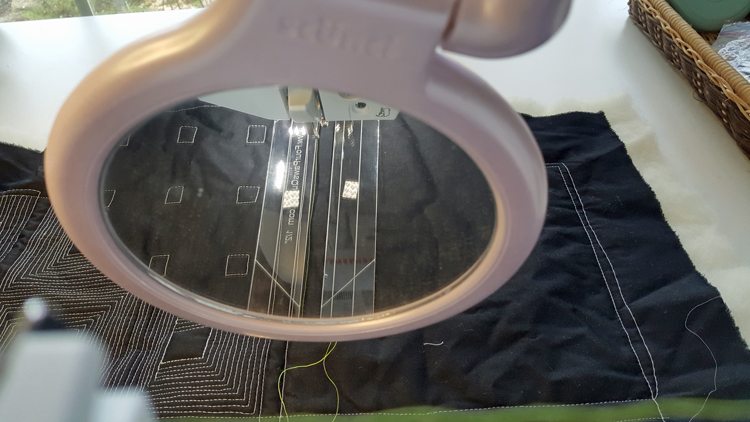 I grab the mirror and confirm that I am lined up with the previous line-perfect!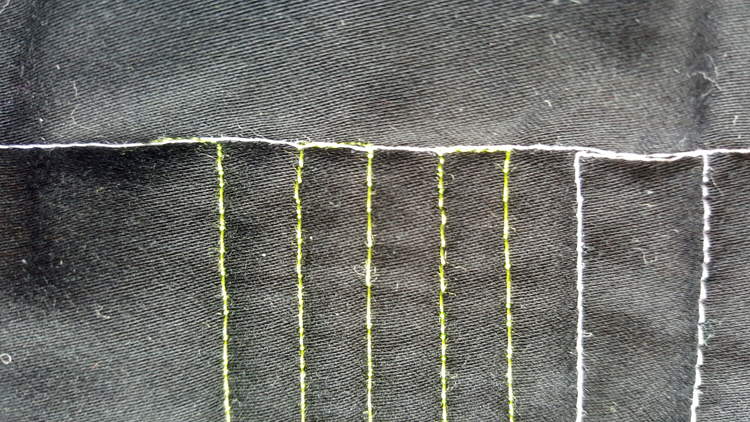 One of the hardest parts of this process is not the straight lines, it's hitting the previous line when you make the pivot. Here I was successful.
And here I was (deliberately) not. And this is why you care about hitting that line-this is NOT a good thing! So you have to take a lot of care to hit that line. The ruler helps this process enormously.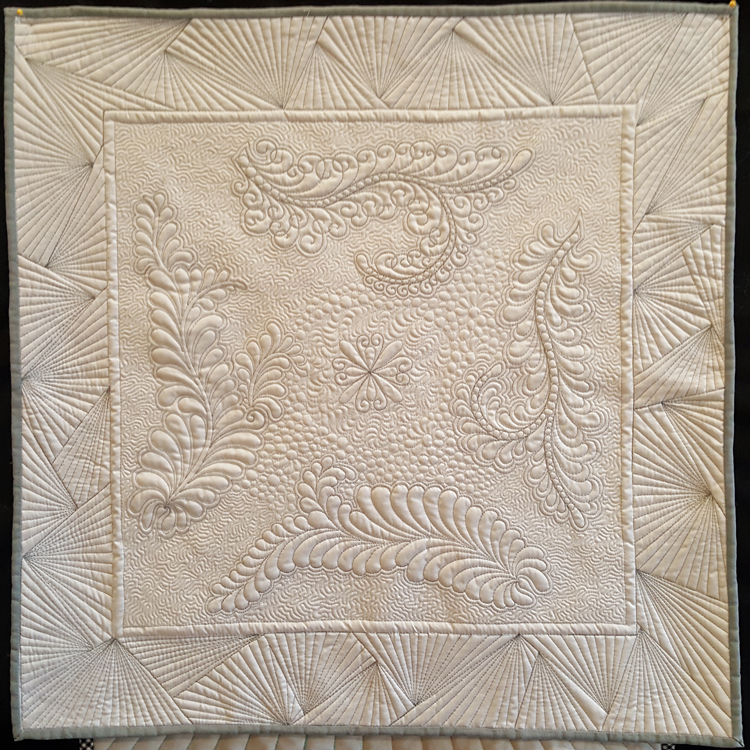 I used this ruler to help me achieve this border on my "Feathers Four Ways" class sample. I first saw this on a Margo Clabo quilt and I just had to do it on one of my quilts!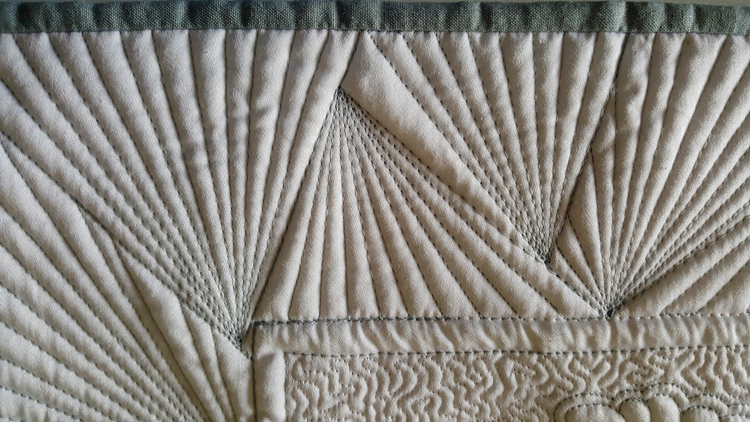 Love it!
And now, a quick brag on my students. These are first time efforts:
First time stipple!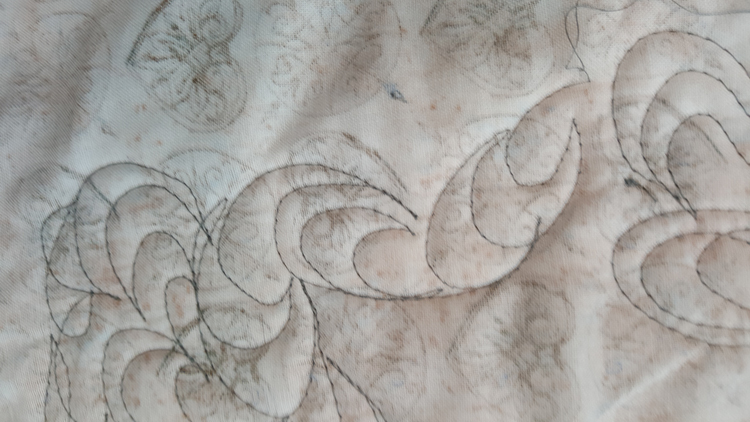 First time Headbands!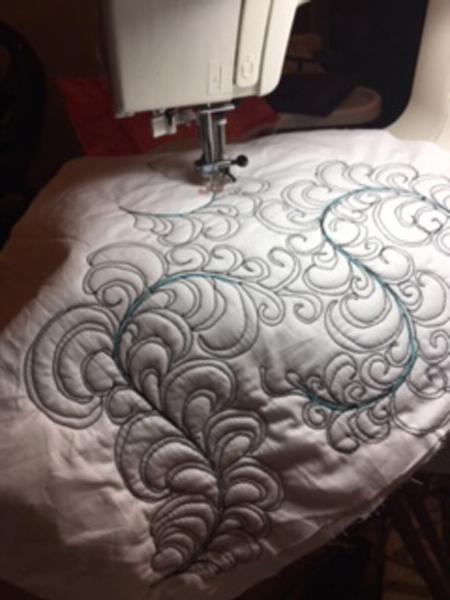 First time feathers!
When I see a student "get the path" in class I am delighted! I do not expect the actual path to be perfect stitched and finessed. I love these samples-it's so fun when students get all fired up. Oh how I love to teach!
I'm headed down to Carson, California for the Southern California Council of Quilt Guilds for their annual Meet the Teachers. I am in the very last group of the day so I hope there is someone there to even see me! I'm linking up with Nina-Marie's Off the Wall Friday for all the good links!