Patsy Thompson's Quilt Suspension System and a Beautiful Spring!
I received a note from a reader this week asking me about my experience using Patsy Thompson's Quilt Suspension system-thank you for the note Betsy! I forgot that I had not written about my experience with Patsy's system so I'm reporting in.
The system is super simple and comes in 2 styles:
System #1 ($94.99) clamps to the back of a table with one arm that has two cords to hold the quilt.
System #2 ($109.99) has two separate arms that clamp on to each side of your table. This is the system I have. Her website makes it easy to tell which one you'll need. It takes less than 2 minutes to set up and the components are made to be a little loose so it is easy to break down and move, yet holds the quilt firmly. This system could very easily go to retreat with you-how cool!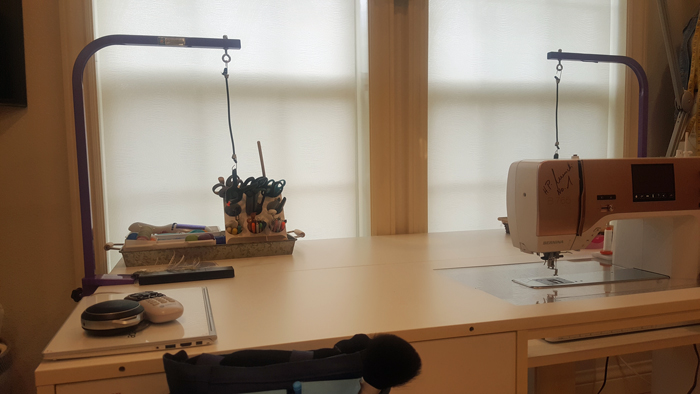 See how simple that is? I can leave it set up and it's not in the way. If I went to retreat, I just loosen the clamps, take the arm out and I'm on my way! The clamps are made for a woman's hand-small and easy to open, you don't need two hands to open them. It could easily be set up on my portable SewEzi table.
The learning curve is easy and short. All you are doing is clipping the quilt to the frame. That lifts the quilt up off of the sewing surface and dramatically reduces the pull on the quilt. It makes a huge difference when you take gravity out of the picture. I wish I had had this system when I quilted a queen-sized quilt with Warm and Natural batting!
So a quick tip, you'll probably think that the quilt should be firmly suspended in between the clamps: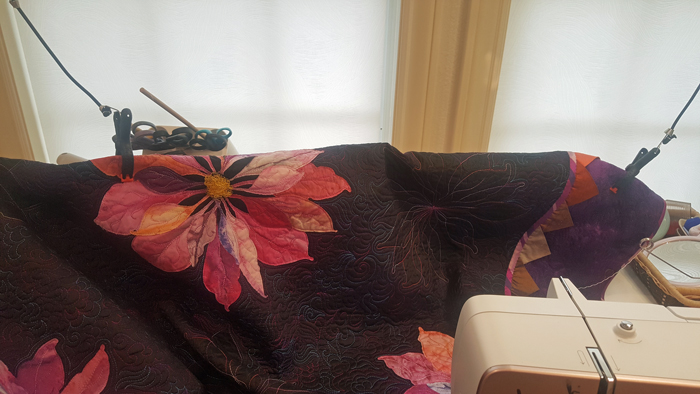 I found that I had to move the clamps much less often if I let there be a good deal of slack in between the clamps: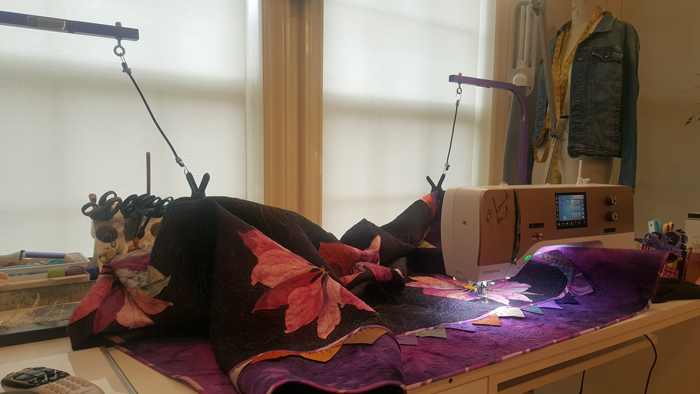 See how much more slack there is here? This is what you want. The quilt is still virtually weightless but you will have to move the clamps much less often.
But it really shines when it comes to doing ruler work! One of the hardest things about ruler work on a domestic is getting everything to move smoothly together. When there is virtually no tug on the quilt, it makes ruler work a breeze: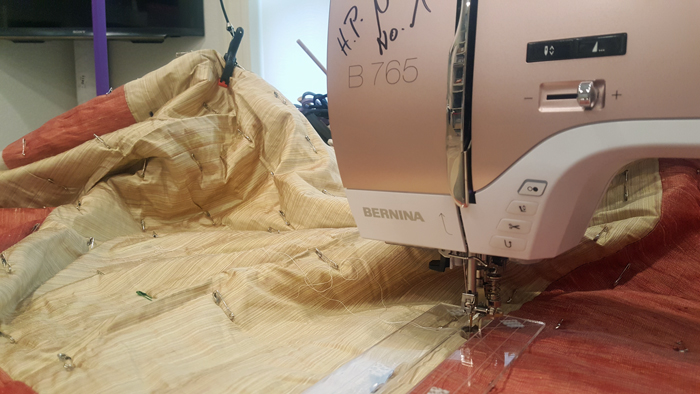 This is a really old wholecloth-I never pin baste anymore! I thought I would try some ruler work on this 52″ x 64′ piece-not huge, but definitely easier with the quilt suspended, especially the ruler work. I am slowly being sucked into the Ruler Work Vortex. I really didn't want to like ruler work…
I do like Patsy Thompson's Quilt Suspension system. I like the price, the portability, the ease of set-up and take-down and how simple it is to use. It is very effective in its task of making machine quilting easier. My stitching is better and my body is thankful!  Honestly, I am perplexed by some of the ornate systems out there that do that same thing. This one is simple and I'm done with looking!
---
May I show off my yard? Northern California has received the most annual rainfall ever recorded and it is making the entire area look like a Seattle test garden! Even neglected yards are looking good. It is kind of odd: the 3 year intense drought brought the most spectacular and colorful fall most of us have ever seen here. With the abundant rain that followed, we have had one incredibly spectacular year. I love living in northern California!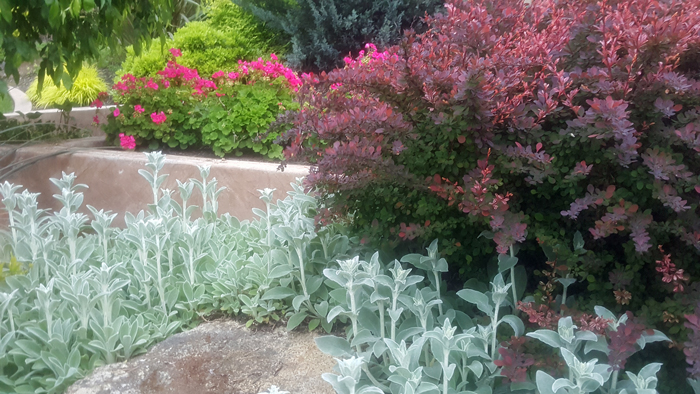 When it's your yard, you notice things like the juxtaposition of so many textures and colors in one view.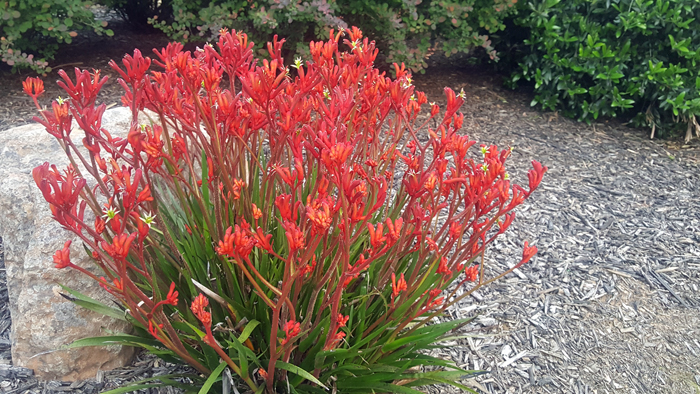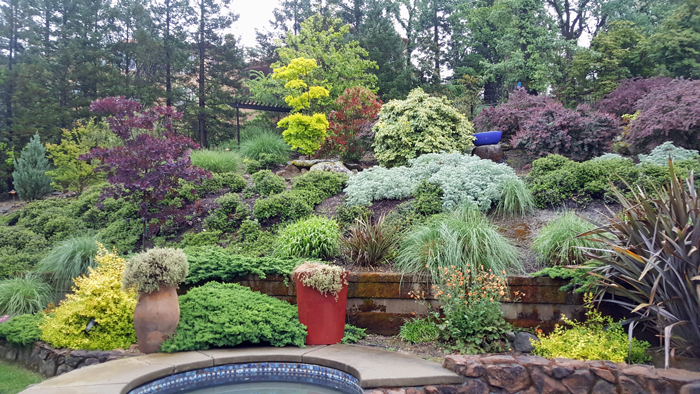 The back yard is crazy pretty this year!
I adore the blooms on this Echiveria.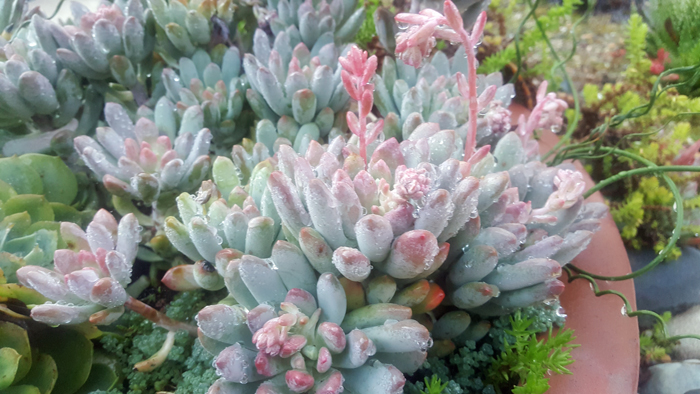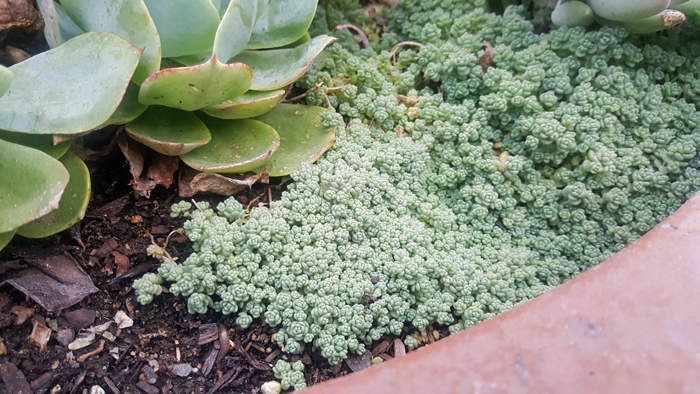 Not all of them are big-love these tiny little Sedum. I must have 10 kinds of Sedum here and there.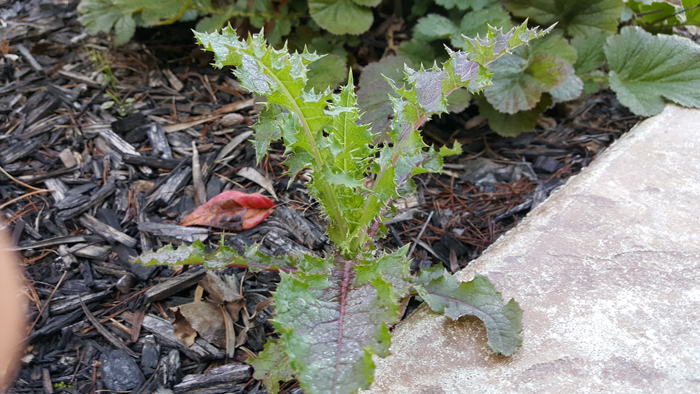 Um yeah, had quite a few of these. Hubby and I spent many hours pulling these guys. It was a real bumper crop!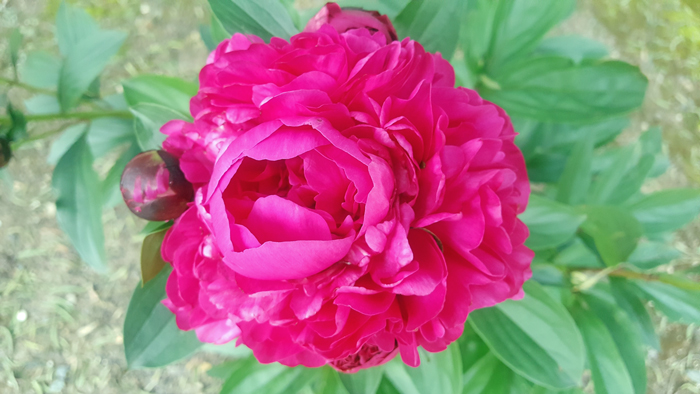 These two are special. My Mom had a long row of Peonies and they were glorious! Oh such beauty and fragrance. I found it charming how the ants were all over the Peonies. They are a bit of a challenge here in northern Ca so I was pleased that I got good bloom this year.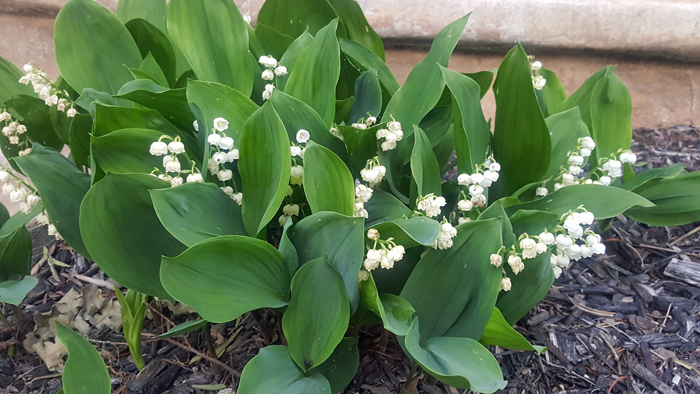 Ah, Lily-of-the-Valley! Again, incredible fragrance and those bell-shaped flowers are so cute! These have real significance to me; see my story about my Mom's Lily Bed quilt.
I'm on my way to the SAQA Conference in Lincoln, Nebraska today! It is such a creative rush to be around all my fellow art quilters. I'll post to Nina-Marie's Off the Wall Friday.  I do hope you check out the links-it is one of the best round ups of links around. Thank you for reading!