IQF Long Beach 2012-Part 2
Today I'm sharing the rest of the photos of my quilt tour at IQF-Long Beach: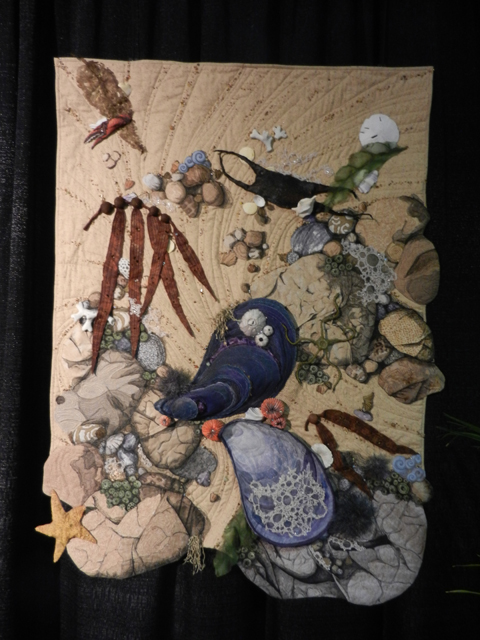 "Tidal Pool-After the Storm" by Holly S. Altman was so intriguing. Holly used a variety of techniques to achieve this interpretation of a tide pool. Holly was a Marine Biology student (can you tell?) and she tried to portray the fragility of the tidal pool in her work.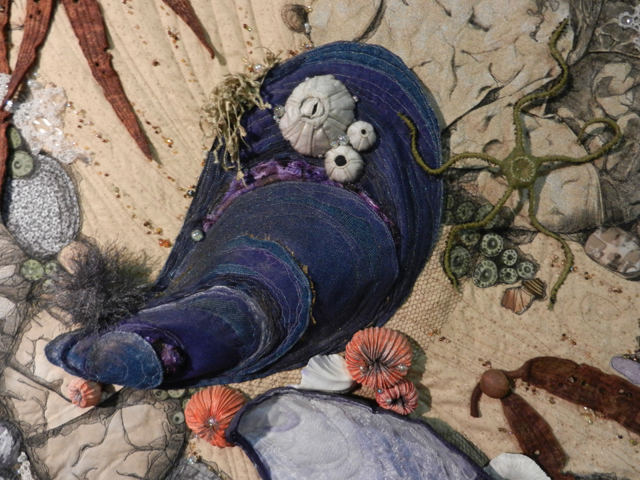 This was included in the "West Coast Wonders" section. I took many detailed shots-I could have spent an hour with this one and still found new detail.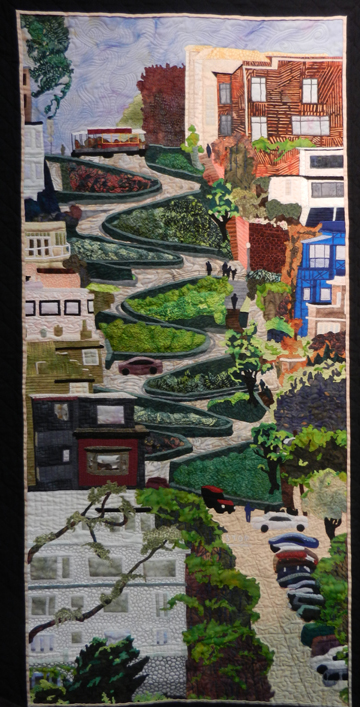 Also in "West Coast Wonders", "Lombard Street" by Susan R. Lane (California) was gorgeous in person. She based the quilt on a professional photograph that her husband saw. He remarked-"This is what you should do next!"-and she did!
"Tiny Town" by Karen Eckmeier is a mini quilt. She challenged herself to see how small she could go-look at all the exquisite detail. I'm not sure of the size-maybe 15″x15″? From the "Quilts: A World of Beauty" section.
I remember the first time I saw a photo of this quilt-it was stunning. I was thrilled to see Maria Elkins' "Windblown" in person. Fabulous! From the "Quilts: A World of Beauty" section.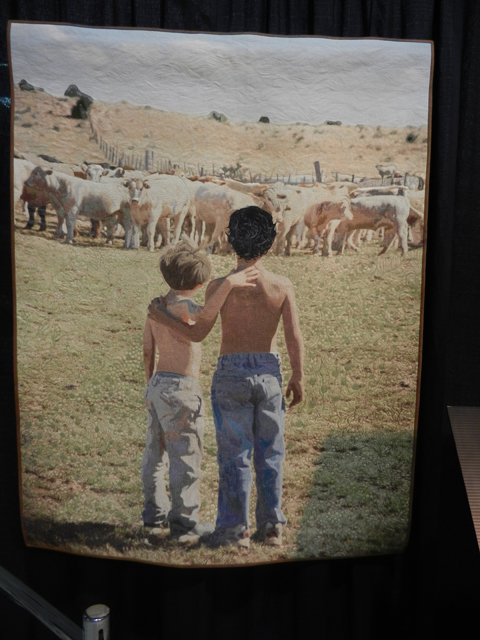 This is another quilt that I just had to see in person: Jennifer Day's "Holy Cow". Jennifer started with a digitally transferred photo and then free motion quilted it, completely covering the surface with stitches. Also from the "Quilts-A World of Beauty" area.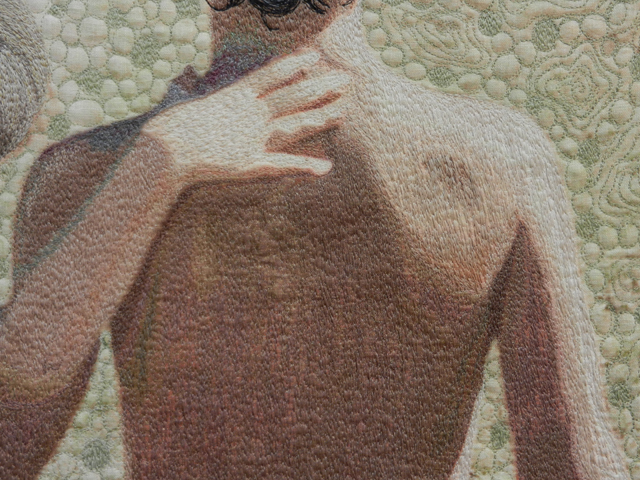 Jennifer said that the stitching lines are no more that 1/4″ apart and she used over 4,000 yards of thread and 4 million stitches! It took over 150 hours to complete. Also in the "Quilts: A World of Beauty" area.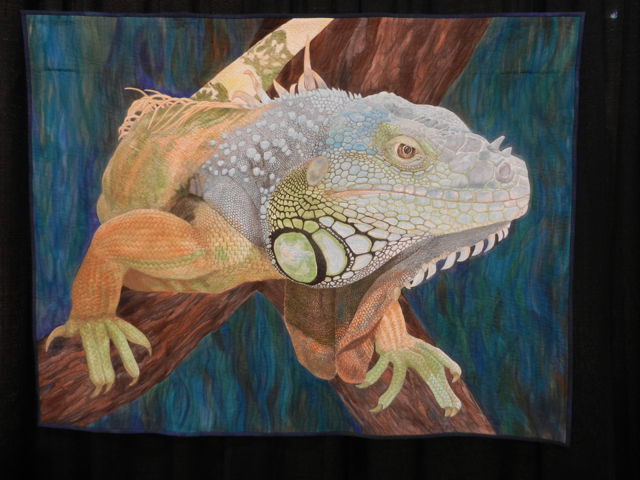 Viewers were constantly in front of "Iguana" by Carol Morrissey (Texas). The detail is amazing and the iguana really appears to be looking at you. Shown in the "Texas Quilts-From the book Lone Stars III" area.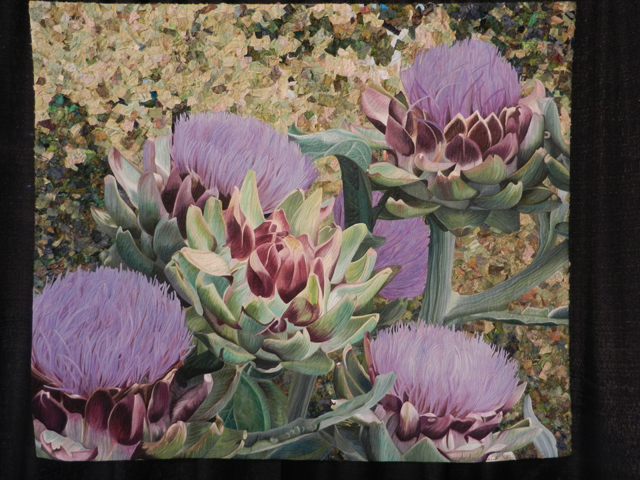 Andrea Brokenshire (Texas) used a variety of techniques to achieve the realism shown in "Artichokes in Bloom". Andrea hand painted on silk, appliqued, confetti pieced, thread painted and machine quilted to achieve this very realistic piece.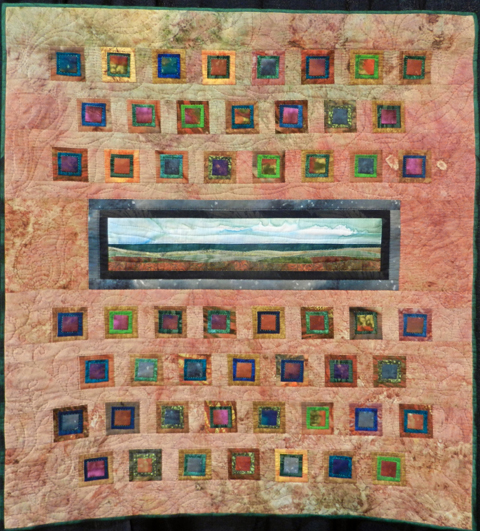 Canadian artist Heather A. Lair (Manitoba) made "Silk Road Treasures" from vintage batik silks collected in the 1950's. They laid dormant until she used them in this hand appliqued and quilted piece.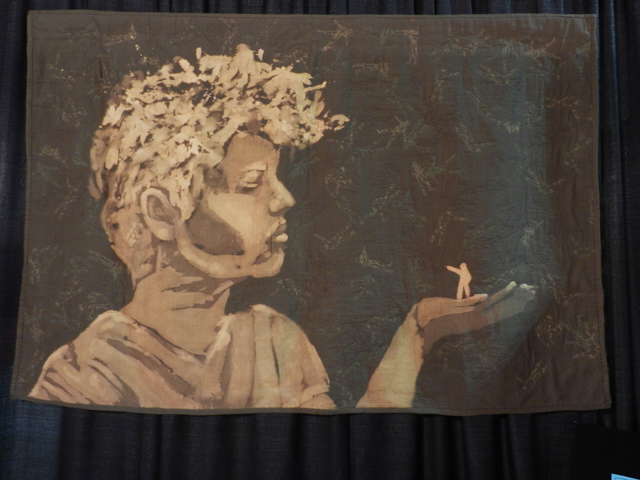 Kate Jackson (Ontario) created "My Soldier" by quilting a wholecloth that had been discharge bleached and painted. The soldiers symbolize her concern that her lifestyle might in some way contribute to miliary action around the world. It is a self-portrait.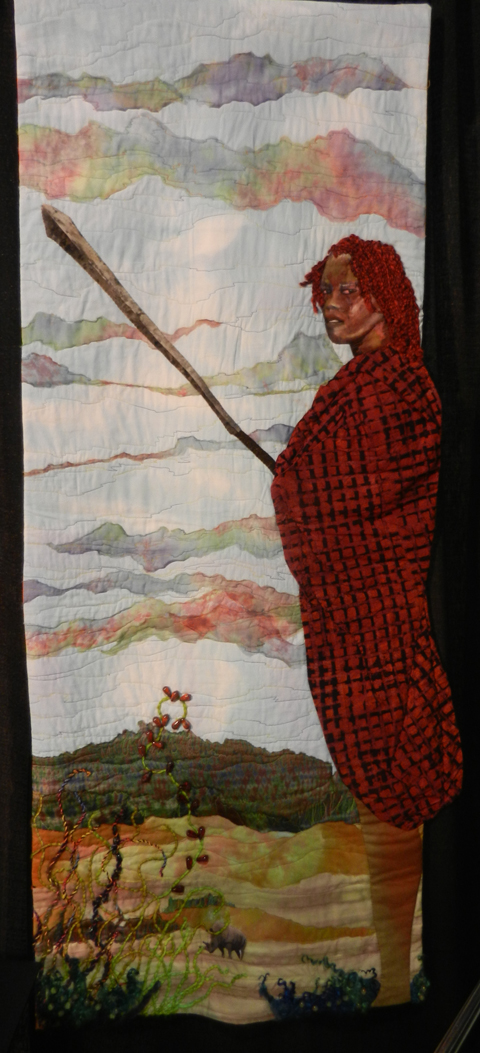 "Shuka" by Terry Waldron is a compelling piece. Terry met some visiting Masai warriors from Kenya while in San Diego. The red shuka the young man is wearing shows he is being initiated into the warrior society of the Masai. Terry was honored with the Jewel Pearce Patterson award for teachers-that has to be the ultimate honor as a teacher!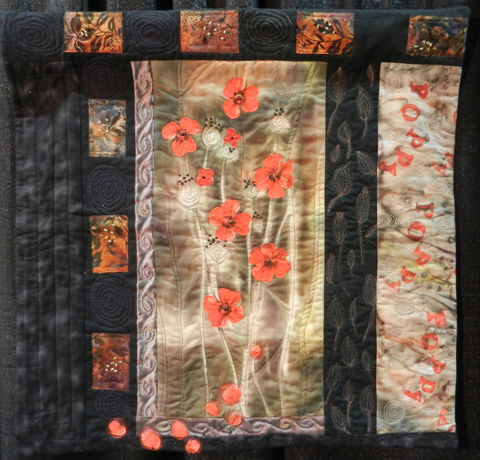 "Poppies For Rememberance" was created by Pamela Troode of Tasmania. She was inspired to create this quilt after taking one of Terry Waldron's classes. This quilt drew me in and intrigued me-lots of detail and mood.
Hope you enjoyed this peek at the IQF-Long Beach. Try to go yourself next year!