Exhibit at the Sisters Quilting Collective-"Never, Ever Forget"
I got a chance to be a normal person for a few hours last week. Besides all the mundane "catch-up" errands, I got to pop into the Sister's Collective Gallery in Sacramento where "Never, Ever Forget-African American History, The Middle Passage and Beyond" was showing. I only had a little time to view the show but it was well worth it. It was a juried show and artists were asked to create an African American living history quilt using their own style that tells their own story or a story of historical or contemporary persons or events. A wide range of subjects were covered and the exhibit was powerful.
The artists' narratives were strong so I have kept my comments to a minimum and let the artists speak.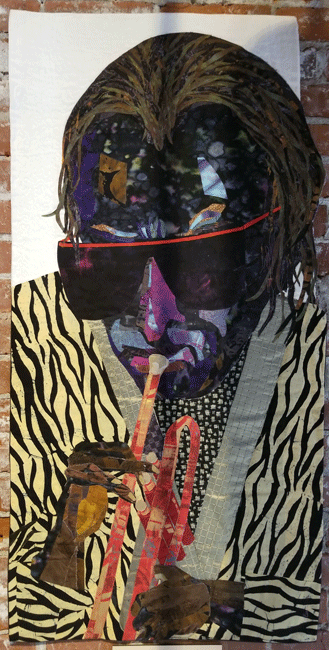 Marion Coleman had three pieces in the exhibit. I have long admired her work. As a SAQA member I have seen her work up close and spoken with her about her inspiration and process. She is a remarkable artist and person. "Miles Ahead" is a tribute to Miles Davis. Alice notes that "jazz took a quantum leap in 1959, the year Miles Davis came out with "Kind of Blue". Nothing was ever the same again."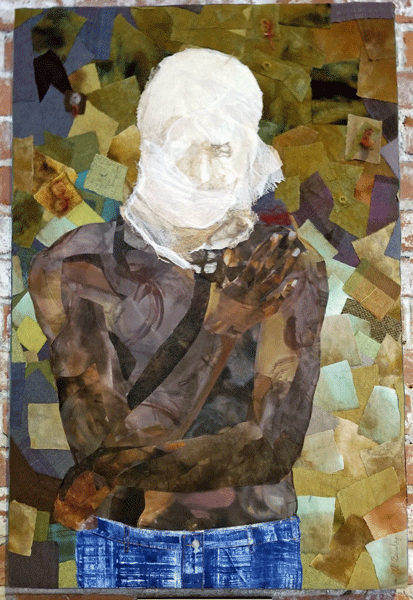 "Unidentified Black Male", about black children and teens as victims of gun violence. Many of these deaths are cloaked in anonymity and draw no concern from public or media.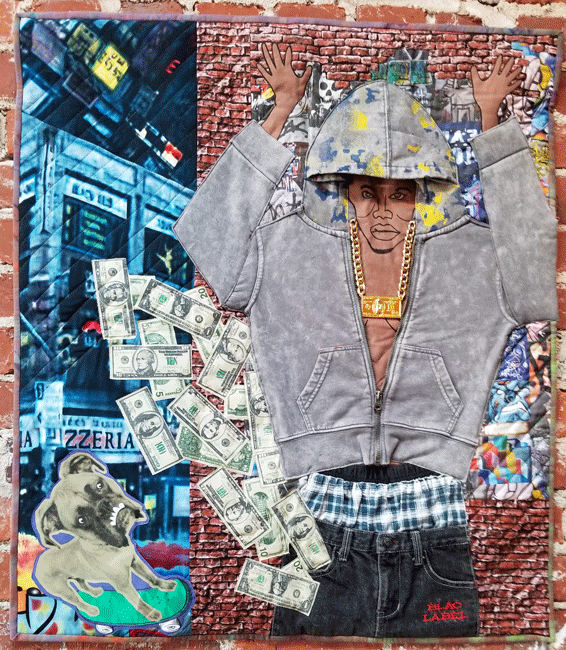 Katherine Wilson, "Mo' Broke". Wilson dedicated this quilt to African American young men who often live in challenging physical, mental, emotional and economic environments. He is a familiar figure to most of us. Wilson asks, "Don't accept current economic and social systems as inevitable. Learn and challenge the assumption upon which the systems are based."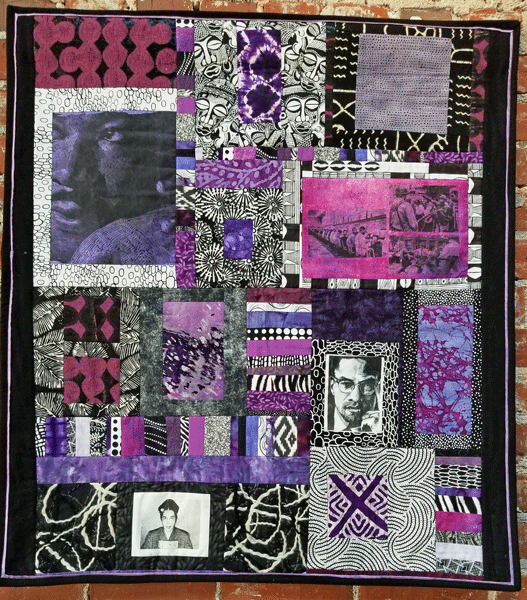 Katherine Wilson, "Secondary in Black and White: Protest". Wilson's title is a play on words that represents how in American culture Blacks have been viewed and treated as secondary to Whites. Purple represents royalty, which Wilson feels that Black people reaffirmed during the Civil Rights era.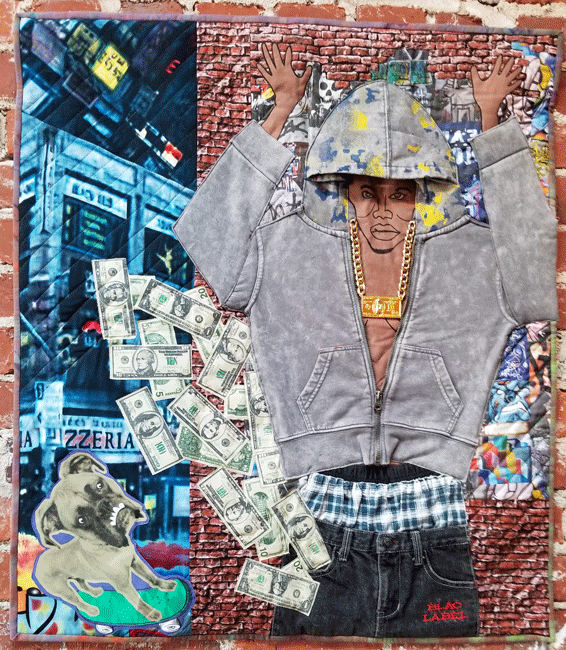 Katherine Wilson, "Secondary in Black and White: Protest". The title is a play on words that addresses how American blacks have been viewed and treated as secondary to Whites. Wilson incorporated the color purple to represent the royal quality and bearing that African Americans reaffirmed during the Civil Rights movement.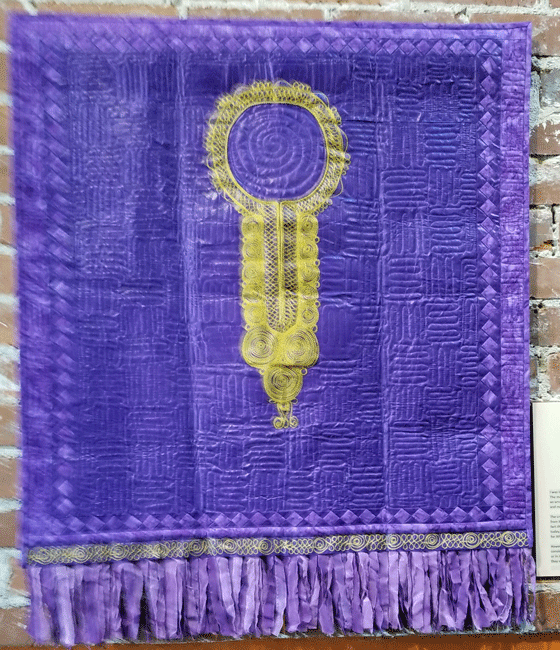 Ife Felix, "When They Were Kings", inspired by her visits to West Africa and seeing the men in their regal traditional attire. Ife wants to remind black men that they should remember when they were kings.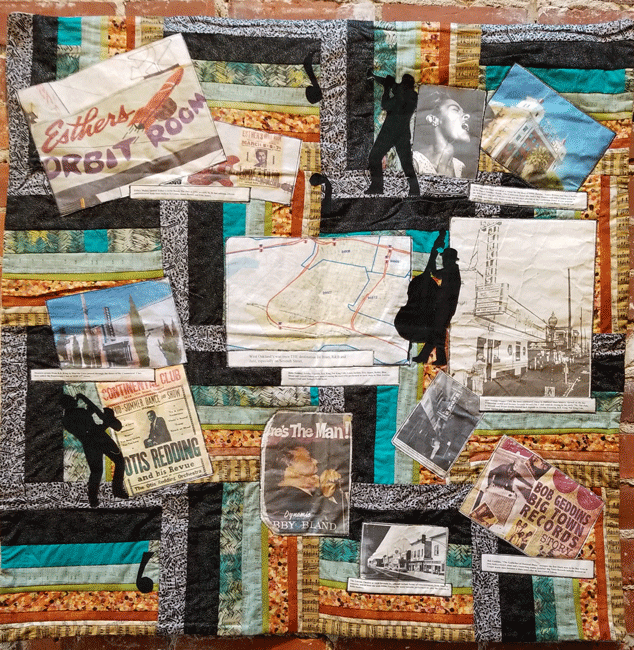 Norma Mason, "West Oakland Blues". West Oakland was once called "The Harlem of the West". Mason's Mother told her stories of all the great artists that came through the Oakland clubs after World War II and her quilt is dedicated to all the great artists, music and clubs that gave such enjoyment to many.
Ife Grady, "We Did Not Choose to Come Here: Did Not Seek the "American Dream"". Her piece represents the anguish of African humans stripped of choice and ripped from their homeland. In her piece, Grady deliberately stitched the men in pairs and asks "Where does one man begin and the other end?".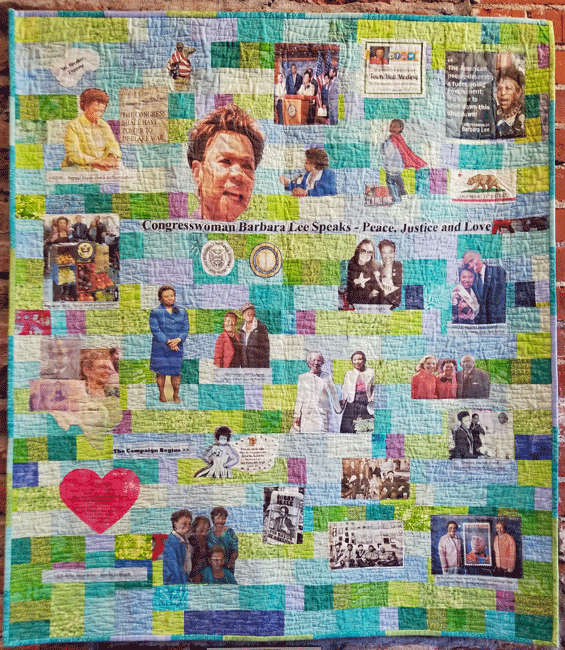 Nell Mays, "Speaking From the Heart". This quilt is dedicated to the life of Barbara Lee, serving California's 13 Congressional District. Mays sees Lee as an iconic figure in Oakland's past and future and a champion of many causes. The title of the quilt references Lee's book title.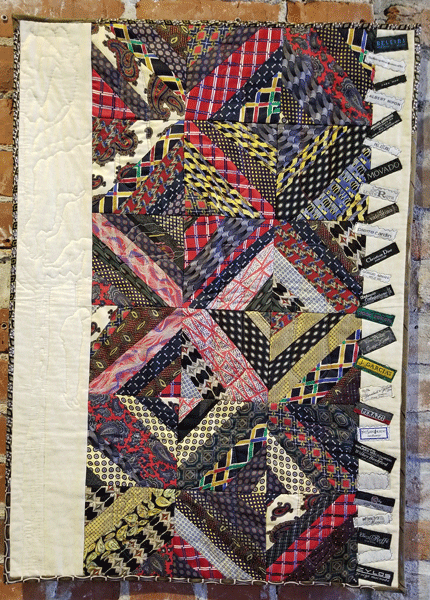 Ora Clay, "Necktie Party". Clay reminisced about the neckties from her youth and her Mother's adage to make "pleasant" blocks. But she also very subtly references the lynchings that were a part of Alabama's past-see the quilted image in the left hand border? When she finished the quilt and turned it over, she saw that the hanging man is all that shows up of the quilting on the back. Unplanned, but powerful.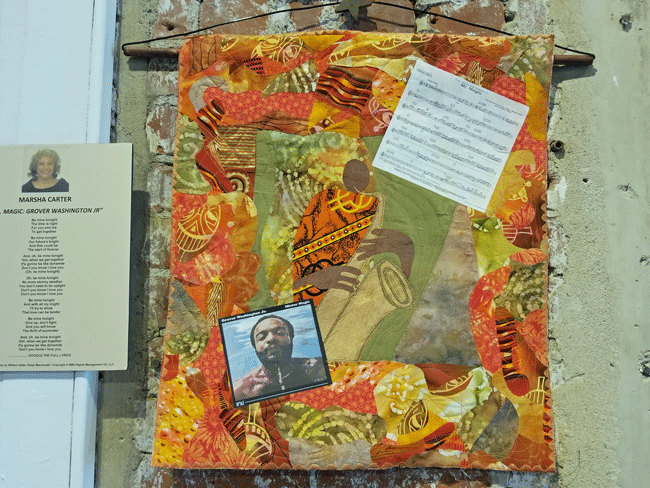 Marsha Carter, "Mr. Magic, Grover Washington Jr.". Based on the lyrics to "Oh, Be Mine Tonite", Carter created this tribute to Grover Washington Jr. Her quilt includes a copy of the album cover and the score for the song.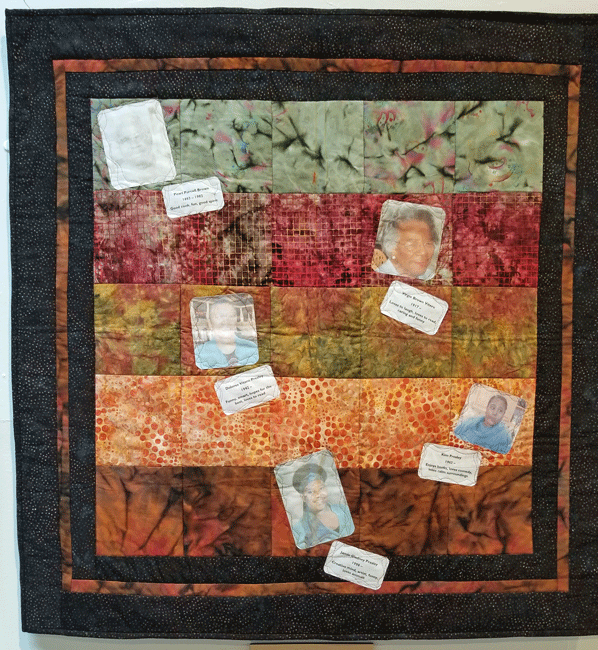 Jamie Gladney-Presley, "Five Generations". Gladney is celebrating "5 generations of African American women full of Grace, Power and Dignity". Gladney-Presley was 14 years old when she made this quilt! She is the youngest member of the African American Quilt Guild of Oakland and is now 19. She notes that she gets lots of mothering from her guild members.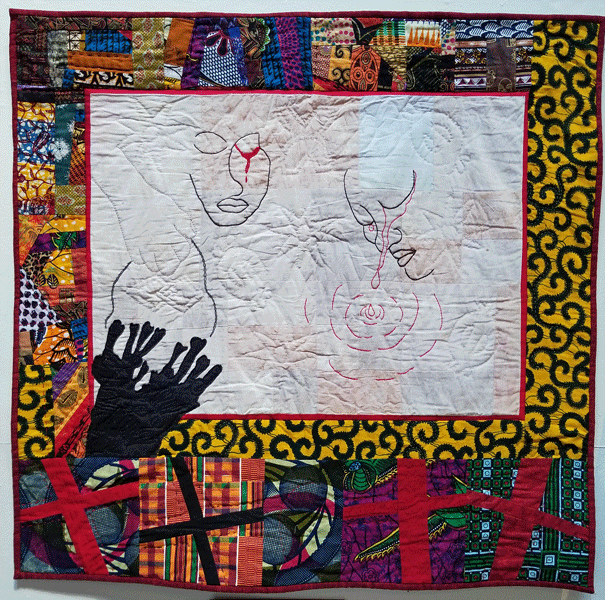 Debra Murphy, "Tears of a Slave Mother". This quilt gives honor and respect to families separated by slavery, especially those stolen from their Mothers and sold at auction. The red cross at the bottom represents blood shed by Africans and first-generation African American slaves. The black cross represents the mourning of slave Mothers.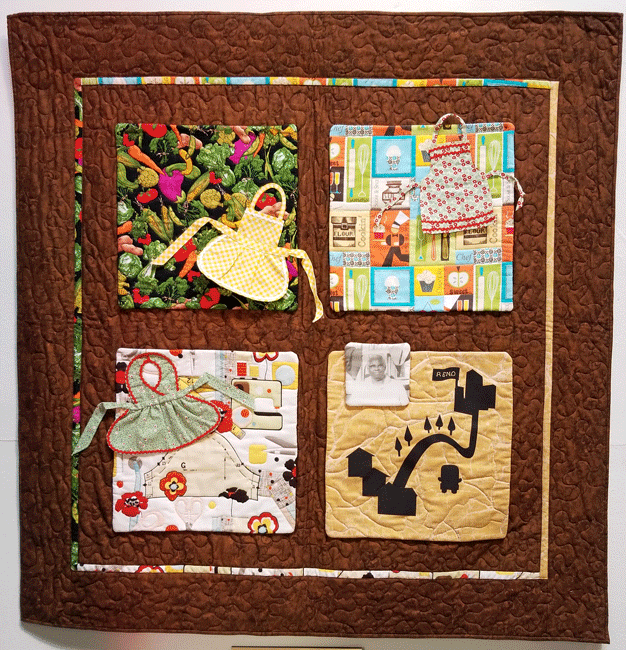 Julia Vitero, "Grandma's Aprons". Vitero's Grandmother, Pearl P. Brown lived with her family and was a constant presence. She always wore embellished aprons that she made. A chance encounter with an apron-themed fabric inspired Vitero to make this quilt in remembrance of her Grandmother.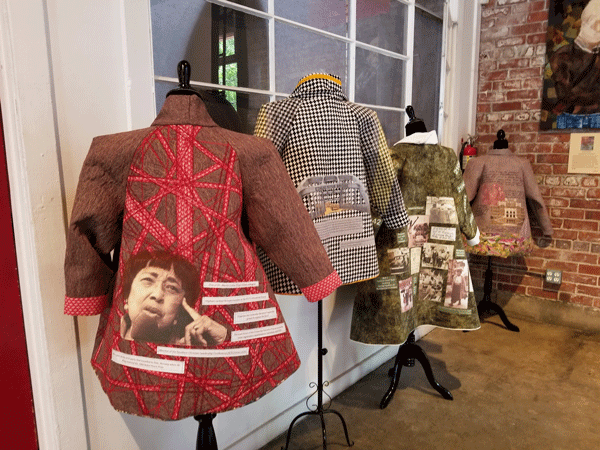 I did not see the placard that described these garments and give their story. If you know, please comment and I will add it to the post. I didn't want to leave these out as they were quite remarkable. The garments themselves were beautiful works of art, very well constructed and striking. Each carried a strong historical message as you'll see below: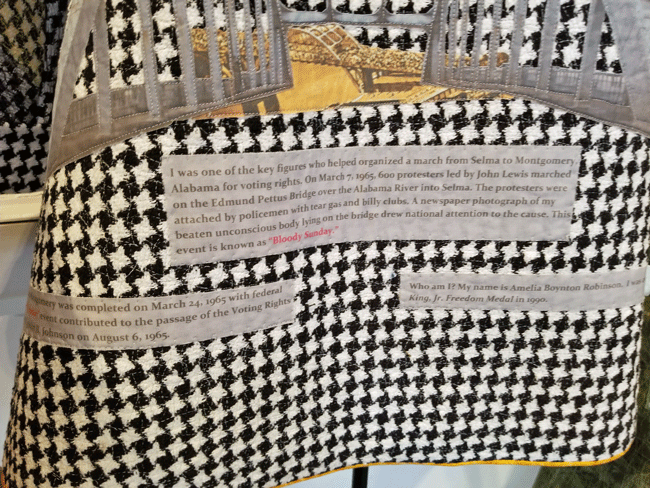 The exhibit will close after Saturday so locals I hope you'll stop by and see this remarkable exhibit. I'll be linking up with Nina-Marie's Off the Wall Friday.